This post may contain affiliate links, which means I may receive a small commission, at no cost to you, if you make a purchase.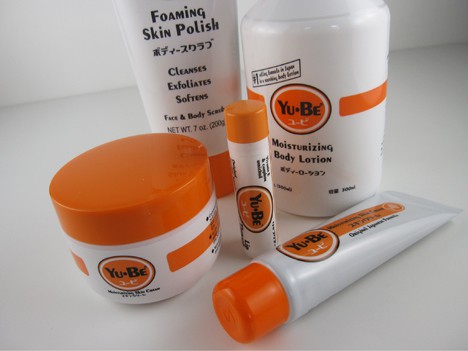 Congrats to our winners Amanda H. and Stephanie K.!
We've always been a fan of imports; from our first Duran Duran 12 inch single to the deliciousness that is french cheese. This joy was only compounded with the discovery of beauty imports. And we're bringing you the chance to win one of our favorites today.
We flipped when we first tried Yu-Be Skincare, a Japanese line developed in the 50s by a pharmacist and a chemist. And with good reason, their original glycerin based moisturizer is the longest selling skin product in Japanese history! It's perfection on dry heels, elbows, even lips.
We want you to see what all the fuss is about so we're giving away TWO Yu-Be premium gift sets (which retail for $68 but are worth $81).
Two lucky winners will receive the set which includes:
• 1.25 oz Tube Moisturizing Cream ($16)
• 10.25 oz Body Lotion ($29)
• 7 oz Foaming Skin Polish ($18)
• Lip Therapy ($5)
• A Pair of Heel & Elbow Moisturizing Socks ($13)
All you have to do is follow the instructions on the Rafflecopter form (wait for it to load) and you too can discover the joy of this fabulous import. Good luck!
Disclosure: This giveaway includes products/prizes that were provided by the manufacturer/PR firm for our consideration. It is also being monitored by Rafflecopter, who will list your full name as entered on the widget shown here. For more info, or any questions, please see our disclosure policy.