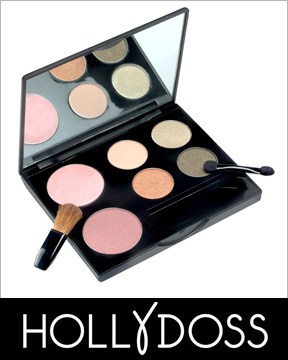 Have you ever been in this situation: you wake up, look in the mirror, and think to yourself, "I know there's a gorgeous woman in there somewhere…if only I had a celebrity makeup artist to assist me, maybe I could look just as bright and fresh-faced as those Hollywood starlets!" Or this situation: you walk up to your favorite cosmetics counter and are blown away by all the gorgeous colors to choose from, but you have no idea where to start, because you don't know what colors work perfectly for your unique face? Well, enter Holly Doss…
Holly is an L.A. based celebrity makeup artist who has worked closely with an elite clientele, including the makeup maven Trish McEvoy. Known in the industry as "the next Bobbi Brown", Holly set out to start her own line after becoming frustrated with the lack of pigment available when she painted faces daily. Well that she did, and not only is her line vast and impressive, so is her website and customer service. Holly doesn't leave you hanging on your own to navigate her huge selection of colors and products. If you can't get the assistance you need from her site or how-to videos, you'll certainly feel in capable hands when the incredibly approachable and sweet Holly personally emails you back! (I'm serious ~ I emailed Holly twice with questions, and within minutes both times, she emailed me right back!) I've truly never been so impressed with a website and business owner.
Check out her Custom Color Chart and select your hair shade, eye color and skin tone, and you'll receive an extensive list of every product Holly has that coordinates with your coloring; from foundation to eyeshadow and lipgloss. You can even see the celebrities that have your same color combos ~ how fun is that?! Yeah, me and Catherine Zeta-Jones – we're two peas in a pod!
Holly sent our very lucky review team and array of eye products to test, including:
Brow Looks in Blond, Brunette, and Auburn: Eyebrow kits customized by hair color, that includes Brow Match (mascara for brows that won't flake or crack), White Light Pencil Highlighter (for highlighting directly under the brow bone), and the thicker Highlight #1 (for below the white light, to be blended with the tip of the ring finger for an instant, surgery-free lift!)
Eyeliner sets: eye definer in jet black Florido with Brush # 11. Line, define, and/or smudge around your eyes with this professional cake eyeliner. The brush is a synthetic, flat eyeliner brush that may be used wet or dry.
Eyeshadow sets: Ashton a light shimmering taupe eyeshadow and Brush #9, the ultimate squirrel 'smudge' brush for smokey eyes or correcting eyeliner mistakes.
So, let's hear it review team: are your brows as brightened and eyes as lightened as mine? Do you have as much adoration as I do for Holly, her website, and her products?
Mel is a Mom, an avid makeup junkie and a junior high science teacher. Beauty and brains; just what we want in a we heart this author!