This post may contain affiliate links, which means I may receive a small commission, at no cost to you, if you make a purchase.
Are you ready to say goodbye to winter and hello to spring? We sure are!
And what better way to welcome the new season than with a fresh set of simple spring nails? After months of dark and moody hues, it's time to switch things up and embrace the bright and playful colors of this season.
Maybe you're tired of the same old nail designs or simply looking to refresh your look. Whatever your reason may be, we've got you covered.
With the arrival of spring, it's the perfect opportunity to experiment with new colors, patterns, and styles. From pastels to neons, from florals to polka dots, there's no shortage of inspiration when it comes to spring nail designs.
So whether you're looking for a subtle and understated look or something bold and daring, we've got you covered.
Get ready to embrace the season and take your nails to the next level with these 45 simple spring nail designs.
45 Simple Spring Nail Ideas
1. Spring Nails With Diagonal Tips
Decorate short nails with spring colors by painting them diagonally on your nail tips. It's a creative way to say you love color but want to keep things simple too.
2. Lavender Nails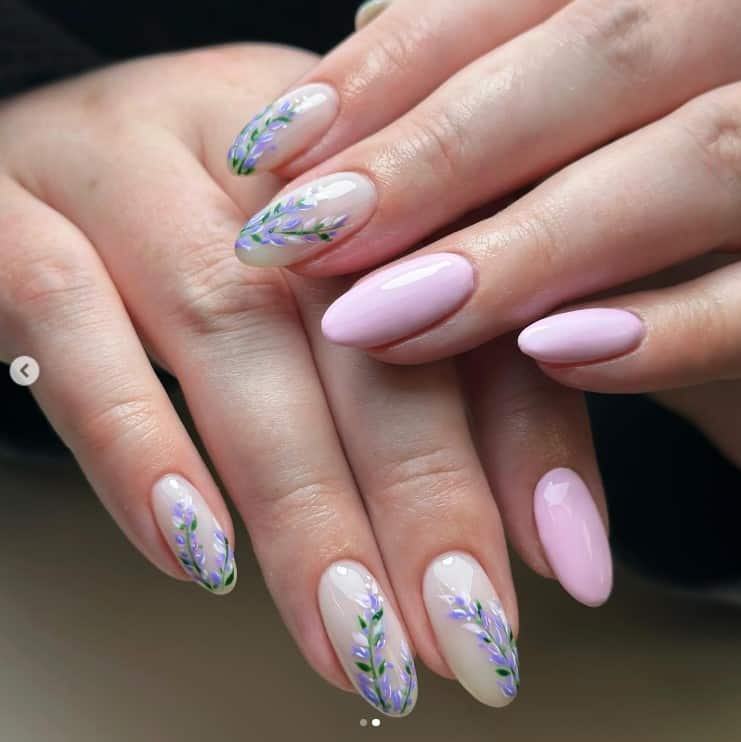 We love how the lavender nail polish goes well with the oval nail shape. It just looks so delicate and feminine! Paint three nails with lavender flowers for an elegant touch.
3. Green Nails and Daisies
For a classy floral spring manicure, use this design as an inspiration. The calming green color and classic floral design will never go out of style.
4. Colorful Swirly French Tips
If you love French manicures, make yours a bit quirky by painting swirls on your nail tips using different pastel colors. To bring out the colors, use a base coat in a neutral shade.
5. Speckles and Butterfly Tips
Are you a fan of French manicures? If you want a spring nail design that is barely there but yet still noticeable, try using various colored flakes and adding subtle butterflies to your nail tips.
6. Tiny Flowers on White Tips
These pretty spring acrylic nails take the French mani to another level. We love how adding tiny flowers using different colors can transform a simple look.
7. Floral Pastel Nails
If you're looking for spring nails in a coffin shape for your next manicure, you may want to copy this one.
The pastel blue, pink, and purple nails aren't just pretty to look at, but we also love the decorated floral accent nails with pearl rhinestones.
8. Pinks, Florals, and Green French Tips
Paint your nails in nude-colored polish and decorate them with white-and-yellow flowers and green-colored French tips for a classy spring nail design.
9. Cotton Candy Pearls
This cute spring acrylic nail design uses dreamy pastel colors of blue, purple, and pink for the French tips. We also love the stiletto nail shape and the addition of tiny pearls that adds a touch of elegance.
10. Smiling Flowers
Get ready for spring with a simple yet stunning nail design that combines neutral shades with a playful twist. Paint the nails on one hand with white nail polish and paint smiley flowers on the other.
This beautiful and cheerful manicure is guaranteed to brighten your day!
11. Pistachio Flowers
Looking for the perfect spring acrylic nail idea? Try a soothing and chic pistachio green shade that's sure to please. Then to embrace the springtime spirit, add delicate and dainty tiny flowers to the tips for an extra touch of charm.
12. Spring Rainbow
You don't need to visit your nail artist for this one! These simple and cute spring nails allow you to be creative in putting together a rainbow color palette for a colorful nail design.
13. Outlined Swirls
The gray undertones of the shades of this mani give it a timeless and sophisticated look. To add a touch of extra flair, incorporate delicate white swirly lines that will make your nails stand out.
14. Sakura Nails
Cherry blossoms are so magical, so why not use them as inspiration for your next mani? Paint your nails with pinkish-nude nail polish and add two accent nails with cherry blossom art for a pretty spring nail look.
15. Bright Tips and Flowers
You don't need to paint your whole nails to make them noticeable. You can get people looking at your nails by just using negative space. Just paint flowers and French tips using different bright colors.
16. Black and White Flowers
No need to use conventional colors for spring. You can greet springtime by using black and white nail polish. Just make sure to use these colors to create florals to suit the season.
17. Spring Wedding
For a cute spring acrylic nail idea, use white and yellow. It's simple and chic, and you can wear them to casual and formal events.
18. Tulip Tips
Get creative with stiletto-shaped nails by painting them with tulip nail art, then paint the rest regularly with the same color palette. These are the perfect spring nails for those who want a feminine and chic design.
19. Pastel Color Swirls
It's amazing how painting each nail with a swirly design in soothing pastel shades can create a trendy, cute, and simple spring nail design.
20. Classic Spring Nails
Using spring colors on acrylic nails can be fun by mixing and matching French tips and flower art to create a unique design.
21. Subtle Rainbow Tips
Chic minimalists will love this look! Braided rainbow tips and tiny flower accents are one way to add subtle flair to your nails.
22. Classic French Tips
You can create a fresh and modern twist on the classic French tips by adding floral nail art to two nails using yellow and black nail polish. With this playful and stylish twist on a timeless classic, you'll be able to show off your creativity.
23. Diagonal Swirls
For a trendy springtime acrylic nail design, go for swirls and pastel colors on natural nails to create a stylish and colorful look.
24. Floral Tips
Paint tiny flowers on every tip to create a springtime version of the classic French manicure.
25. Unicorn Swirls
Light shades of pink, purple, and blue create a dreamy look. But if you want to add a modern touch, paint thin swirls of each color on each nail.
26. Candy Rainbow
If you're craving a rainbow-inspired manicure, consider keeping it elegant by painting diagonal French tips in soft and subtle colors.
This understated approach will make your simple spring nails easy on the eyes while showcasing a playful and vibrant look.
27. Pastel Flowers
Using pastel colors is one of our favorite ideas for creating cute nail designs. We love the soft shades and the floral accent nails of this mani that give off a fun springtime vibe.
28. Subtle Marble and Sparkles
If you're looking for cute spring nail designs for short nails, this one is a great option. We love the shades of the matte nail polish and the addition of tiny marble art embellished with rhinestones.
29. Cherry Blossom Accent
Add spring nail art to your French manicure by getting a beautifully painted cherry blossom accent nail.
30. Oriental Flowers
Want to rock a short spring nail design? Paint some oriental flowers near the tips using bright blue and purple colors. It's a simple way to make your nails look alluring!
31. Cool Spring
A great spring acrylic nail idea is using cool colors like blue and green for a refreshing vibe. We love how the pretty flower art and the pistachio green and icy blue colors work well in this design.
32. Blue Flower Tips
Add a pop of color to your natural nails by painting a line of blue flowers on your nail tips.
33. Dandelion Art
Bubblegum pink is a sweet color you can use for feminine appeal. Paint one nail white and add dandelion art using blue, purple, and a darker shade of pink to create the perfect pink spring nails this season.
34. Flower Garden
Transform your nails into a garden by painting each nail with flower art. This will give off some fairy vibes to its wearer!
35. Half Flowers and Blue Tips
This is another spring nail trend that uses cool tones. You can any color, but we love how this design used sky blue for the French tips and added purple half-flower decorations.
36. Diagonal Tips and Rainbow Flowers
A creative way of doing French tips is by painting them diagonally. Add different-colored flowers to each nail for bright and colorful spring nail art.
37. Nude Ombré Flowers
These pretty gel nails look elegant with the nude ombré base decorated with floral accents. We recommend wearing them to dressy events and romantic dates.
38. Pretty Flower Accent
Want to flaunt your favorite flower? Paint it over two translucent white nails. For added detail, consider opting for longer nails that will provide more space to create intricate and delicate floral designs.
39. Bubblegum Pink And Pistachio Green
One word for this design: soothing. We love the shade of pink and the soft green color used for the French tips on this design. The minimalist flower accent also creates a refreshing look that we just can't get enough of.
40. Lavender and Gold
The lavender color on these simple spring nails is already beautiful. Add glam by putting diamonds on one nail and a flower design on the other.
41. Embossed Flowers
French tips or florals? Why not get them both? Featuring soft and matte shades, this beautiful manicure features colorful French tips that are elevated with an embossed flower accent nail.
42. Monochromatic Nails
Try spring rainbow French tips on your next mani. How? Just paint each tip of your nails a different color and use the same shade to paint the center of the flowers. Make sure the petals are white to make the manicure look radiant.
43. Cute French Tips
Double-lined French tips create the illusion of longer nails. To achieve this trendy mani, line your yellow, blue, red, and orange French tips with a lighter shade of each color!
44. Lavender Bluebells
The purple color embraces the floral hues of the season while the bluebell and foliage art elevates this look, making this mani look fresh all springtime.
45. Capsule Spring Nails
With white outlines surrounding different shades of bright colors, this manicure makes a great spring look you can wear for parties and casual events.
FAQ About Simple Spring Nails
How long do simple nails take?
Simple nails can take anywhere from 20 minutes to an hour, depending on the complexity of the design and the skill level of the person doing the nails. However, simple nail designs are generally quick and easy to do.
For example, you can a simple French manicure in just a few minutes, while intricate designs like polka dots or stripes may take longer.
The key is to start with clean and well-prepped nails. Also, use quality nail polish and tools to ensure a smooth and even application.
What nail colors look best during spring?
For spring, think of colors that evoke feelings of freshness, new beginnings, and sunshine. Examples are soft pastels like baby blue, lavender, and pale pink. Other great colors are bright neons like hot pink, lime green, and electric blue.
You can also experiment with playful patterns like florals, polka dots, and stripes to add some fun and interest to your nails.
Can you wear dark nail polish in the spring?
While dark nail polish is typically associated with fall and winter, it's not a hard and fast rule. So if you love a certain dark shade and want to wear it in the spring, go for it!
Just make sure to balance it out with lighter and brighter colors for a fresh and playful look.
For instance, if you want to wear dark burgundy or navy blue, pair it with a light pink or baby blue accent nail to add some contrast and interest.
Alternatively, you can also try a dark base with a bright and bold floral design to add some spring vibes to your nails.
Get Your Spring Nail Designs Ready!
Simple spring nails can add a touch of playfulness and freshness to your overall look.
Whether you're looking to refresh your nail game or try something new, the spring season is the most amazing time to experiment with different nail designs.
With so many beautiful and easy-to-do designs to choose from, it's never been easier to switch up your nail game and embrace the beauty of the spring season.
So why not try a simple spring nail design for your next manicure?
Remember, your nails are a canvas, so let your imagination run wild and see what beautiful designs you can come up with.
So don't be afraid to experiment and have fun with it!
Want to discover more nail art inspirations?
Check out these articles: