This post may contain affiliate links, which means I may receive a small commission, at no cost to you, if you make a purchase.
Peach is a beautiful color that radiates sweetness, innocence, and romance.
It's a combination of colors orange and pink, with a bit of white to lighten the tone. Many people are attracted to this color because it matches the warmth and happiness of summer.
Do you feel like peach is your perfect nail color match? Go and get your nails done right away!
To save you from the unnecessary trouble of looking for nail designs elsewhere, we've collected several peach nail designs for you.
Peach-Colored Nail Designs 
Ready to fall in love with our fun and creative peachy nail designs? Be inspired and pick the best ones from our fantastic collection!
Peach With Lone Gold Streak
The main highlight of this nail design is its sideway Frenchie in warmer peach, paired with a lone gold streak. That accent easily attracts attention on a lighter peach base.
Neon Peach Tips and Studs
Get trendy with boxy neon peach tips on a nude pink base! Make them extra posh by adding a lone tiny stud at the middle of your fingernail's base.
Peachy Pink Ombré
This is giving us a sugar rush. Paint your short nails peachy pink ombré and top-coat them with a glittery manicure for a sweet and sugary look. 
Peach and 3D Water Drops
Mix 3D water droplets, fun patterns, and a giant peach fruit alternately on pink, peach, and taupe nails for a refreshing nail look this summer.
Classic Peach Ombré
Remain classy yet sassy with mid-length stiletto nails in a peach ombré!
Matte and Peach Accents
Excited to get peach summer nails? Paint long matte stiletto nails in light peach, then accentuate the ring fingernail with hand-painted peach fruits and paint the middle fingernail with a warmer peach color.
Peach Ballerina With Blings
Want to steal the show? Wear long square nails in solid and gradient peach, then add playful accents like gems, studs, florals, and glitter-outlined Frenchies!
Peach and Frost
Combine the warmth of summer and the coolness of winter by painting the rest of your long square nails peach except for the ring fingernail, which will be top-coated with a bubbly clear glossy manicure mimicking the winter frost.
Don't forget to embellish these nails with silver glitter, white florals, and pearls to make them extra dreamy.
Sequins and 3D Blings on Peach
Can't decide whether you should have French tips, ombré, or a solid peach color as your nail base? Get all of them and decorate select nails with multicolored sequins, plus 3D gold, silver bling, and yellow butterflies!
Peach Florals and Frenchies
There's a lot going on in this peach nail design. You'll see matte and glossy peach and pink nails, with some of them accentuated with 3D peach-colored florals and Frenchies.
White and Gold Streaks on Peach Ombré
White, gold, and peach colors effortlessly scream elegance when combined in one nail style. Incorporate all of those colors by getting peach ombré nails accentuated with white and gold streaks. 
Peach and Multicolored Gems
Upgrade your extra-long stiletto nails by painting some of them pinky peach and some nude pink. Add extra glamour by top-coating the nude pink-colored nails with glittery clear gloss and decorating them with multicolored rhinestones.
Peach Sequins and Gems
Gems formed like an elegant necklace and the overload of peach sequins on select nude pink nails have caught our attention! The three other nails painted in warmer peach with subtle gem accents at the cuticle complement the whole nail look.
Gemified Coral Coffins
If getting glossy coral-colored coffin nails are too simple for your taste, try decorating the cuticle of some nails with sparkly gems and outlining them with silver chains for extra sophistication!
Soft Peach With Rose Gold Glitter
Soft peach-colored nails are already pretty on their own. If you want to make them remarkably stylish, add rose gold glitters at the cuticle of each nail.
Peach, Gold, and Leaf Stems
This peach nail design combines white and gold glitters as base on certain nails. The white ones are decorated with black leaf stems for a more tropical vibe.
Peach Crisscross
Crisscross French tips in different shades of peach ramp up this nearly neutral manicure on almond-shaped nails!
Peach Prints and Silver Glitters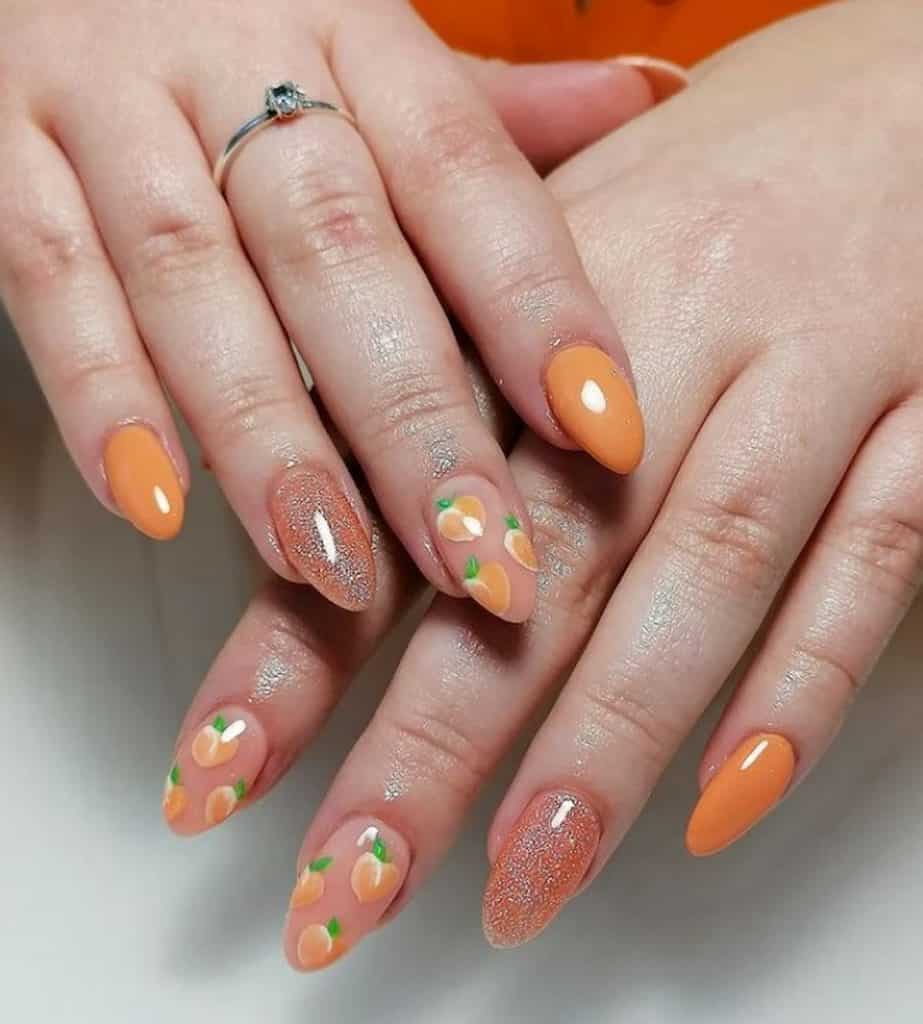 Want a nail design that resembles the prosperity of summer? Create this style that features meticulously hand-painted peach fruits and orange nails, with some of them top-coated with silver glitter polish. 
Peach-Orange Gradient, Black and White Hearts
This summer, flaunt beautifully painted nails in a peach-and-orange gradient with a single black and white heart on each ring fingernail. The clear gloss top coat adds a dazzling effect to the overall look!
Glitter and Floral Accents on Peach
These lustrous-looking design features a hand-painted floral garden and glitters as accents that are found individually at the corner or base of peach-colored nails.
Peach Ombré Coffins
For a subtle hint of summer's warmth on your tips, paint your long coffin nails in peach ombré and watch how their simplicity still stands out. 
Sugar, Peach, and Gems
Go all out by getting classy soft peach-colored nails and overloading select nails with white and peach sugary glitters! Plus, add bronze-colored gems at the base of your middle and ring fingernails to amp up the design's overall glamor.
Rhinestones on Peach
Creamy peach is the main theme for this nail design. The shiny rhinestones expertly placed on the ring fingernails add elegance that we can't seem to get enough of!
Dotted Peach
Want to amp up your summer peach nails in the easiest way possible? Decorate the base of your matte peach fingernails with white dots arranged irregularly for an added quirk!
Doodled Peaches
Take inspiration from your favorite ripe summer peaches for your next nail look! All you need to do is color three of your nails peach-orange and the other two taupe. Finish it off by doodling ripe peaches on your taupe-colored nails!
Neat Peach
Having peach bud as the main color for your short glossy square nails makes them look satisfyingly sleek and neat!
Two-Tone Peachy Tips
Bored of single-toned French tips? Get creative and have two-toned Frenchies in pink and peach on your sheer pink-colored nails!
Peach and Glitter Squiggles
Get this nail design by adding squiggles in different peach shades and gold glitter on glossy nude square nails!
Peach Streaks on White
The colors white and peach always go well together. This nail design uses both colors while accentuating select peach nails with a silver glitter top coat and decorating the white ones with peach-colored streaks.
Peach, Marble, and Glitters
This design features fabulously styled acrylic nails. Here, some nails are painted neon peach, while others have a marble texture and a glittery top coat.
Peachy Squiggles
Looking for unique peach-colored nails with designs? Check out this nail design that uses two shades of peach as base on certain nails and has peachy squiggly patterns on accent nails with a sheer white base.
Peach and White Abstract Patterns
Style your bare fingernails with simple oval patterns in shades of peach and white. Then add metallic gold swirls for some added fun!
Peach Pavement
Get short peach nails and decorate them with a pavement-like design at the center. The bright shades of peach and the glitter streak used for the pavement detail make it uniquely stylish.
Peach Shades and Abstract Tips
Color your short oval nails in a different shade of peach each nail. Then paint abstract patterns on the tips of lighter peach-colored nails for a funky nail look this summer.
Peach Abstract Art
Got short nails? Don't fret because you can take them up a notch by coloring select nails with coral peach and taupe. Be creative and accentuate the taupe-colored ones with abstract art in analogous colors, black, and white.
Clean Glittery Peach
Peach-colored nails with glitter are super in this summer! To get this design, all you need to do is paint your short nails with a pale peach shade and make them extra sparkly with a glittery top coat.
Peach Squiggles on Pink
Wearing pink press-on nails with squiggly accents in two shades of peach is a fun idea to try in summer!
Peach Tips and Daisies
Want a chic, girly vibe this summer? Get this easy-to-do nail design that features peach French tip nails with some nails adorned with two to three daisies!
Tiger Prints on Neon Peach
Get this fiery summer peach nail design by painting long coffin nails matte neon peach and accentuating the pointer and ring fingernails with tiger prints!
Round Peach
As they say, "Simplicity is beauty," and this nail design proves that long-time quote to be true! Although simple, these neon peach-colored round nails match the blazing heat of summer.
Clear and Peach Combo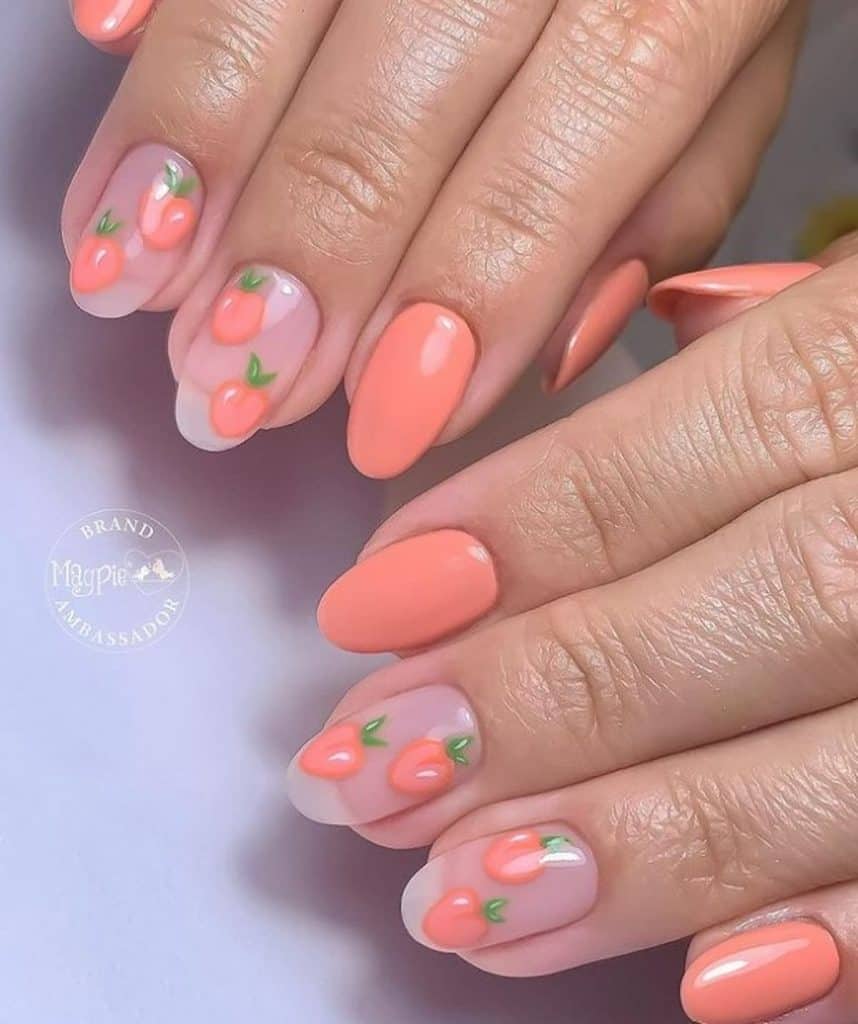 This cute peach nail design features nails colored in peach except for the middle and ring fingernails. The bare ones are decorated with shiny hand-painted peach fruits, making this nail design an instant fave by most!
Tropical Peach
Heading to the beach this summer? Color your nails peach and accentuate the ring fingernails with a tropical-themed print against a black background for a summer-ready nail look!
Lavender and Peach
Pair peach and lavender colors in your nail style and be surprised at how dainty they make your nails look!
Pinky Peach
Flaunt your girly side by painting your short nails pinky peach, and watch how it easily draws a second look from everyone!
Peach and White Leaf Ornaments
This pretty nail design features soft peach-colored nails with ring fingernails painted in pink. The pink-colored nails are decorated with white hand-painted leaf ornaments and tiny rhinestones.
Silver Glitters and Pale Peach
Want a nail design that stands out whether day or night? Color your long almond nails pale peach except for the ring fingernails, which will be overloaded with silver glitters.
Chrome Peach and Glitters
Chrome peach nails give a beautiful sparkle under the summer sun's heat. Add some glam to them by adorning ring fingernails with metallic glitters and middle fingernails with rhinestones and pearls.
Butterflies on Peach
Hand-painted butterflies perfectly complement pale peach-colored nails because they add to the overall feminine effect. Also, the sugary glitter top coat on certain nails easily takes this nail design to the next level!
Peach and Black Lilies
This nail design features the right mix of glam and mystery by adding black lilies on the ring and middle fingernails of one hand and a silver glitter top coat on the ring and middle fingernails of the other hand.
Themes To Amp Up Your Peach Nails
Plain peach-colored nails are already beautiful on their own. But we don't want to limit you to just that!
To amp up your peach nails, here are a few of our recommended themes that go well with them.
Floral
Peach is a soft and feminine color that pairs well with floral designs. Create floral patterns on your peach-colored nails using nail art brushes or stamp-on designs.
Ombré
Ombré designs, which blend two or more colors together, can look very stunning with peach as one of the colors. You can create a gradient effect with peach and a lighter or darker color to create either a subtle or bold look.
Glitter
Glittery designs are a mainstay in nail art. Adding glitter to your peach nails can instantly give them a glamorous and sparkly effect.
You can use glitter polish or add loose glitter to create glittery accents on your nails.
Geometric Patterns
Peach can also work well with geometric designs, such as stripes, squiggles, twirls, polka dots, and triangles, among others. You can create these using nail tapes or stencils.
French Tips
Peach-colored nails can also be used for a classic French tip design. You may add a white or nude tip to your peach-toned nails to create a timeless and elegant look.
You can also reverse the traditional French tip style by painting the nail tips with any shade of peach.
Frequently Asked Questions
Why Is Peach a Popular Nail Color in Summer?
Peach has both soft and warm shades that complement the warmth of sunny days in summer. This color easily evokes feelings of optimism and happiness, which are all associated with the summer season.
In addition, peach is a versatile color that pairs well with a variety of colors, such as white, cream, and other pastel hues. This color is easy to incorporate into summer fashion and nail art designs.
Peach also complements a variety of skin tones. It has a warm undertone that can enhance a natural tan or provide a subtle glow to lighter skin tones.
Can Mature Ladies Wear Peach-Colored Nails?
Yes, peach is a modifiable color that looks great on all skin tones and all age groups.
Peach has both warm and soft shades that can give a subtle glow and make the hands of mature ladies look more youthful.
Peach is also a classic and timeless color that never goes out of style, making it a perfect choice for anyone, including mature ladies.
Quick Tip
When it comes to nail designs, you can choose a peach shade that suits your personal style and preference.
For example, a light peach shade can create a subtle and elegant look, while brighter peach shades can give a bolder statement.
Ultimately, the choice of whether or not to wear peach-colored nails comes down to personal preference. If you love the color and feel confident wearing it, nothing should ever stop you!
Wear Cheerful Peach Nails This Summer!
Peach is a cheerful and uplifting color that can put you or anyone in a good mood.
Wearing cheerful peach-colored nails with unique designs can be a great way to express your personal style and add a pop of color to your summer outfits.
Were you able to find your favorites from our collection?
We can't wait for you to wear them to celebrate the warmth of summer in style!
Want More Stylish Nail Design Ideas?
Check out these articles for ideas: