This post may contain affiliate links, which means I may receive a small commission, at no cost to you, if you make a purchase.
French ombré nails are a fun way to add a little whimsy to any look. It elevates your fashion and adds a touch of glam to your everyday activities, especially when you're busy with your hands!
If you're looking for classic French ombré nail designs to try on for yourself, however, look no further than these 51 nail styles we've compiled for you.
Each nail is adorned with a beautiful ombré effect, giving your nails a unique and stylish look.
French ombré nails with designs will surely add a bit of elegance to your appearance and may even make others notice just how sophisticated and chic you truly are!
What Are French Ombré Nails?
French ombré nails are a modern, stylish spin on the classic French manicure look.
Interestingly, French ombré nails are sometimes called "French fade" "baby boomer French" or even "baby boomer nails" since they originated in the decade when many baby boomers were born: the '40s.
During that time, it was a popular practice to paint your nails pink and white.
However, instead of simply having your nails painted pale pink and adding a noticeable white band at the very tip, which is what French manicure is, French ombré nails opt to blur the line between the two colors literally.
The result is a seamless blend of pink (or neutral colors, if you prefer) with white, creating a softer gradient effect that will look flawless on any type, shape, and size of a nail — be they short or long, square or oval.
What Makes French Ombré Nails Fantastic?
Why are they such a hit? Simply put, they go well with everything, are timeless, and can even act as the perfect canvas for nail art.
They Go Well With Everything
For one, any French ombré nail design will look great with anything and everything in your wardrobe, especially if you combine a neutral-color polish base with white for the tip.
It might even be hard to find pieces of clothing that will actually clash with them!
They're Timeless
They're perfect to wear regardless of the season or even occasion. Whether you're going to a formal-attire event or a simple get-together with friends, French ombré nails will surely make you look more put-together and sophisticated.
They're the Perfect Canvass for Elaborate Nail Art
Lastly, combining French ombré nails with any type of nail art is possible in many salons or even in your home.
It's similar to using a very clean simple base for any type of decoration, such as jewels, drawings, or glitter, making them even more eye-catching than usual!
51 Fabulous, Must-Try French Ombré Nails To Choose From
They're flirty, they're classy, and they're fabulous. These 51 choices, grouped together according to nail shape, are our go-to selections for French ombré nails.
You can't go wrong when choosing one of them to achieve that perfectly sophisticated look every day!
Almond-Shaped French Ombré Nails
1. Pale Pink French Ombré With a Touch of Green
Adding a bit of art to your French ombré nails makes them more unique than usual. This leaf silhouette is also simple enough to attempt on your own.
2. Neutral French Ombré Nails With Glitter
A splash of rose gold glitter on your neutral ombré nails in various amounts? Definitely a great way to make them sparkle!
3. Gold Foil Hints on Neutral French Ombré Nails
If you're not up for all your nails being covered in glitter, you can always choose a simpler route by just adding a dash of gold foil on the side of one or two fingers.
4. Pale and Pretty Sakura Accents
This gorgeous design will make people want to ask for your hand to study the intricately beautiful sakura illustrations on two fingers!
5. Almond French Ombré Nails
These pale pink ombré nails are the very definition of French ombré: simple, stylish, and chic! And that color is so classy too.
6. Mix of Pinks and Glittering Whites
Your nails are your canvas. Who says you can't enjoy a mix of glossy French ombré nails with glossy yet plainly painted ones? But these ones opt to elevate their plain look with chunky holographic glitters at the base of the plain nails.
7. A Splash of Purple French Ombré
Your tips don't always have to be white! Opting for purple over pink really makes your nails pop.
8. Pale Ombré Nails With Jewels
Nothing screams "affluent" than wearing jewels, even on your nails! This neutral ombré set doesn't go too overboard with jewels but still gets the point across.
9. Metallic Ombré Jewel Drops
Forming a line of jewels at the cuticles and having them "drop" from there can look like a bed of greens with flowers sprouting from it. Best of all, check out that metallic neutral ombré!
10. French Ombré Nails with Gem Accents
This look manages to have all nails wearing gems, but the different amounts really make for a varied look!
11. French Ombré White Florals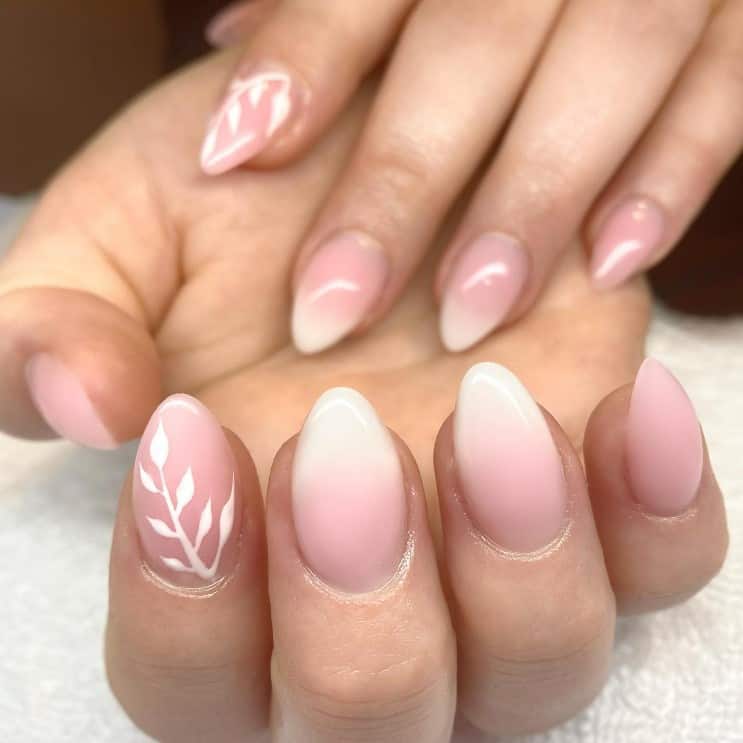 This design opts to break the gradient effect of a nude French ombré with a plain white flower silhouette on one nail. The end result will look really chic on your nails!
Coffin-Shaped French Ombré Nails
12. Classic French Ombré Nails Coffin
Wonder no more about what coffin-shaped nails look like with a classic French ombré. They look spectacularly regal!
13. French Ombré Coffin Nails with Jeweled Florals
This design already looks amazing with just the painted flowers on one nail. But with added gems as flower buds? Beautiful!
14. Pink Jeweled Coffin Nails
This look mixes a variety of options you can wear gems and rhinestones on your nails, with the large blue jewel on each middle fingernail tying them all together.
15. Gem-Spangled French Ombré Coffin Nails
Why not get creative with the designs you choose? The result of wearing an assortment of glitter and flowers on a bed of pink ombré nails is fun and funky yet sophisticated at the same time.
16. Ombré French Manicure and Glitter
The mix of sugary glitter on one fingernail and gems on another on an ombré of soft pink and icy white really makes these nails sparkle like crazy!
17. Glossy Ombré French Coffin With Gems
A variation of the previous manicure, this one will look just as perfect on your nails. This one keeps it simpler with the gems on one cuticle.
18. French Ombré Coffin Nails With Tricolor Stones
You can choose just one finger in each hand to bestow a tricolor stone. The result on glossy nude ombré nails is fabulous.
19. Floral Gems Coffin Nails
Coffin-shaped soft nude French ombré nails with a hint of white glitter really do make the perfect bed for this gorgeous handpainted floral design with gems as buds on one accent nail!
Oval and Round French Ombré Nails
20. Sparkly Ovals French Ombré
This sparkly look on soft nude ombré nails isn't too bold or loud, but they still make your hands glitter amazingly well.
21. Silver Glitter French Ombré Nails
This look mixes your typical soft pink French ombré look with a not-so-typical splash of silver glitter. The product looks exactly as electrifying as it sounds!
22. Glittering Stars French Ombré
The design of multicolored evening stars coupled with a pale pink ombré base is an enchanting choice. The stars even look like they are literally sparkling on the nails!
23. Christmas Ovals French Ombré
Is it the holidays yet? With snowflakes and Christmas wreaths on accent nails, this manicure will really make you feel festive for the season!
24. Rose Gold French Ombré Nails With Glitter
Rose gold glitters on soft nude French ombré together will definitely make your nails look fantastic for weeks.
25. Pretty Pink French Ombré Ovals With Glitter
This dash of silver glitter on one or two of the palest pink ombré nails will make a classic French ombré look even more glamorous than usual!
26. Oval Neutrals and White Sakura Silhouettes
The delicate silhouettes of cherry blossoms on your glossy soft neutral French ombré nails will elevate your daintiness and femininity to the next level.
27. French Ombré Oval With Pink-Tinted Blush
The tint of cool pink on these nails and the subtle white glitter make this manicure no less captivating!
28. Glossy Short French Ombré Nails
Don't think French ombrés only look spectacular on long nails! Even short nails will benefit from the chic look that a French ombré brings to the table.
This glossy pale pink ombre makes your nails look both neat and tasteful.
29. Soft Matte, Soft Peach Ovals with Rhinestones
Rhinestone accents on one nail each hand against a soft matte, soft peach French ombré scream wedding celebration and is the perfect wear for brides on their most beautiful day!
30. Dainty Nude French Ombré Ovals with Silver Rhinestones
A great twist on French ombré nails that's great to wear on any occasion. The decision to use rhinestone accents on only one finger, with all the others just wearing a lovely nude ombré shade, makes the design stand out.
31. Pink and Peach French Ombré
This is a lovely gradient of pink and peach on your nails, and a small white heart on the ring fingernail serves as the cherry on top!
Square-Shaped French Ombré Nails
32. Pale Nude Straight-Tipped Ombré Squares
Medium-length square nails really give off a professional look. A pale pink ombre bottom with a broad white top is particularly a great style to wear in the office.
33. Short French Ombré Square Nails
The same look but on slightly shorter, glossier square nails? Still effortlessly chic in our book.
34. French Ombré Pale Pink with Gold Foil
Gold really stands out on a nude gradient canvas, and this is a perfect example of it. Choosing to highlight just one nail on both hands makes it look not too heavy too!
35. French Ombré Nails and French Tips
French tips and French ombré are both great looks, so if you find yourself at a crossroads when choosing either of them? Go with both. Decorate with gold foil on one accent nail if desired for a luxurious hint.
36. Verdant Rich French Ombré
Verdant accents on nude ombré makes for a charming, fantastical look on your nails. The shiny silver glitter bands across the nails also give this a magical touch!
37. Shiny Silver Squares
You can try pairing your glossy nude French ombré with nails covered in silver glitter or silver marble for a varied look. They will look spectacular on you!
38. French Ombré Ivy
This intricate design of ivy with purple flowers on your nude French ombré nails calls to mind a relaxing afternoon while enjoying tea with biscuits. It's definitely a calming, comforting style!
39. Nude and Silver Alternates
The chic look of glossy nude French ombré, mixed with glossy electric silver, results in a combination that says flirty yet funky!
40. Roses and Rhinestones on Square French Ombré Nails
The classic design of roses, paired with the more modern rhinestones? A highly unusual look but on soft pink French ombré nails, it looks flawless and feminine.
41. Square White Petals with Gems
We don't know about you, but this look really screams K-pop to us! With multicolored rhinestones and half-a-flower 3D design on one nail, this set is modern, fun, and romantic at the same time!
32. Classic Nude French Ombré Squares
The combination of nude color and a solid white top on your nails is a classic look that you can wear again and again.
43. Lacy French Ombré Squares
Pink ombré nails make a great canvas for this illustration of intricate white lace. Using this lace accent on one finger makes it pop out!
Squoval-Shaped French Ombré Nails
44. Shimmering Snowy French Ombré Squoval
The dainty-white accents on these soft pink ombré nails really do make us think of falling snow, making it a great choice during winter.
45. Mix and Match
Squoval French ombré nails can serve as a versatile canvas for all sorts of adornments. Mixing the designs of blue glitter, gray marble, and regular peach ombré nails lends them an overall eclectic look!
46. Twinkling Pink and White French Ombré
This one has more white than pink, but the glistening effect on every nail will make your hands look more captivating.
47. Baby Blue Tips on Short Squovals
A cute twist to pink? Add baby blues and a touch of white streaks and rhinestones for that "Alice in Wonderland" effect!
Stiletto-Shaped French Ombré Nails
48. Peach French Ombré Stilettos with Large Gems
There's quite nothing like wearing large gems on your nails. They're bold and luxurious, especially when combined with a soft peach French ombré on stiletto-shaped nails!
49. Golden Touch on Glossy Pink French Ombré
The gold foil, gold rhinestones, and white glitter on a pale pink French ombré really make the color pop up in the richest, most glamorous way.
50. Midas Stiletto Nails
Want more gold? This one incorporates dainty white flowers, colorful rhinestones, white glitter, and even more gold glitter on your nails.
51. French Ombré Mint and Lavender Mix
The way the mint green slowly transitions into a gorgeous lavender shade makes this a fun and flirty look for arrowhead- and stiletto-shaped nails.
Frequently Asked Questions
How Are French Ombré Nails Done?
Setting up an appointment in your favorite nail salon is a perfect way to get French ombré nails for yourself.
Not only will they take care of your nails, but they will also style them to perfection, especially as most of them offer a wide array of nail polish and even ombré French tip nail designs to choose from!
It's definitely a perfect bonding activity for friends to try out or even a great way to spend a relaxing day just pampering yourself.
However, French ombré designs can also be achieved at home if you need to maintain your nails or if you want to change styles at a whim. It's definitely a cheaper alternative than going to the salon every few days, that's for sure.
You can check out this video to know how to do your own French ombré nails:
How Long Do French Ombré Nails Last?
The length of time you get to enjoy your French tip ombré nails will depend on what type of nail polish you choose and how sturdy your nails are.
If you use regular nail polish, your French ombré nails should last a week or two. However, using either gel polish or acrylic polish will make your nail design last even longer — the latter around three to four weeks, the former two to three weeks.
Try French Ombré Nails For A Classier, More Fabulous You
French ombré nails are such a good look to try for yourself.
They always complement your wardrobe effortlessly, are perfect to wear all year long to whatever occasion you're going to, and are awesome starting points when you want to wear even more elaborate nail art.
You don't even have to choose just pink and white! Your favorite colors are just waiting to be incorporated into your style.
Plus, with so many ways to spruce up your nails, you really can't go wrong with whatever you choose to decorate them with! So long as you're happy with the results, your choice will always be perfect for you.
Say goodbye to boring, plainly colored nails, and say hello to a classier, more fabulous you!
Want to glamorize your nails?
Check these out: