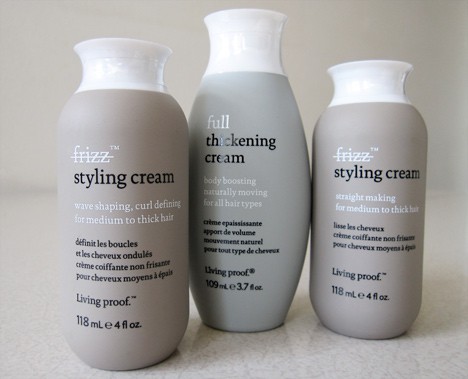 photo: we heart this
Summer is just around the corner! But with the excitement of a change of season comes hair that weighs heavy on my mind. Being a curly haired lady, summer often brings out the dreaded "pyramid hair" and enough frizz to compete with a baby duck. What is a girl to do? Enter Living Proof…
Living Proof is hair by geeks. No, really- the developers behind these products are from MIT. They studied countless hair products in an attempt to discover a real cure for frizz. What they discovered is that most hair products use silicone to coat the hair, but the silicone breaks off, coats unevenly, and hair frizzes anyway. Their findings lead them eventually to a new compound; polyfluro ester, the secret ingredient to their No Frizz system.
Human hair is very sensitive, and humidity can increase the water content of the hair by up to 100%. This makes the hair puff up and tada-frizz. Polyfluro ester coats the hair effectively, blocking out moisture, but not drying the hair.
(And stick around, fine haired gals, some of our testers got to try the Full Thickening Cream
, with equally impressive science behind it.)
I tested two different No Frizz products for Medium to Thick Hair – Wave Shaping, Curl Defining Styling Cream
and Straight Making Styling Cream
(both $24 for 4 oz.). It takes some trial and error to figure out how much product you need (it was a very small amount for me), but once you've gotten it down these products are amazing. My frizz is gone. We had about a week of rain and my hair looked just as great as it did on a bone dry day. A near miracle!
The Wave Shaping, Curl Defining Styling Cream made my curls thick and voluminous. But the Straight Making cream was the true test, as straightening my curls often means a lack volume. Not with this cream! My husband called it "shampoo commercial" hair. That's enough of a testament for me!
For my own scientific purposes, I arranged a bit of a study. One day I used the Straight Making Cream and left my hair curly, and another I used the Wave Shaping, Curl Defining Cream and straightened my hair. There really was a difference! My hair was harder to straighten with the curl defining cream, and the straight making cream wasn't quite enough to banish the frizz on my curly days. Those scientists really know what they're doing when creating these formulas, and yes, it is totally worth it to have both creams.
I'm excited to hear if the testers who tried the Full Thickening Cream
($24 for 3.7 oz) are as impressed as I am. It's lightweight formula is said to create "a micro-pattern of thickening points on each strand." I'm inclined to believe them!
Don't forget to check the comments for the we heart this review team's thoughts and experiences with all three Living Proof products.
[ratings]
Amanda loves all things yummy, shiny, beautiful, and fun. On any given day you'll find her in the kitchen, walking her dogs, or catching a concert with friends.
Disclosure: This review includes products that were provided by the manufacturer/PR firm for our consideration. It also contains an affiliate link, a link that gives us a small commission if you purchase the item. For more info, or any questions, please see our disclosure policy.