Green beauty goes glam…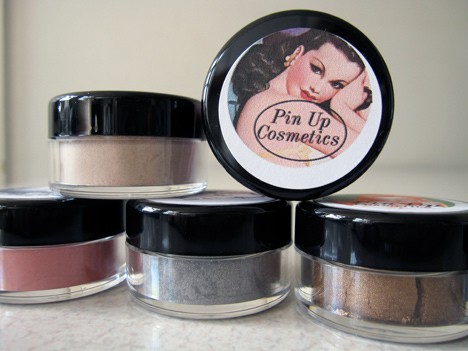 photos: we heart this
I grew up in Baltimore, a city that can give a girl strong opinions about hair and makeup. For better or worse, when it comes to beauty, Baltimore girls never give up on a good thing. Even in 2010, it's common to see women sporting Priscilla Presley up-dos, Sophia Loren eyeliner, white go-go girl lipstick; glamorous tidbits from every era of style. (Aha, now we know how John Waters found his style – wht) My eccentric city, plus a steady childhood diet of movie magazines and classic films on late-night TV, gave me a deep appreciation for Hollywood's glamour girls and all their makeup tricks.
Which is why I'm so excited about Pin Up Cosmetics…
Pin Up Cosmetics bills itself as Retro Glam for the Modern Woman, handmade cosmetics created with retro flair. At first, you might think Natural and Vegan Beauty doesn't exactly scream Bettie Page, but really, what could be more hip than turning your back on chemical-laden beauty? No animal testing, hand-mixed in small batches, free of sketchy chemicals, and packaging featuring the coolest beauties of every modern era. I'm sold. But really, with colors as gorgeous as these, like the blackened teal Damsel (shown above) how could I not be?
The first product I tested was Pin Up's Loose Mineral Eye Liner & Shadow in Raven, "a dramatic black with amazing staying power." Raven is the deepest black powder packaged in a tub featuring a portrait of a 20's Hollywood starlet with kohl-rimmed Cleopatra eyes. Besides a straight Cleo look, this magical little pot can be used in so many other ways! With a big, fluffy brush and a lot of blending, I was able to create a restrained smoky eye. I was also able to layer the product for a seriously dramatic look. Using a pointy liner brush, I created a cat's eye that would make Brigitte Bardot proud. Because my brows are very dark, I even played around with Raven as a brow powder. This made me look a little "Beyond the Valley of the Dolls," but those of you with an outrageous, theatrical style might like it.
My second product was Pin Up's Blushing Betty Mineral Blush in Desire, "a pure pink blush with a soft shimmer." Unlike other mineral blushes I've tried and hated, Blushing Betty is sheer, smooth, easily blendable and the prettiest color I've ever seen! For daytime, a light dusting gave me a natural glow that wasn't disco-shimmery, just rosy and pretty. For evening, I layered Betty for a little more color, which left me looking radiant and a bit more sparkly. Desire is a neutral pink that could brighten any skin tone. In fact, Betty has sent my regular blush to the bottom of the makeup pile.
For me, Pin Up Cosmetics is a modern green line I can embrace: beauty products with all of the glamour and none of the guilt! The we heart this review team got to test a full range of colors and products, let's see if they agree…
[ratings]
Melissa loves road trips, bargain shopping, drive-in movies, lip gloss and rock 'n' roll. She lives in Baltimore with her precious pup Zeus.
Disclosure: This review includes products that were provided by the manufacturer/PR firm for our consideration. For more info, or any questions, please see our disclosure policy.