Can this airy lightweight deliver knock out results?
photos: we heart this
I've been blissfully lucky so far in life that when I travel I don't need to transport a pharmacy full of prescriptions. Give me a toothbrush, two changes of shoes per day and 10 lbs. of makeup and I'm out the door. But prescriptions? They're not taking up valuable space in my toiletry bags and are nowhere on my packing list. That was until I got this magical little jar. Not a prescription, but a plantscription – Origins new Plantscription Eye Cream.
It arrived just as I was about to embark on a mega travel excursion (which included four hotels, three cities, two weeks). I knew if there was any time that my eyes may need a little pick me up, this was going to be it.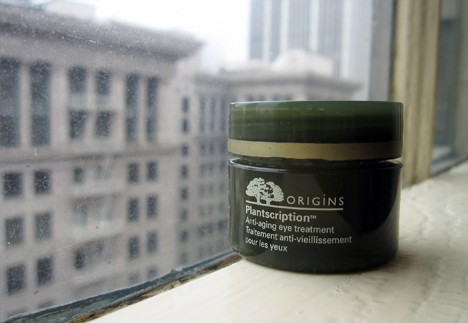 Here's my Plantsciption enjoying the view from The Biltmore in Downtown LA.
This eye cream follows on the heels of Plantscription Serum, which we reviewed (and loved) just a few months ago. The stand out ingredient in both products is Anogeissus. Derived from the leaves and bark of the sacred tree of the same name and native to Ghana, West Africa, it's thought of as a potent wound healer and antimicrobial. Let's see if it can heal the wounds of my stressful lifestyle – my wrinkles.
The first thing I noticed was the lightness of this cream. It's kind of like a gel/cream hybrid and is so airy it applies like a dream. Because it's so light, it absorbs instantly. Unlike some of my other creams that require a few minutes (a precious commodity in the mornings!) to sink in, I was able to apply my eye makeup right away.
Luckily, this is where all references to "lightweight" ends. Because when it comes to eye creams, I like them to really pack a punch. Happily, with Plantscriptions Eye Cream, my wrinkles didn't know what hit them!
Origins says that this cream "penetrates skin to block destructive enzymes that weaken skin's elasticity, and encourages production of new fibrillin to keep skin looking youthful, lifted and lineless". I feel a very slight tingle when I use it, which I like to imagine is the Anogeissus doing it's healing, but did not have any irritation or stinging.
I've been using Plantscriptions Eye Cream ($42.50) for three weeks now and I can attest that the four major areas Origins claims to repair – crow's feet, under eye cross hatching, sagginess and crepey lids – all look better. Somehow during this whirlwind travel schedule, I've look well rested, and yes – rather bright eyed (although maybe not bushy tailed).
So, let me introduce you to a new contender for the title of eye cream champion – Plantscription is a soothing, lightweight formula that's effectiveness has knocked out a few of my old (twice the price) favorites from my line-up.
Readers, are your wrinkles ready to go a few rounds with Origins Plantscription eye cream?
Stef is many things. Amongst them: co-editor of we heart this, graphic designer, Philly girl in the California desert, borderline hoarder and a hardcore beauty junkie.
Disclosure: This review includes products that were provided by the manufacturer/PR firm for our consideration. For more info, or any questions, please see our disclosure policy.