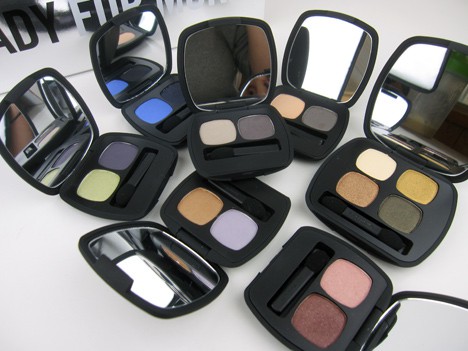 photos: we heart this
When bareMinerals first released their pressed eyeshadow products last November, the gals here at we heart this were practically giddy with excitement. And they'll be excited to find out the new bareMinerals READY Eyeshadow products are just as amazing as their predecessors!
There are seven new READY Eyeshadow 2.0 duos ($20) and two new 4.0 quads ($30). As before, these shadows are housed in black rubberized compacts that are sturdy and also come with a mirror inside. Each product comes with a sponge-tip applicator as well.
The actual colors themselves boast a silky texture, a long-wearing formula and bold colors. Each palette features complimentary colors that not only look great, but also help care for your skin with SeaNutritive Mineral Complex – a blend of ingredients that provides anti-aging benefits.
WHT testers were sent seven of the nine new products:
The Last Call: On the Rocks (bright cornflower blue with a slight sheen) and Shaken Not Stirred (blackened blue with cornflower blue micro glitter)
The Alter Ego: Wicked (golden green shimmer) and Daring (nearly matte smoky plum)
The Cliff Hanger: Suspense (matte natural stone) and Awe (purple leaning taupe shimmer)
Duos from left: Last Call, Alter Ego, Cliff Hanger
The Hidden Agenda: Stealth (light matte apricot nude) and Undercover (grey based taupe shimmer)
The 15 Minutes: Page Six (sandy rose shimmer) and Most Requested (burgundy berry with rose shimmer)
The Phenomenon: Golden Iris (light shimmery lavender) and Azure Iris (bronzey apricot shimmer)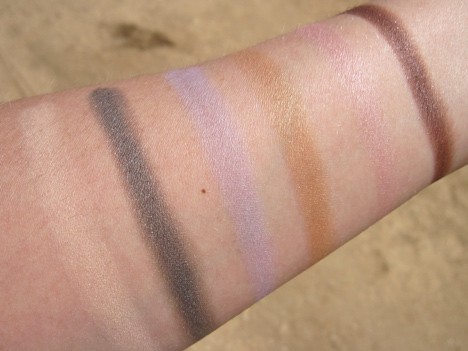 Duos from left: Hidden Agenda, Phenomenon, 15 Minutes
I tested The Phenomenon duo which is special in that it is designed to be universally flattering with the shadows enhancing the color of your iris. Both Golden Iris and Azure Iris have satin finishes to them, and are medium-low in pigmentation. These colors did make my iris color "pop" very slightly. I tried wearing the colors together, but it didn't work as well as just wearing a single wash of color on my lids.
Those of you who are ready for more can pick up one of the new READY Eyeshadow 4.0 Quads.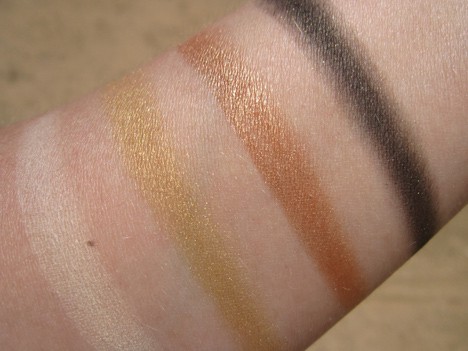 The Soundtrack: Rhythm (matte light nude), Louder (deep shimmering gold), Remix (orangey broze) and Speaker Box (black with gold micro glitter)
I think The Soundtrack is quite a pretty quad, and the colors do pair well together. Rhythm and Speaker Box (the lightest and darkest shade) are a little chalky and have less pigmentation than the other two shades in this quad. Remix and Louder are quite shimmery and slightly metallic.
For both products, the color can be built up, especially with eyeshadow primer and the sponge applicator. Using my standard fluffy eyeshadow brush sheered out the color a bit. I was really impressed with the length of wear for both palettes. With primer, these shadows lasted all day long without fading or creasing in the slightest.
Additionally, I tested a few colors (Golden Iris, Remix, Louder and Speaker Box) on my lower waterline and they looked AMAZING and stayed from 6 a.m. to 11 p.m. – even though I rub my eyes frequently (it's allergy season).
Pros:
• No parabens, no binders, no fillers, no harsh chemicals
• Packaging is compact and includes a mirror
• Smooth texture
• Amazing length of wear
• Pigmentation varies with method of application (a "pro" for some, a "con" for others)
Cons:
• Sponge applicator is small (but does work well for application)
If you liked the previously released READY shades, you should definitely take a look at the new lineup. Or, if you're looking for versatile shadows that can go from office appropriate to going-out, these fit the bill!
Readers – are you READY to hit the makeup counter for latest pressed eye shadows from bareMinerals?
[ratings]
Marilyn is a makeup maniac and slow but stubborn runner. She loves color coding her day planner, reading celebrity gossip and drinking good wine. Marilyn blogs about makeup and fitness over at her blog, Lipgloss and Spandex.
Disclosure: This review includes products that were provided by the manufacturer/PR firm for our consideration. It also contains an affiliate link, a link that gives us a small commission if you purchase the item. For more info, or any questions, please see our disclosure policy.