Sonic waves and ion technology right before your eyes
We've fallen hard for every Michael Todd True Organics skincare product to cross our path. And now the Michael Todd team has upped the ante with the introduction of the revolutionary eye-o-sonic Infusion System – and I've got to say, this one's a game changer!
For those battling issues around the eyes – fine lines, crow's feet, dark circles, and puffiness – meet your new favorite skin care tool; the eye-o-sonic. As a true believer and regular user of a sonic skin cleanser, I was thrilled to discover Michael Todd has taken the technology and applied it to treating the delicate skin surrounding the eye.
The eye-o-sonic Infusion System ($86) packs a one-two punch. The ground-breaking eye-o-sonic is packaged with Michael Todd's INTENSIVE Organic Cream Eye Treatment. This eye cream is packed with 90% certified organic ingredients and fights all of your main eye worries.
There are antioxidants and Copper Peptide (to encourage elastin and collagen production, fighting lines and sagginess), Rhodiola Rosea (derived from the flowering Rhodiola, it's dubbed the "anti-aging herb"), and Organic Olive and Jojoba Oils (for nourishing hydration).
It's been through the wht testing machine and came out with flying colors. The scent-free, light serum like cream really hydrates the eye area without feeling oily or sticky and Stef claims after using it she watched her "puffiness disappear in front of her eyes." (Click here to read our complete review.)
Even with all that gushing, the true star of the kit is the eye-o-sonic, which combines both sonic waves and ion technology to make eye creams and serums even more effective by upping the absorption into skin.
Michael Todd says the hand-sized, sleek little tool "uses electrically charged ions capable of penetrating through to the living cells beneath the surface of the skin, carrying the nutrients and moisture in your eye products deep into skin where they can rejuvenate at a molecular level."
Quite the claim, no? As an eye cream obsessive, I was thrilled to give the eye-o-sonic a shot. I just got my hands on this gently vibrating tool, and have used it a handful of times, and I already can't imagine my beauty routine without it! It's almost as good as a magic wand.
After just days of use, I'm seeing results – my lines are less visible and defined, and my under eye area is more hydrated and brighter in appearance. I'm impressed.
It's simple to use. After washing and drying my face, I apply a dab of eye serum or moisturizer under and up to the corners of my eyes. You can also apply your products directly to silver metal massage head, but I like to tap my product evenly around the eye before reaching for my eye-o-sonic.
Then, starting at those pesky crow's feet I apply the metal tip gently to the skin. The eye-o-sonic turns on automatically when touched against the skin and begins gently pulsing. Using small circular motions, I slowly sweep the wand along the rim of the eye socket bone until the cream or serum is absorbed.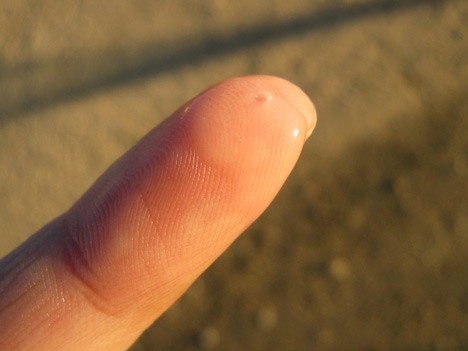 INTENSIVE Organic Cream Eye Treatment
That's all there is to it. The whole process takes a minute or two, and is well worth the (slight) effort. After just one use, my crow's feet and fine lines were visibly diminished and after two days I thought the area under my eyes felt softer and more supple, and looked brighter. It might be a temporary fix, but it's hard to argue with those results.
Plus, I found using my eye-o-sonic to be fun (stop midway through the process and compare one freshly sonic-ed eye to the other!) and kind of relaxing. So it will be easy to keep it in my beauty regime and easy to keep seeing results.
Readers – are you a believer in sonic care beauty tools? Are you excited to try Michael Todd's eye-o-sonic Infusion System?
Tyna, co-founder and co-editor of wht, worries about becoming a crazy cat lady, reads at least a book a week, checks in at a Flyers fan forum every morning and is forever (some say obsessively) organizing her closets and drawers.
photos: we heart this
Disclosure: This review includes products that were provided by the manufacturer/PR firm for our consideration. For more info, or any questions, please see our disclosure policy.