press sample
Have you been fanatically watching the Olympics like we have? We're suckers for lifelong dreams becoming reality after years of painstaking dedication, but it's also glamour galore! In addition to Johnny Weir (who really should have a COVERGIRL contract) there are looks that rival any red carpet around.
We got an inside look at some of the athlete's favorite things. Best news of all? These beauty products can all be found in your local drugstore.
America's top figure skating prospect Gracie Gold is a girl after my own heart. The 2014 US National Champion is a COVERGIRL Clump Crusher fan (which creates long, beautifully separated lashes) and a lover of Instagram (follow her at GracieGold95). Plus, she had me from the moment I first spied her at the opening games with bright red lipstick!
Before she hopefully walks to the podium this week to receive a medal, she says she "checks my eyes for smudges, applies powder to fight shine and applies a fresh coat of COVERGIRL Lip Perfection in Hot." That's Hot below left, aptly named right?
Every shade I've tried is loaded with pigment, and extra creamy thanks to silk moisturizers (which not only feel great, but improve the moisture level in lips in just 7 days.)
Lip Perfection in Hot and Spellbound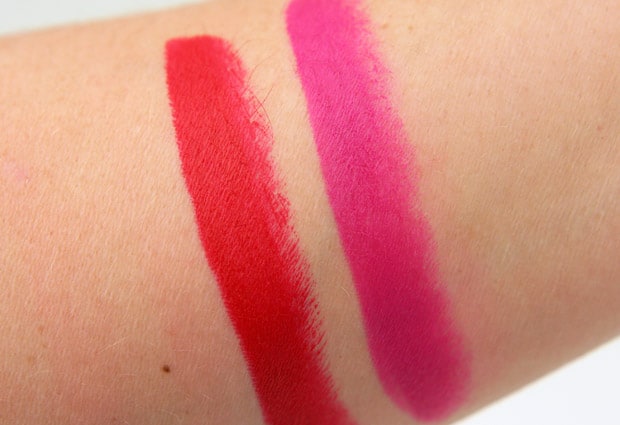 Speaking of the podium, huge congrats to Jamie Anderson, the gold medal winner in women's snowboarding slopestyle, a new event that made its inaugural debut at the Sochi Olympics. As you'd expect from a chill snowboarder who credits yoga as her favorite workout, her beauty style is pretty low key and mostly concentrates on keeping her skin soft in the harsh winter climate.
She gets moisture in every way she can, and that means Olay in every product possible! There's light moisture in Olay Fresh Effects S'Wipe Out Refreshing Makeup Removal Cloths. There's the Olay moisture strip (and 5 blades!) in Venus razors. And there's a whole jar of moisturizer in Olay Sensitive Body Wash. I really love this product; its unscented so it doesn't clash with my perfume, and gentle yet absolutely luxurious.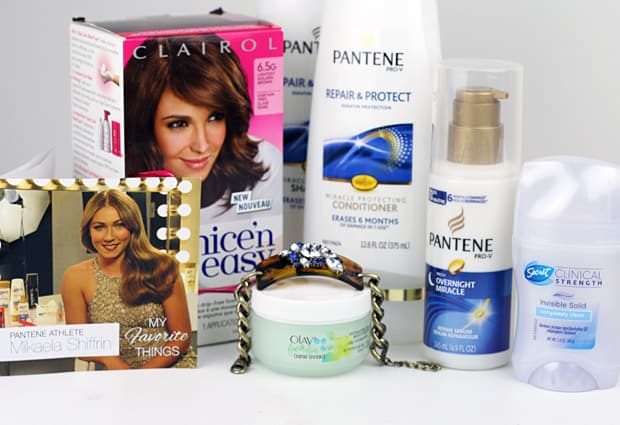 Teenage skiing phenom Mikaela Shiffrin is making her mark in Sochi. She made her Olympic debut in the giant slalom placing an admirable fifth in tough conditions. Stay tuned, she races this Friday in her best event, slalom, where she is the reigning World Cup champ.
She's a fan of the Pantene Pro V Repair & Protect line, ranging from Shampoo, Conditioner and Overnight Miracle Repair Serum. Her gorgeous locks should be proof enough, but take it from this haircare snob – the whole line is really fab (and is said to erase six months of damage with one use!) It has a clean scent, lathers well and my hair was noticeably smoother and silkier with indeed just one use.
I was especially impressed with the Repair Serum. Just a couple of pumps worked into my frizzy, just washed ends leaves my hair looking great. It's meant as an overnight treatment (which doesn't leave your pillow greasy) but I've used it in the am too, and skipped my flat iron when I did!
I'm hoping that hair accessory looks as good in my hair hair as I imagine it does in hers.
The most decorated female figure skater of this quad (that's the four-year Olympic cycle for those non-obsessed fans), Ashley Wagner helped the US win bronze in the new Team Figure Skating Event with a powerful and clean short program. The two-time U.S. National Champion is looking to secure her place as one of America's best in the upcoming Ladies Figure Skating event.
She's obviously a makeup junkie, as her favorite products all fell in the makeup category. The picture at the top of the post shows the patriotic COVERGIRL Outlast Stay Brilliant Nail Gloss in Ever Reddy. And she's also a fan of their latest mascara; Bombshell Volume Mascara.
Modeled after the cocktailing craze (using two different mascaras for added results), COVERGIRL cut to the chase and gave you two types in one tube! Side one is a dense brush with short plastic bristles that add volume, while side two uses a traditional brush to add inky glossiness to the lush lashes you just created. I'd score it high, possibly even gold.
Watch along at home, and if you spy a glamour worthy moment share it on social media with #SochiGlam.
Stef is many things. Amongst them: co-editor of we heart this, photographer, condiment connoisseur, Philly girl in the California desert, borderline hoarder and a hardcore beauty junkie.
skin tone: NC 25/30
skin type: oily with a fear of rosacea
favorite beauty product: high end skincare and lip products