affiliate links
Take a look at what a beauty blogger picks when she's buying!
The Makeup Show has officially become my favorite convention of the year. Not even the rain this year could keep me away from it (LA folks are pretty soft when it comes to bad weather, it's kind of embarrassing!) In fact, when my husband suggested I stay home, I called it one of my favorite days of the YEAR. And that was only a slight exaggeration for his benefit!
I mean, imagine a big hall FILLED with makeup. And not just any makeup. Your favorite makeup, and no filler. For example, love brushes? They'll be a few amazing brands there. But, just a few! Not 30 brush vendors, just the best. If you've been to a few of these rodeos, you'll know exactly what I mean (and agree that that is awesome.)
We got to attend the press event the night before The Show opened, hosted by the ever-lovely James Vincent, TMS' director of education and artist relations, and someone we would have spent all weekend with if we could. He's funny, intensely talented and best of all, a true lover of makeup. To listen to the passion in his voice when he talked about products and brands was amazing.
James leads us into The Icon Gallery
One of the best thing about attending the Press Event (in addition to a killer gift bag) was a first look at The Icon Gallery. New to TMS, it's a space for guests to get an inside glimpse into a visionary's work and life. And who better to first feature then Kevyn Aucoin?
The Gallery contained intimate pieces; drawings by Kevyn, poems, hand written thank you notes; as well as famous face charts, polaroids from shoots and all around makeup history. TMS worked closely with the Aucoin family and his brand to gather the pieces for the show. Tyna and I almost got misty looking at the display above, containing pieces from the Ultima II "The Nakeds" line (which Kevyn created and was our first "fancy" makeup brand!) It also shows eyelashes with the previous wearer's name on them: Britney, Gwyneth, Christy…you know, just those lil' old super stars.
Here's a couple of my other favorite snaps of the day…
A beautiful warrior at Ellis Faas
A sexy demon
A gorgeous view from the downtown LA building
Candy-hued beauty at OCC
One of the things that stuck with me most that James Vincent said was "Fan brushes are so under-used." I made it my mission to pick one up (now I just need to figure out what to do with it!) I was so happy to have it, I petted it all through lunch.
Lunch, by the way, was at Woodspoon, a Brazilian place just across the street. Tyna and I both got grits, collard green and poached eggs (I added bacon.) Honestly, it was one of our favorite meals in ages. We've talked about the grits at least three times in the last month!
But you're here for the makeup, right? Here's what I bought…
I've wanted a large bottle of MAKE UP FOR EVER Sens'eyes ($24) for ages. Actually, I want a bucket of it! I first tried it in the MUFE pro shop in Los Angeles, when a MA used on me to remove their nearly un-budgable Aqua Eyes liners. But she really hooked me when she used a tiny drop of it to rehydrate a slightly dried cream shadow. Genius! I almost feel guilty buying an expensive makeup remover, because I usually save my money for makeup. But this is so good; it feels like you're treating your eyes rather than just removing makeup. Plus, they don't even call it a makeup remover, it's an eye cleanser – fancy!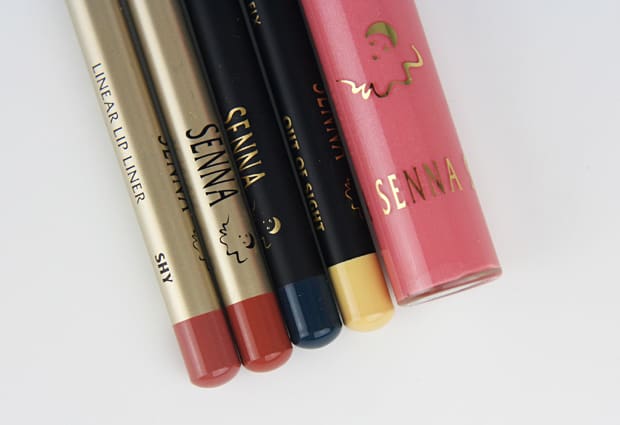 Senna was a good stop for us (and always is.) Not only did we get to meet our very lovely rep in person, but they had a dollar bin! And I am NEVER one to pass up a good sale, especially when it's makeup. I picked up two pretty nude liners (Shy, a pink nude, and Phoenix, a dirty peach) Lagoon Linear eye (a deep navy), a Blemish Fix pencil (a yellow concealer that takes down the red of pimples, brilliant!) and Love Drop lip lacquer (a baby pink that's on their site for $19 right now!) We also spent some quality time talking eye brows with their experts and mentally making plans for a store visit.
Shy and Phoenix lip liner, Lagoon eye liner, Blemish Fix, Love Drop lip lacquer
Oh NARS, how I heart you. How kind of you to time your Matte Multiple release for my visit! These are so beautiful, all of them. But there was only option for me once I saw it beautifully beckoning from one of the MA's lips; Siam ($39). This intense poppy red-orange is so intensely pigmented and gorgeous, I knew I was buying it the second I saw it. The Matte Multiples are fab too, and versatile. Blend them out for a hint of creamy color, use them wet for a wash, or apply to your hearts content for boldness.
I also chose Descanso Satin Lip Pencil ($25), a limited edition product from the Final Cut collection. It's a medium warm peachy nude that's going to get a lot of use by me!
Siam and Descanso
Siam Matt Multiple; bold and blended, Descanso Satin Lip pencil
I'm always happy to have a chance to play with Ellis Faas products. I approached the table knowing EXACTLY what I wanted (and left with exactly that.)
Ever since last year, when my pal Emi over at Project Swatch picked up the Concealer ($40), and subsequently gushed over it, I had an aching pang of need. Well, no more! It's mine, and I understand what the fuss is about. I have never had a concealer seemingly melt into my skin like this one does. Yet somehow, it still covers – and covers very well! This is the best concealer I have EVER used.
I knew I'd leave with one of two Hot Lips, the super pigmented latest in their line of under-fab lip products. Either L404, a watermelon pink, or L405, a bright coral, were going to be mine. I don't even think I closed the cap before I got my wallet out and said "I'll take both, please."
Concealer in S203, Hot Lips in L404 and L405
After getting a first look at the Kevyn Aucoin exhibit in The Icon Gallery, I was even more excited than usual to check out his line, Kevyn Aucoin Beauty. From the gorgeous packaging, with the black to burgundy gradation and soft gold accents, to the amazing products that lie within; this is a luxury line by which I measure all luxury lines. This year I was obsessed with his foundation products.
I've always been sad that the Sensual Skin Enhancer didn't seem like it was for me (it always feels a bit too heavy, and I try it EVERY time I see it!) so I was excited to see the Sensual Skin Powder Foundation ($56) with versatile coverage options. Apply it dry for a matte effect, or with a damp sponge for an ultra-sheer coverage. THIS is the powder of my dreams! Not only does it feel like silk, it has yellow undertones that neutralizer redness. It also comes in a velvet pouch, with a high quality brush and a nice sponge. I think I may be ruined for any other powder from here out. (My perfect shade? PF03.)
And as you saw above, James Vincent made it that I HAD TO HAVE the Large Fan Brush ($60). It was my frivolous purchase of the day (everything else I absolutely needed – ha!) But it feels so fantastic on your skin, that I'm happy every time I use it.
This was a product I learned about while planning my "must see" list for the show (as we mentioned on our post over on The Makeup Show's blog.) Veil Illuminating Complexion Fix ($40) is one product that can take the place of having to use multiple complexion products. From the moment I read "all over face pen (that) evens out and brightens the skin instantly and over time, while weightlessly veiling areas of concern with amazing buildable coverage and light infused pigments" I was in!
It's sold in four shade families, with a pink, gold and neutral tone option within each. My 2N pen (light/neutral) is super versatile. So far I've used it to softly blur problems spots, lightly all over as a more of a tinted moisturizer, and targeted as a concealer. And sometimes, I don't even wear powder with it because it makes my skin look so good. Plus, it's oil free and doesn't settle in fine lines at all (seriously, at all!)
A trip to OCC is like a trip to a candy store. For me, it's not IF I'll buy anything, it's WHAT I'll buy! I seem to go in cycles too, one year I'm Nail Lacquer obsessed, the next it's Lip Tar. This was a matte Lip Tar year! I picked up Hollywood from the new Plastic Passions collection, a ultra-light beige with a mesmerizing gold sheen. My god, is this gorgeous! On the other end of the spectrum, I chose Vintage, a beautiful vampy burgundy red. Is it crazy that I'm already excited for my next trip to their counter?
That's it we heartsters, my epic Makeup Show recap! What looks most interesting to you? Or if you attended, what did YOU get?
Stef is many things. Amongst them: co-editor of we heart this, photographer, condiment connoisseur, Philly girl in the California desert, borderline hoarder and a hardcore beauty junkie.
skin tone: NC 25/30
skin type: oily with a fear of rosacea
favorite beauty product: high end skincare and lip products