sponsored post
Starring our Mediterranean Themed Dinner Party for National Hummus Day!
Ah, the dinner party. Less guests than most parties, yet somehow more work. But that's about to change. Just follow these tips and you'll be entertaining with the ease of a pro in no time!
1. Choose a Theme
This is the first step in planning any party; from kids birthday, to cocktail, and yes, even dinner parties. While it might be tempting to skip (especially if you think "it's just dinner, isn't that the theme?"), doing so will help to easily guide every decision you need to make.
So, what kind of theme to choose? A holiday makes the choice for you. But look beyond the basic bank holidays for some fun options. National Blueberry Month (July) and National Shelter Dog Month (September) are two options I'm setting my sights on for later this summer. But for this party? What better choice for a couple of official Sabra Tastemakers than a Mediterranean-themed party for National Hummus Day, May 15! Sea blue, lemon yellow and a hummus-inspired menu followed.
Bonus tip: a signature cocktail
Skip having to stock the bar and plan just one cocktail that compliments your menu. You'll save time and money, and delight your guests at the same time. I chose Mint and Vodka Lemonade; a choice everyone was quite pleased with.
2. Plan your menu and stick to it
It's easy to go crazy when it comes to feeding people. Trust me, I speak from experience. Assorted appetizers for pre-dinner mingling, then a salad, a main dish, one side and dessert – that's ALL you need. Anything else and you'll be too busy and your guests will be too full.
Our Mediterranean menu was pretty simple:
• A slew of Sabra Hummus, stuffed grape leaves, tzatziki, baked feta and enough pita to feed an army
• Green salad with roasted beets, walnuts and tahini dressing
• Hummus and Chicken Hand Pies
• Orzo pasta salad (I cleverly substituted pearl couscous because I'm smart like that)
• Baklava and pistachio gelato
Which leads me to…
3. Take short cuts where you can
You do not have to make everything. Your guests will not think any less of you, I promise. They just want good food. Play to your strengths. For example, not a baker? Buy dessert. If there's a delicious pre-made option out there, take advantage of that!
Sabra has 14 different types of hummus, each as yummy as the next. (Our favorites are Olive Tapenade, Luscious Lemon and Sun Dried Tomato.) I'm also blessed that my farmer's market has a Greek vendor. These two lucky facts meant that over half of my menu was pre-made, which left me the time to hand-make the items where I felt store-bought wouldn't do.
Fresh lemonade and beets mingle nicely with pre-made stuffed grape leaves and baklava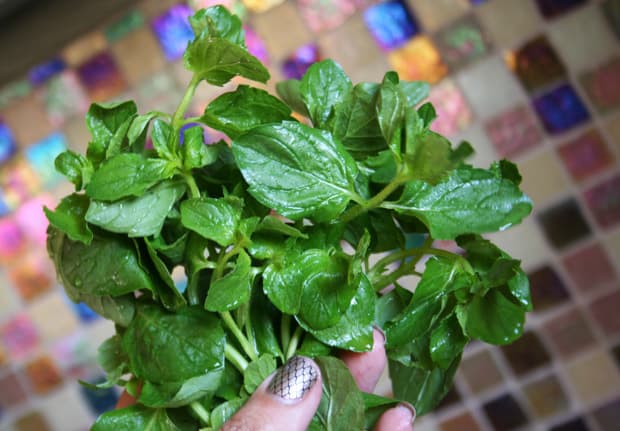 Fresh mint for the cocktail
4. It's all about the little things
The small touches that you add to your table will bring maximum impact. The best part? The ones listed here are easy and inexpensive.
• Greenery: Forget flowers. I got this bunch of Eucalyptus for $4 and was able to make two small arrangements for the table, one large arrangement for the serving area and attach a sprig to each napkin! Plus greenery can add a whole other aromatic layer to your table.
• Cloth napkins: Honestly, if I had a dime for every time I heard a friend exclaim "fancy!" as they sat down at my table and unfolded a cloth napkin, I'd have many dimes. You can find them for a couple bucks a piece, they're more earth friendly than paper and yes, indeed fancy. I might not always have time for a tablecloth or runner, but cloth napkins are always a must.
• Fill unexpected vessels with unexpected things: My vases were mason jars. My roast beet salad was also layered and served in mason jars. The centerpiece on the table was a hurricane jar filled with lemons. It's always nice to give guests something to be surprised by.
• Place cards: Whether it's to break up couples for more interesting conversations, or to make sure you're closest to the kitchen; place cards are a slightly fussy touch that are really pretty fun to make. A leaf, a Polaroid snapped as the guest arrived, or a gift tag tied to a piece of twine and wrapped around utensils are all good options.
5. Do as much as you can before the event
No doubt you've heard this one before. There's reason for that; it's true. All those seemingly simple things add up to you still being in your bathrobe when guests pull up. (Again, I speak from experience.) Lay out serving plates and bowls, arrange centerpieces, set the table, roast veggies – do everything you can possibly do. You will be SO happy you did.
Hummus and Chicken Hand Pies – so delicious!
That wasn't so hard, was it? After a decade of dinner parties, these five tips have helped me keep my sanity while throwing some fabulous parties (at least that's what my guests said!) Keep them in mind while planning your next get-together. Might we suggest a hummus-themed dinner this weekend?
Readers – Do you have any dinner party tips to share? Please do!
photos: we heart this
Stef is many things. Amongst them: co-editor of we heart this, photographer, condiment connoisseur, Philly girl in the California desert, borderline hoarder and a hardcore beauty junkie.