Drugstore Brand Sets Sights On World (of Makeup) Domination
Right off the bat, I've got to reaffirm for all you we heart this readers that Milani is, as a whole, my favorite drug store brand of makeup. It is the brand that I chose to purchase exclusively when I went on vacation once, forgetting my makeup bag and needing a replacement…everything. Milani's hallmark is in creating quality drugstore products that perform as good or better than their more expensive department store counterparts And when a brand that good introduces new face primers and setting sprays, I pretty much could vouch for the products before I try them, but of course, try I did!
I've never used primers much since the dimethicone in them tends to clog pores. While the idea of a smooth canvas for putting on my face was always a big temptation for this large-pored girl, unfortunately, silicone combined with massive amounts of facial oil always resulted in one slippery face, breakouts guaranteed to follow. Therefore, I did not hold high hopes for Milani Prime Light ($10) or Milani Prime Correct ($13) to work for me, no matter how much I loved the brand.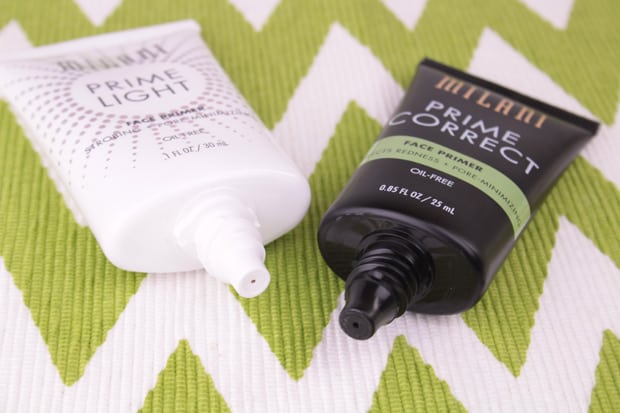 Not that they didn't seem great. Prime Light claims to have a strobing and pore-minimizing effect, while Prime Correct has a green tint to minimize redness in addition to minimizing pores, and both are oil free. I'd really have to see.
The biggest surprise to me was how light these both felt. Prime Light is about the texture of a light moisturizing lotion. Prime Correct is a little thicker; the green being quite visible out of the tube but quickly vanishes on the skin. I've used green tinted correctors before and it has always looked…well…green. I love Lou Ferrigno as much as the next gal, but The Hulk wasn't his greatest look. If you agree, give the Prime Correct a try—it disguised my roseacea-tinged skin remarkably well.
Prime Light has an iridescence brought about with mica and titanium dioxide, resulting in a natural-looking glow that looks great by itself, but also radiates from underneath foundation.
The best thing about both Prime Light and Prime Correct, to me? Neither caused a breakout in spite of the dimethicone, nor did I become overly oily! I can't say why, but my gut tells me it's the lighter-than-usual formulas.
I also sampled two new makeup setting sprays to preserve that perfect face: Milani Make It Dewy Setting Spray ($10) and Milani Make It Last Setting Spray ($10). Confession: I never in my life used a setting spray. Someone once told me that a spritz of hairspray did the same job if you could get a fine mist. It does work, but can get predictably sticky. I've only done this a few times for special occasions. After trying these sprays, I'll never use hairspray again (to set my makeup, I mean).
Make It Dewy is my favorite of the two. It hydrates, illuminates and sets. It basically feels like a spa mist of cucumber water, light and refreshing. There is caffeine and natural botanicals in this as well, all quite soothing to a puffy morning face. Spritz this on by itself, under or over makeup for a fresh face all day and all night (it claims to preserve your look for 16 hours though I haven't had the occasion to test it to that extreme).
Make It Last also claims the 16-hour feat. All I know is these both make it last through my days of errands and puppy-moming, and my nights of (quite physical) work.
Make It Last doubles as a primer, keeps color from fading or settling into fine lines or creases, as well as sets your painted face until you're ready to take it off.
Both sprays are lightweight, and unlike that hairspray trick, will not make your face the least bit sticky.
Milani, is there anything you can't do?
Sherri is co-author of What Would You Do With This Room: My 10 Foolproof Commandments to Great Interior Design, and of course, a wht writer!
skin tone: NC 25
skin type: oily/sensitive
favorite beauty product: anti-aging anything