One of those brands that I always eye bang at Target's beauty aisle is Pixi by Petra. Their offerings are both adorable AND affordable. And their cute, mint green plastic packaging is resilient in a travel bag. Not to mention the color selection is pretty darn fabulous! Today's beauty ramblings will focus on two of my favorite lip products: Pixi Shea Butter Lip Balm and Pixi Mattelustre Lipstick.
Now, some of you know about my excessive love for tinted lip balms. I mean, I don't know that I've met a tinted balm I haven't loved. They're the best of both worlds: gorgeous color and moisturizing treatment all in one. Pixi Shea Butter Lip Balms ($8) offer creamy tint that will soothe your pout all year round. The shea butter base is ultra conditioning and Vitamin E protects, which is just what this chick needs, especially in the winter months.
Pixi Shea Butter Lip Balm in Ripe Raspberry, Sweet Peach and Natural Rose
Pixi Shea Butter Lip Balm Swatches
There are six shades in the Shea Butter Lip Balm Lineup:
Pixi Pink–bubble gum pink
Natural Rose–rosy nude
Honey Nectar–pale nude
Ripe Raspberry–bright pop of watermelon pink
Sweet Peach–your lips but better medium peachy nude
Scarlet Sorbet— sheer red with a hint of brown
Ripe Raspberry, Sweet Peach and Natural Rose swatches
I've tried Natural Rose, which is almost the shade of my lips. It would probably be best for those who prefer a no makeup/makeup look. Ripe Raspberry is that watermelon pink shade that I gravitate towards during spring and summer months–it really brightens my entire face. If you have pale skin and dark hair, you kind of need it. Sweet peach is a deeper, your lips but better shade that really makes my features pop. If you can't do nude lips, try this shade—it will work for you. The lip balms are encased in plastic tubes with lids that coordinate with the color inside–which makes finding the shade you are looking for a breeze (especially if you're like me and have 2-3 lip balms in your purse at any given time…).
The other lip product I am digging is the Pixi Mattelustre Lipstick ($12). It's a creamy matte that has a hint of lustre—it's not really visible on the lip, but it's got a micro-shimmer to it that makes lips appear fuller. This Mattelustre formula also moisturizes and wears incredibly well. It contains peptides and hyaluronic acid, Vitamins C & E–ingredients that will plump your pout to perfection. Prefer the full coverage of a lipstick, but still require added moisture? This is the lipstick for you!
Pixi Mattelustre Lipstick in Peach Blossom, Bitten Rose and Rose Naturelle
Pixi Mattelustre Lipstick Swatches
Pixi offers 11 shades in their Mattelustre Lipstick:
Plump Pink--pale rose
Petal Pink–bubblegum pink
Peach Blossom–medium peach with a hint of brown
Rose Naturelle–medium rose with a hint of brown
Honey Bare–nude peach
Coral Red–reddish orange with a hint of pink
Bitten Rose–medium rosy pink
Classic Red–true red
Plum Berry–bright plum pink
Raspberry Blush–bright pink with a hint of red
Pure Fuchsia–bright hot pink
Peach Blossom, Bitten Rose and Rose Naturelle swatches
I've tried Peach Blossom, Bitten Rose and Rose Naturelle. The colors are deep enough that they are flattering on this pale gal and they do make my lips appear fuller. Whenever I wear Pixi's Mattelustre Lipstick, I love that I don't have to reapply until after I've eaten. I'm not a fan of touch ups. The minty green plastic tubes have a color disc at the base of the tube that mirrors the shade inside (Which is great when your dresser is scattered with nearly identical green tubes and you're looking for one in particular). The only place I can see room for improvement is with the fragrance. I can't even describe this fragrance, but I'm sensitive to smells and this one isn't the most pleasing. Thankfully, it does dissipate quickly. That being said, it's still a pretty solid lipstick offering.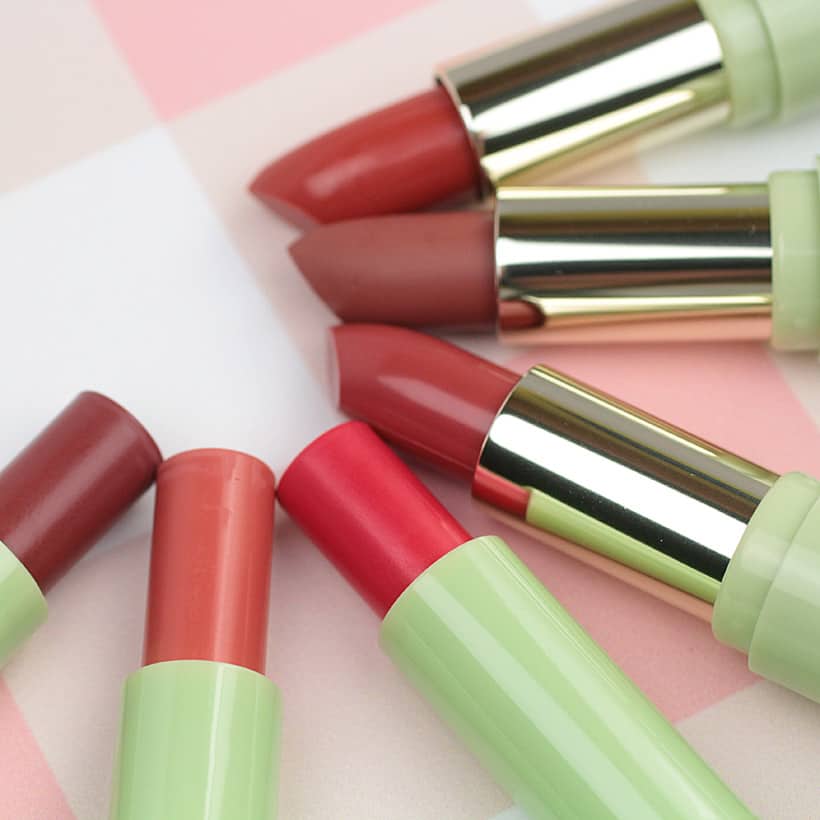 What are your favorite Pixi by Petra lip products? Are you a tinted lip balm, lipstick, or lipgloss fan? I want to hear about it in the comments!
shop the post

Lives in the middle of nowhere with her amazing hubby and two codependent dogs that love to hate each other. She enjoys dance parties of one and last minute road trips, prays for Angela Lansbury's immortality and can never own enough blush. She averages one "Silence of the Lambs" quote a week and feels no shame over this. Perhaps she should.
skin tone: NW15
skin type: sensitive/oily
favorite beauty product: Blush, lots and lots of blush