This post may contain affiliate links, which means I may receive a small commission, at no cost to you, if you make a purchase.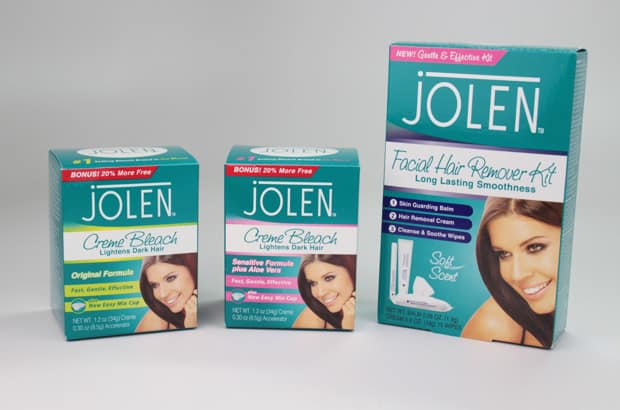 sponsored post
Jolen Creme Bleach and Jolen Facial Hair Remover Kit Review
A beauty addict's work is never done – there are always nails to paints, bodies to exfoliate and complexions that could use a masque. And if we're being honest, I also spend time removing or bleaching unwanted facial hair. It's true; I've got the makings of a teenage peach fuzz moustache, unless I include a little hair maintenance in my beauty regime.
But I am not alone. Many women – millions in fact – are just like me and bemoan unwanted hair on their upper lip, chin and cheeks. Luckily, drugstore fave Jolen has two great options: the Jolen Creme Bleach and the Jolen Facial Hair Remover Kit, for fighting the fuzz and allowing you to #GoConfidently into summer, and life in general!
I'll go to a salon for brow shaping, but taking care of unwanted hair on my face is a more personnel routine for me. I'm just more comfortable in the privacy of my own bathroom. Plus it can be expensive and a time commitment, not to mention painful, to get hair waxed, threaded or lasered away.
These Jolen options, found in your local drugstore, are affordable and only take minutes to use. Best of all, the Jolen experience is PAINLESS – and I experienced no stinging or burning while my skin was left in fabulous shape.
For the peach fuzz on my lip, I tested out the classic Jolen Creme Bleach which is the #1-selling bleach brand in the world, and is celebrating 50 years in the beauty aisle. Available in two versions, Creme Bleach Original Formula and Sensitive Formula with Aloe Vera it lightens noticeable hair on the face and body, easily and gently, making it practically invisible.
And did I say it was easy? It's so easy to use! Just mix the bleach and accelerator in the enclosed cup, using the teeny spatula to scoop and mix. Apply an even layer to the hair you wish to lighten. Wait ten minutes, then remove the mixture with the spatula and wash with cold water.
Done and done. The hair was visibly lightened and less noticeable, while my skin was surprisingly soft and smooth. The results are worthwhile too – Jolen Creme Bleach takes just 10 minutes and lasts for up to four weeks.
Want to get rid of that hair entirely? Check out the Jolen Facial Hair Remover Kit. It is the only facial hair removal product with an easy-to-use, three-part system consisting of a Skin Guarding Balm for pre- and post-skin protection, Hair Removal Cream formulated with a soft scent technology, and Cleanse & Soothe Wipes.
For these photos, we used Stef's swatching arm. It isn't very hairy, but no one wants hairs in their swatches (even blonde ones!) Plus, the sensitive skin on the underside of your arm is very similar to the skin on your face, so it was perfect to test the product. After the test patch, I used this on those pesky chin hairs (you know the ones I'm talking about!) that are always so hard to tweeze.
As you can see from the photos, the Jolen Facial Hair Remover whisked hair away in just eight minutes, with no redness or irritation (the after photo was taken immediately after removing the product), in three easy steps.
Step One is to use the Skin Guarding Balm to condition and protect skin, and help prevent irritation and redness. This balm is a multi-tasker and can also be used after hair removal and cleansing to moisturize and smooth skin. Similar in size and shape to many lip balms, the packaging allows for a quick and precise application.
Step Two is to apply the Hair Removal Cream which quickly, gently and effectively removes unwanted hair. Just lightly squeeze the tube and use the slanted tip to be sure you apply an even layer of product. Leave on skin for eight minutes. There is almost no scent in this cream, or at least none of that chemical, depilatory cream smell. In fact it reminded me of a classic tanning product scent.
Step Three calls for the Cleanse & Soothe Wipes to wipe away the cream and the unwanted hair while soothing and conditioning the skin. I thought these wipes were a really nice touch and super helpful. They are softly scented with a sweet smell and store well in their resealable package. As a bonus, these wipes eliminate the need to ruin washcloths or fuss with tissues or cotton balls.
To learn more about the new Jolen Facial Hair Remover Kit, you can visit www.jolenbeauty.com. Or just go ahead and pick one up! Click here to find out where to buy Jolen – and it should be easy! The new Jolen Facial Hair Remover Kit is available in select stores like ULTA and online at Walgreens.com and drugstore.com for the suggested retail price of $11.99.
So my fellow beauty addicts, whether you wish to lighten or remove facial and body hair, our friends at Jolen have you covered! So #BleachtoBarewithJolen this season.
Giveaway Alert! Just in time for summer, Jolen is also hosting the #BleachtoBarewithJolen Giveaway in which more than 50 winners will have a chance to win ULTA Beauty gift cards, free Jolen products and other fun summer essentials to show off summer skin. Enter the Jolen Bleach to Bare Giveaway now…it ends May 8, 2015.