Please contact us here for media inquiries.
• LA County Fair official Fair Foodie (including online and television appearances.)
• Teaching the world to love chicken liver at The Huffington Post.
• Eucerin 2013 Brand Ambassadors
• Selected for Bacardi Mixers' 99 Days & 99 Drinks campaign and had a signature drink developed for us; the Kumquat Kick Back
• Quote from Spambot trying to sell us UGG replicas – "Can I just say what a relief to come across a person who truly knows what they're talking about on the internet. I can't believe you're not even more well-liked given that you unquestionably have the gift."
• Oh, look who is it is in the pages of New Beauty (and online). It's our fabulous writer Marilyn's quote and photos from our RevitaLash review!
• Stylist (part of AOL and the Huffington Post) includes images and ideas from our How to Have a Mad Men Party post in their 60s Cocktail Party Plan.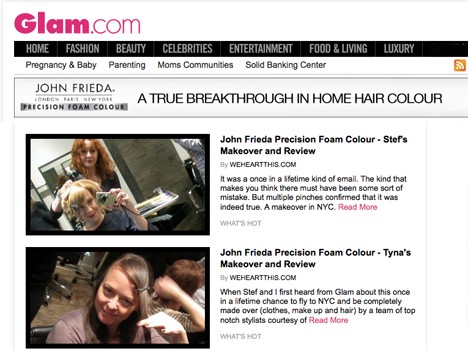 • we heart this was selected by John Frieda and Glam Media to take part in an ad campaign involving a trip to NYC and makeovers by both teams.
• We contributed a week of guest posts at the ever-fab Birchbox, including this post – Five steps to Red Lips.
• AMC gathered the best Mad Men Season 4 theme party links and shared them on their website. Who'd they pick? Oh, just Epicurious, Oprah and lil' old we heart this!
• Where it all began! Check out our Colbert Nation shout out! It's true, we do heart Stephen.