This post may contain affiliate links, which means I may receive a small commission, at no cost to you, if you make a purchase.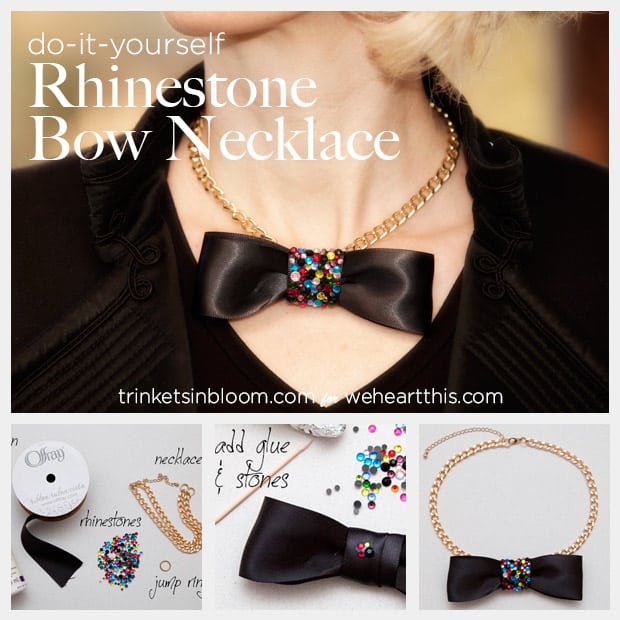 The holidays are here and the party season is in full swing. Make the next festivity a black tie affair by combining a chain, rhinestones and a bow to make this chic DIY Jewelry project – a Rhinestone Bow Necklace!
Supplies:
• Chain Necklace
• 1 1/2 inch wide Satin Ribbon
• Rhinestones
• Aleene's Jewel-it Glue
• Large Jump Ring
• Hot Glue
• Toothpick
Directions:
1. Heat up your hot glue gun.
2. Cut a length of your ribbon about 12 inches long. Fold one end over and using your hot glue, glue it in the center of the ribbon. Fold the other end over and glue it in the center on top of your other end.
3. Using your hot glue pinch the center of your folded ribbon and glue it.
4. Cut a short length of your ribbon to wrap around your bow about 3 inches. Glue one end on to the back center of your bow. Wrap it around and glue the other end on top of your first end.
4 Squeeze a small amount of your Aleene's Jewel-it glue onto a small piece of aluminum foil. Using your toothpick, add small amounts of your Jewel-it glue to your ribbon.
5. Set your rhinestones onto your glue on the ribbon. Fill up the center of your bow with rhinestones and let dry.
6. Add jump ring to chain if necessary (The chain necklace I bought was open in the center so I added a large jump ring to close the chain.)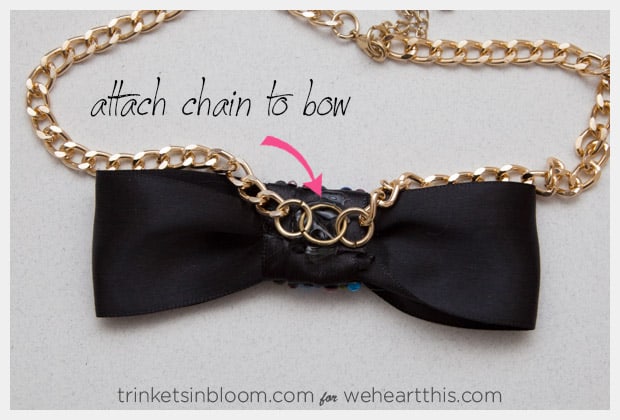 7. Attach the bow to the chain. I used hot glue to glue my bow to the center jump rings on my chain. If you prefer you can sew it on with a needle and thread.
Tip: To simplify this DIY use an already made bow tie instead of making your own bow. Or mix it up with a pearl necklace instead of chain. Have fun with this and make it your own.
This is a fun necklace to add some sparkle and style to your usual holiday attire. So this year, take the traditional black tie up a notch with rhinestones!
we heartsters – Are you wearing lots of rhinestones and sparkly things this holiday season?
Latest posts by Trinkets-in-Bloom
(see all)