100% Pure Organic Rose Hydrosol Facial Mist Review
This post may contain affiliate links, which means I may receive a small commission, at no cost to you, if you make a purchase.
Do you ever feel like taking a break from the complications and chaos of modern life? When I feel overwhelmed, I find myself longing for the simple things… and nothing is more beautifully simple than 100% Pure.
For those who need a refresher, here are just a few reasons why we heart this loves 100% Pure: their products are all natural, vegan, gluten free and cruelty free. In fact, every ingredient is held up to this level of purity, resulting in a collection of products that the company describes as "health food for your skin." 100% Pure actually makes their products with 'food grade' ingredients!
And speaking of refreshers… allow me to introduce the ultimate complexion pick-me-up: Organic Rose Hydrosol Facial Mist ($15). This product is 100% Pure at its uncomplicated best. Designed to instantly hydrate, refresh, and soothe skin, the mist is especially effective for sensitive and dehydrated complexions.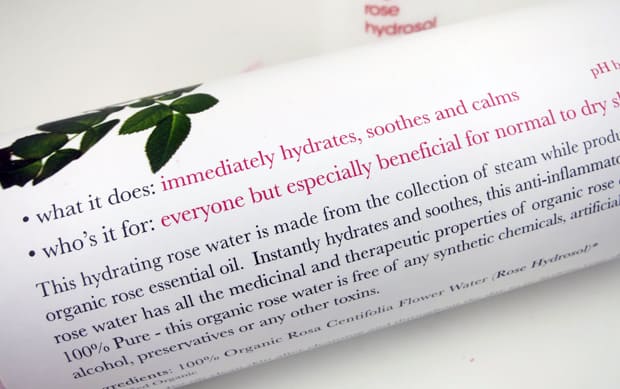 The way hydrosol mist is created might just be the coolest thing ever: essential oil is extracted through a steam distillation process, and hydrosols are the steam! As a natural byproduct, the mist contains exactly the same medicinal properties as pure Organic Rose essential oil. That's right, you can hydrate, refresh and soothe all skin types with a simple spritz of mist!
In the interest of testing (and because it smelled so darned good), I misted every way I could imagine: over newly-washed skin, over moisturizer, under and over makeup. I misted at home and away. The bottle is small enough to take with you for touch-up sprays all day long if you want (I'm kind of tempted to do this, honestly.) I've concluded that misting is addictive and I'd better buy a backup bottle before I run out.
A quick mist will set your makeup in the morning and refresh it later in the day. Even if the moisturizing effect is short-lived, the smell of roses makes me feel happy. It's as if spring is right around the corner no matter what the calendar says.
Pros:
• Made from the steam of organic roses
• Refreshes skin
• Small enough for on-the-go touchups
• The rose scent is mood-lifting
• Ingredients are so pure, they're considered food-grade (and therefore don't require animal testing)
• Vegan and gluten free
• Instead of artificial preservatives, 100% Pure preserves products with anti-bacterial herbs and a high concentration of vitamins and antioxidants
Cons:
• None
If your skin (or even your mood) feels parched, dull, drab, or generally overwhelmed, a misting of Organic Rose Hydrosol might be all you need to look and feel simply beautiful.
we heartsters – Are you 100 percent in love with 100% Pure? Share your favorite products in the comments!
photos: we heart this