This post may contain affiliate links, which means I may receive a small commission, at no cost to you, if you make a purchase.
Products so tastily scented you'll want to eat them all up!
photos: we heart this
I've never counted how many cosmetic and skincare products I use in a single week, most likely because I'm sure even I'd be shocked at the number. But would I feel safe eating the concoctions I use on my face and body?
You're probably saying, "Of course not, silly!" But I just learned that skin absorbs as much as 60% of topical skincare products, just as if we were eating them. So wouldn't it be comforting to know these products were as safe as "food for your skin"?
Say hello again to Green Monday favorite 100% Pure and their irresistible yet healthy bath and body line. Every single ingredient that goes into 100% Pure's products is natural, organic and vegan, resulting in a line that the company describes as "health food for your skin."
Eliminating chemical preservatives and cheap fillers doesn't mean these products have a short shelf life, either. The clever use of natural preservatives guarantees that you'll get your money's worth. 100% Pure relies on anti-bacterial herbs (Japanese honeysuckle, thyme, oregano, goldenseal, rosemary and lavender) and a high concentration of vitamins and antioxidants to preserve all products.
Animal lovers can rest easy, too. There is no need for 100% Pure to test on animals because their products contain food-grade ingredients (only chemicals, including synthetic perfumes and fragrances, require such testing measures). So my skin can absorb all the product it wants – I can even eat it – without worries.
The wht team received three products in a variety of scrumptious scents from the 100% Pure bath and body collection to test – let's get started: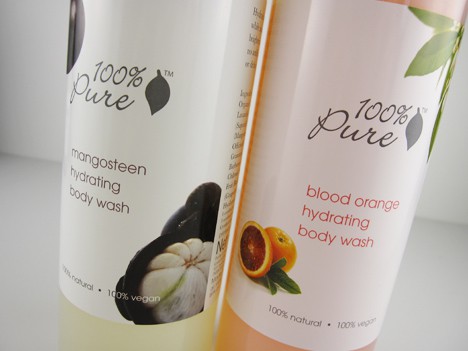 First up, the Hydrating Body Wash ($15), which like all 100% Pure bath products are available in 18 tempting scents like Strawberry Lemonade, Vanilla Bean and Key Lime. Some testers tried out the Blood Orange Body Wash, while I tested the Mangosteen scent.
The formula is thinner than most body washes because it does not contain artificial fillers or thickeners. What it does contain are vitamins, antioxidants and skin brightening fruits. And don't worry, the thin formula belies this wash's serious foaming power.
While I wouldn't use this wash for second hand shaving duties, it does a great job cleaning and washes quickly and cleanly away. With the vivid scents, this wash makes a great, go-to morning shower product.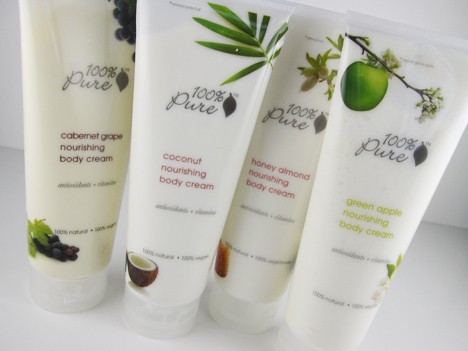 After a nice shower, it's time for a Nourishing Body Cream. Once again available in a range of scents, the team checked out Honey Almond, Coconut and Green Apple, while I applied the Cabernet Grape scent.
This tube of thick, concentrated cream ($15) is full of the ingredients you'd expect, like anti-aging antioxidants, vitamins, skin softening fruit oils and moisturizing cocoa and avocado butters. Hmm, sounds good enough to eat…and despite its thickness, the cream soaked right in, leaving my skin soft.
The only thing I wasn't crazy about was this particular scent, which disconcertingly reminded me of grape gumballs. But this is just a personal preference, and a grape lover won't find a more realistic, natural version. I loved everything else about the cream, and can't wait to try it in one of the other, many scents.
Finally, the team had a chance to shower with 100% Pure's skin brightening Body Scrubs ($25). This time I tried out the Cocoa Kona Coffee, while fellow testers received the organic Eucalyptus scrub.
This is the scent for me, a cocktail of chocolate and coffee that smells like heaven and left my skin smooth, glowing and lightly scented. This scrub is a heavy hitter, packed with actual organic Kona coffee grounds, an extremely effective exfoliator, as well as organic rosehip and apricot oils to moisturize with no residual oiliness.
Pros:
• Each product comes in a large range of unique scents, all created from real fruits and pure essential oils.
• Reasonably priced for generously sized, effective, and green formulas.
• Suitable for even the most sensitive skin and safe for children too.
Greens:
• The entire line is truly 100% Pure (no synthetic chemicals, preservatives, artificial fragrances, colors, etc.)
• All formulas are 100% biodegradable and 100% natural.
• All packaging is made with recycled materials.
• All printing uses non toxic soy and vegetable inks.
• The entire line is vegetarian or vegan (the only animal ingredient used is cruelty free honey).
Cons:
• Unless you're in California, this fabulous line is only available online.
The bottom line is that I loved all the products I tested; it's just a matter of figuring out which scent(s) from 100% Pure's huge selection will appeal to you. I plan to expand my bath and body arsenal with other Cocoa Kona Coffee scented products, although some of the other options sound mighty tempting to me, too. In a nutshell, there is never anything synthetic or cruel about 100% Pure, and I feel 100% confident knowing this.
we heartsters and testers – are you 100% in love with 100% Pure?
Disclosure: This review includes products that were provided by the manufacturer/PR firm for our consideration. For more info, or any questions, please see our disclosure policy.
Latest posts by turboterp
(see all)