Compensation was provided by Caress® via Mode Media.  The opinions expressed herein are those of the author and are not indicative of the opinions or positions of Caress®.
sponsored post press sample affiliate link
I'm probably the only perfume aficionado who regularly leaves the house without wearing any. Honestly, I'm so rushed most days that I'm lucky I even have pants on. So there I sit, the scentless perfume lover.
But, not anymore! Introducing the Caress® Forever Collection, the world's first body wash with fragrance touch technology. Activated by touch, the "Fragrance Release Pearls™" deliver a burst of perfume every time you touch your skin. So, for up to 12 hours you can rub your skin to reactivate the scent for a perfumed pick me up.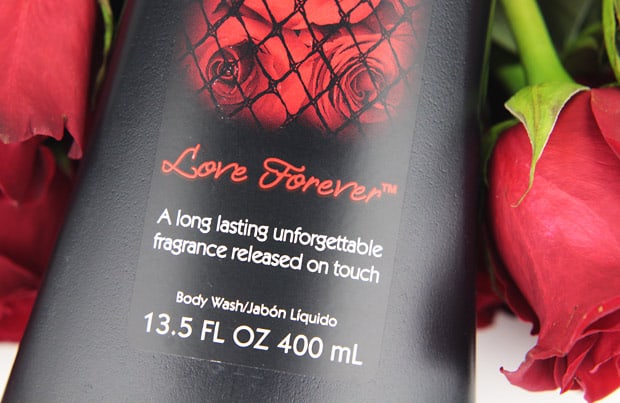 There are two scents in the collection, both with rose notes. Caress Adore Forever™ has touches of melting honey, vanilla and amber, infused with elegant petals of "Angel Face" rose. Caress Love Forever™ has my name all over it: a rich floriental sweetness blended with lush dark berries and freshly picked scarlet red rose.
For my fellow fragrance aficionados, here are the Caress Love Forever™ notes:
Top note: Mandarin Orange and Peach
Heart note: Scarlet Red Rose, Peony and Freesia
Base note: Sandalwood and Vanilla Musk
In addition to the impressive technology, there's an impressive name behind the collection as well. You might not know Loc Dong, but you certainly know his work. The list of perfumes he's developed looks like a "who's who" fashion and fragrance house directory! And now, he's added the Caress® Forever Collection to that list.
Both scents are "Inspired by the confident and sensual modern woman" and I can attest to that feeling. When I use Caress Adore Forever™, all I need is a quick rub of my wrists and the rich scent gives me a boost of fragrance to tackle the day.
The Caress® Forever Collection delivers long lasting fragrance for a long lasting impression. I may just start skipping my perfume on purpose!
Explore more about how to be unforgettable with @Caress. #CaressForever
Stef is a plethora of things. Amongst them: co-founder of we heart this, photographer, condiment connoisseur, Philly girl in the California desert, borderline hoarder and a hardcore beauty junkie. She also has a touch of wanderlust and, arguably,
the cutest dog in the whole world
...
skin tone:
NC 25/30
skin type:
oily with a fear of rosacea
favorite beauty product:
high end skincare and lip products