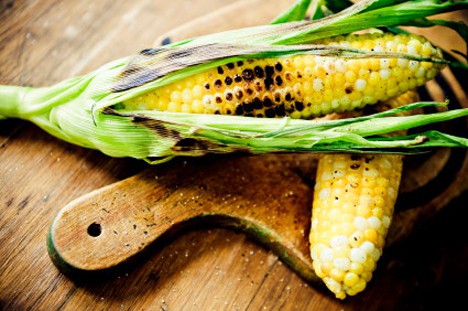 photo: kristy for we heart this
Corn on the cob is one of our nation's favorite vegetables to throw on the barbecue in the summertime. But why limit yourself to the same old butter & salt routine? You can take grilled corn to another level with the addition of a few kitchen staples!
Before we start livening up the corn, you may want a refresher on grilling this summertime fave. Check out The Reluctant Gourmet for grill tips and a basic (always delicious) butter/salt/pepper recipe. Next get to a farmers market or grocery store and stock up on some super fresh corn (see some buying tips here).
Now we're ready to shake things up with some delicious toppings that will have your guests begging to know your secret. Follow the basic grill steps and replace the butter/oil with one of these combos:
Parmesan – Mix together 1/2 cup of mayo, 1 cup of shredded parmesan, a tablespoon of chili powder along with one teaspoon each of salt and freshly ground pepper.
Cayenne & Lime– Sprinkle to taste with cayenne pepper (or ground ancho or chipotle) and serve with lime wedges on the side.
Chipotle Butter – Mix together half a stick of softened butter, one finely chopped chipotle chile and one tablespoon adobo sauce (which can be found in the international section of most grocery stores).
Herbed butter – Mix together half a stick of softened butter with half a cup of your favorite chopped herbs (basil and cilantro are my faves).
Pesto – That's it, just pesto. It's divine!
For the Adventurous – Really want to get crazy? Drizzle melted chocolate and add a little sea salt. I haven't tried it personally, but I've been told the salty/sweet combo is amazing!

Readers – what are favorite ways to spice up Corn on the Cob?
Kristy is a personal chef, web designer, freelance writer, and the food blogger behind The Wicked Noodle. She's a happily married mom to two girls, a bit of a tech geek and loves animals, yoga, long naps and anything with chipotle in it.
Latest posts by Kristy Bernardo