tarte Amazonian Clay 12-hour Shimmering Blush review
photos: we heart this
I'm something of a blush aficionado. Make that, I'm obsessed. I'm constantly in pursuit of perfectly flushed cheeks – I feel absolutely nude without blush. If I'm not wearing any, I practically maim myself pinching my cheeks with great ferocity. I've got it bad, ladies.
That being said, it's not often that I'm dazzled anymore. I've tried most brands and in most formulations, and while some brands are better than the rest of the pack, very few are frontrunners for me. However, one of my all-time favorite cheek products is tarte Cheek Stain
, so it's no surprise to me that when tarte created a powder blush using Amazonian clay, I would end up totally wowed.
That's right, WOWED. What could possibly improve upon said Amazonian clay formula? SHIMMER! (Everything's better with shimmer…and bacon.)
Tarte's Amazonian Clay 12-Hour Shimmering Blush
builds upon the already stellar Amazonian Clay formula and adds a touch of gold and silver shimmer.
Upon first inspection, I was a wee bit concerned about the seemingly larger size of the shimmer particles, but my concerns were completely dismissed once I applied this. Not only did this finely milled powder apply like a dream, I couldn't make out any chunks of glitter, just a bit of glow. Think ethereal, not disco ball.
Even better, tarte's latest shimmering blush not only leaves cheeks with a flush and a touch of sheen, but it stays put for the promised 12 hours. I've recently been purchasing all kinds of cosmetics that promise 12 hours, 24 hours, or tattoo-like wear, and all have lied to me, we're talking to a laughable degree.
Tarte wouldn't dare do something so mean. Nope, tarte delivers. Not only did this combo/usually oily-skinned gal have some blush remaining at the end of her day, but my cheeks looked as fresh as they did in the morning. This does not happen people, at least not without promising some dark overlord my firstborn.
This newest formulation is available in 4 must-have shades:
Frisky – Shimmering bright coral
Buff – Shimmering nude
Glisten – Shimmery peachy pink
Adored – Shimmering light pink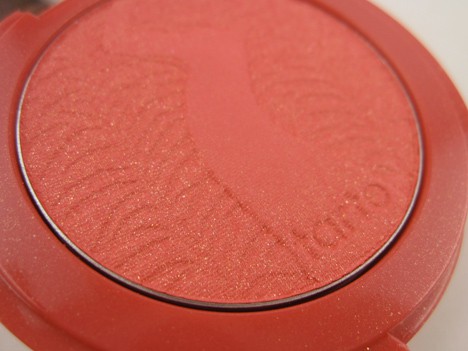 Frisky
Adored
I received two hues to test and they are easily my new favorites in my blush collection. First up, Adored, which creates a perfect rosy cheek; it's very similar in shade to the regular formula Amazonian Clay blush in Dollface, which is another favorite of mine. The shimmer adds a nice touch and makes it a little more special.
Buff
Next up Buff, a shade I worried might be too brown for me, but it was weirdly perfect on my skin. There's a slight touch of mauve to it, so it keeps the shade from being muddy. It really created a very subtle and natural blush, perfect for when you want a very natural look.
Glisten
The compacts on these are also lovely – you can differentiate them easily from the regular blush because the plastic casing has shimmer to it. The pans are also generously sized; you may pay $25, but these beauties will last you a long time.
Frisky, Adored, Glisten, Buff
As a side note, I'm kind of loving tarte more than ever since they started creating cosmetics using Amazonian clay. This stuff is pretty terrific. It does wonders for most skin types. For oilier girls, it keeps shine at bay. For drier skin, it moisturizes. Combo skin is evened out. It even improves skin clarity and texture. As some products create breakouts in my sometimes-temperamental skin, this actually calms and improves my skin, which I love.
If you're acne-prone, you will absolutely adore this blush. If you have sensitive skin or just like to avoid harsh chemicals, this blush is formulated without mineral oil, parabens, sodium lauryl sulfate, or synthetic fragrance. It's also cruelty-free.
If you don't already own one of these babies, you're probably wondering why not at this point. After testing these, I'm wondering, too.
Pros:
• Amazon Clay does wonders for any skin type
• Blush lasts the promised 12 hours (and beyond)
• Available shades are flattering and natural looking
• Shimmer gives skin a lovely glow
• Generously sized pan
Cons:
• None (That's right, I can't think of a single con on these. I can't even say how rare that is for me. RARE.)
Have any of you tried tarte's newer products with Amazonian clay? Are you wondering where this clay has been your whole life, too (besides the banks of the Amazon)?
If you're hooked on any other Amazonian clay products from tarte, I want to hear about it!
[ratings]
Krista currently lives in a semi-haunted house in New England with her hubby/best friend and obscenely big-eared dog. She thinks the world would be a better place if people smiled more and ate more dark chocolate. She is a firm believer that humor can be found in everything and that Tom Selleck's moustache has healing properties…
Disclosure: This review includes products that were provided by the manufacturer/PR firm for our consideration. It also contains an affiliate link, a link that gives us a small commission if you purchase the item. For more info, or any questions, please see our disclosure policy.