MAC makes it fashionable to match again, and we've got LOTS of pics to prove it!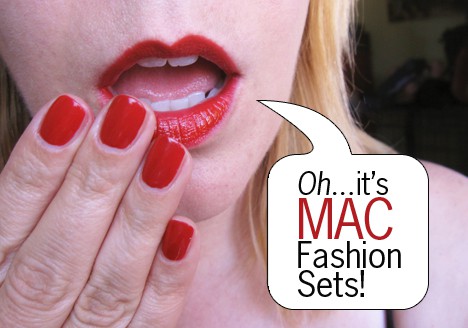 There's something very retro about matching when it comes to fashion and beauty. I'm not sure when it happened, but there seemed to be a revolt somewhere along the way against the matchy ways of our elders. Match your shoes to your purse? As a teenager I sometimes didn't even match my shoe to my other shoe!
But as all things do, trends you once rebeled against become fashionable again. And lover of retro that I am, I find myself asking "what's so bad about matching?" MAC answers "not a thing" with it's introduction of Fashion Sets; matching trios of Lipstick, Lipglass and Nail Lacquer that were created in honor of some of their best sellers worldwide.
The collection is broken into four regions where the shades are best sellers; North America, Asia Pacific, Europe & Africa, and Latin America & Middle East. You can get any set from MAC online and each region will have their respective shade line-up in-store through June 28, 2012. Plus, Macy's in the US will have the Latin America line-up exclusively.
clockwise from top left: Myth, Snob, Russian Red, Girl About Town
We got a look at four of the sixteen sets that were released. Wanna peek?
Girl About Town is a blue-based hot pink that's high impact yet very wearable. There's something so summery about a hot pink too, isn't there?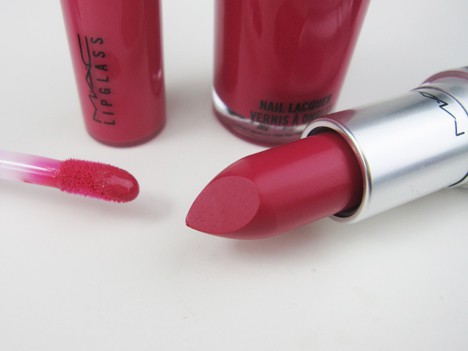 Girl About Town lipstick and lipglass
Which came first, the lipstick, lipglass or the nail lacquer? In the case of the four trios we looked at, the lipstick is the predecessor.
Girl About Town lipstick has an amplified finish and fabulous opaque, creamy coverage. The lipglass has a fine silver sheen added to the pink base.
The nail lacquer matched the lipstick precisely, and covered perfectly with two coats.
If you are a red lover and you don't own Russian Red lipstick, stop what you're doing and buy it immediately. I am not even kidding, they'll take your red lover card from you if they catch you without it! It's the perfect red. Like, if an alien landed and never saw red before – you'd show him this. Not too dark, not too light, it is truly neutral. Are you getting how perfect it is?
Russian Red is the #1 selling lipstick in Australia, New Zealand, Switzerland, Spain, Portugal, Austria, Singapore and Venezuela.
Russian Red lipstick and lipglass
Russian Red lipstick has a matte finish. I don't know if MAC has recently updated the formula on their mattes, or if I've just tried a lot of bad mattes recently. But it's actually quite plush, not drying and wears for ages. The lipglass is a tad brighter, but adds a shiny layer of fabulousness to the lipstick.
Like Girl About Town, the nail lacquer matched the lipstick perfectly, and covered evenly with two coats. This trio is divine, folks!
Myth is my go-to nude when I want a REALLY nude lip. I turn to it to eliminate any color from my lips and give me that mod, Edie Sedgwick kind of look.
Myth is the #1 selling lipstick in Russia, Ukraine, Poland, Estonia and Finland.
Myth lipstick and lipglass
MAC calls Myth lipstick a "light neutral nude" and that's pretty spot on. I'd add that it does have a slightly peach tint. The matching on this trio is slightly skew-whiff (to quote my British Hub), meaning it doesn't quite. The lipglass is definitely darker and takes on a brown tone versus the peach in the lipstick. But, it does make the combo a bit warmer.
The nail lacquer was a bit pesky to work with. It felt a bit thick to me and left visible streaks even after two coats. Really beautiful neutral shade though, so you may think it's worth the work.
I think cool girls could almost treat Snob as a nude. It reads with the same paleness that Myth does, except it's a cool pink.
Snob is the #1 selling lipstick in Brazil, Mexico, Chile, Peru and Argentina.
The lipglass is a bit more sheer and milky than the lipstick. Versus Myth lipglass warming up the lipstick, I think Snob lipglass actually makes the lipstick look even cooler and paler.
The nail lacquer is on the thin side, which I really like. Give me thin coverage to thick any day. But because of it, I didn't quite get opaque coverage with 2 coats. It's also a tad bit warmer than the glass/stick.
Personally, I'll be purchasing the Spice trio, as the lipliner was my very first MAC product! I'm excited to see how it translates into the other products. Interestingly, Spice lipliner is the biggest seller on the list, it's #1 in Canada, Brazil, Italy, Mexico, UK, Venezuela, Chile, Peru, Argentina, Philippines, Singapore, Spain, Portugal, Thailand, India, Saudi Arabia, Jordan, Kuwait, Bahrain, Lebanon, Oman and United Arab Emirates.
Here are all 16 of the Fashion Sets:
Lipstick
Myth – Light neutral nude (satin)
Snob – Light neutral pink (satin)
Spice – Mid-tone neutral nude (satin)
Girl About Town – Bright blue fuchsia (amplified)
Russian Red – Mid-tone neutral red (matte)
Rebel – Mid-tone cream plum (satin)
Chestnut – Rich chocolate brown (satin)
Peachstock – Creamy peach beige (satin)
Razzledazzler – Creamy light coral (lustre)
Ravishing – Clean light peach coral (cremesheen)
Angel – Soft Pink (frost)
Saint Germain – Clean pastel pink (amplified creme)
Morange – Loudmouth orange (amplified creme)
Please Me – Muted rosy-tinted pink (matte)
Pink Nouveau – Bright Pink (satin)
Impassioned – Amped up Fuchsia (amplified creme)
$14.50 U.S./$17.50 CDN
Lipglass
$14.50 U.S./$17.50 CDN
Nail Lacquer
(all shades are creams)
$16 U.S./$19 CDN
How about it weheartsters – ready to be fashionably matched? Which trio interests you most?
Stef is many things. Amongst them: co-editor of we heart this, graphic designer, Philly girl in the California desert, borderline hoarder and a hardcore beauty junkie.
Disclosure: This review includes products that were provided by the manufacturer/PR firm for our consideration. For more info, or any questions, please see our disclosure policy.