The wonders of argan oil (slowly but surely) made me a believer
photos: we heart this
It has gotten to the point that you can't shake a hairbrush in the beauty aisle without whacking into a product that contains the darling of the beauty world — argan oil – a powerhouse ingredient that contains high levels of antioxidants and vitamin E that nourish and protect hair and skin. Having been introduced to the benefits of argan oil, in not only my haircare items but also my cosmetics, by my fellow testers on we heart this, I'm pretty familiar with products containing "liquid gold."
When I received a trio of products from Moroccanoil, I was prepared to be pleased but not terribly impressed. (Another haircare with argan oil? Yawn…) Plus, I received the products just as summer started to hit in Texas; did Moroccanoil really think it could stand up to the sauna that envelops my city every year?
However, having been a tester for a while I should know better because I was blown away by the subtle differences that Moroccanoil had on my hair!
Created after a trip to a salon in Israel gave co-founder Carmen Tal startling results, Moroccanoil was brought to the US a few years ago and has become a powerhouse in the haircare industry. Starting with the original Moroccanoil Treatment for dry hair, the company has branched into skin and spa treatments and is a favorite of high-end salons and celebrities.
The Moisture Repair Shampoo and Conditioner ($20.60 and $21.60 respectively) were a welcome change as I'd run out of my favorite brands and had been making due with lesser drug store versions.
Using them for the first time did not make me a convert; the shampoo lathered nicely and the conditioner is that perfect consistency of thick yet thin enough to coat your hair evenly, but (at first) neither product seemed like something to write home about. (But keep reading!)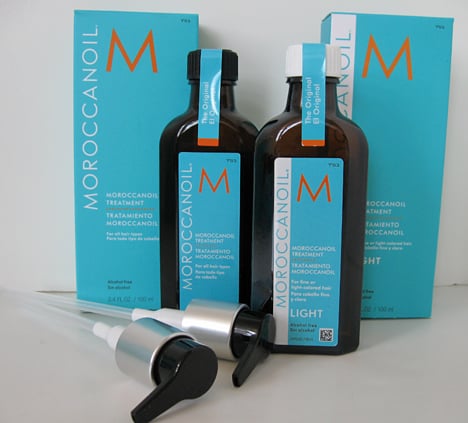 Having been overly spoiled by slick packaging, I was more impressed with the Moroccanoil Treatment bottle, prettily encased in amber glass and with a pump that doles out the perfect amount of lovely smelling oil. I tested the standard version which is suitable for all hair types, while a fellow tester checked out the Moroccanoil Light Oil Treatment (both $40.60) designed for those with fine and light colored hair.
All three products I tested have that argan oil smell that you either love or hate; warm and a little exotic. For those that aren't fans of the scent, it's worth noting that the smell only lingers with the Treatment oil and even then it's subtle.
The Treatment oil held more promise; thinner than more frizz treatments. This allowed for light application on dry hair to give shine or control frizz, and heavier use on my damp curls when I needed more control. But overall? The experience was good but fairly average, I thought…
It wasn't until I got a compliment on my hair weeks later that I took a good look in the mirror. My hair did look a little bit more tamed and seemed to be standing up to the recent Texas summer humidity. Plus, it HAD seemed a bit shinier than usual.
And…wait, did I really notice less hair falling out in the shower? Upon further inspection, it seems that Moroccanoil had been slowly but surely transforming my hair into softer, shinier, more manageable curls right under my nose. Sneaky, sneaky…
The Moroccanoil Treatment will definitely be in permanent rotation in my beauty routine. It's lightweight and great on wet or dry hair, the shine and smoothing powers are up there with any other serum on the market.
I'm excited to see how my fellow testers fared with a few of the Moroccanoil hair products, especially the Intense Hydrating Mask ($32.80). Ideal for those in need of extra moisture or conditioning can benefit from this dense mask promises a "5-minute revival treatment" that improves the texture, elasticity, shine and manageability of your locks.

Another tester tried out the Frizz Control spray ($32), packaged in the pretty glass amber bottle. This spray is crafted to eliminate frizz and control static in any weather – from the dry conditions of winter to the high humidity of summer.
Plus, make sure to check the comments for the low down on the Luminous Hairspray ($21). This lightweight and flexible hairspray is infused with argan oil and promises to fight frizz and add shine while giving long-lasting hold without any sticky residue.
Pros:
• No phosphates, sulfates or parabens
• Signature warm argan oil scent
• Gentle yet effective cleansing, moisturizing and frizz control
• A little goes a long way
Cons:
• Signature warm argan oil scent, not everyone's favorite
• Price on the higher end
If your hair is in need of an overhaul and you've been wanting to jump on the argan oil bandwagon, Moroccanoil is definitely the brand that you should let pleasantly surprise you.
[ratings]
Readers and testers – have you fallen in love with the power of argan oil and the Moroccanoil hair care line?
Moroccanoil products are available exclusively through partner salons nationwide. To locate a salon near you, use the salon locator by visiting the Moroccanoil website via smartphone.
Alyssa is kinda geeky, kinda girly and all the way in love with her cowboy husband who can say words like, "ornery" with a straight face. She live in Texas and is working on her Masters, being a good cook and the art of looking cute in the morning AND being on time for work. Visit her blog Kind of a Mess.
Disclosure: This review includes products that were provided by the manufacturer/PR firm for our consideration. For more info, or any questions, please see our disclosure policy.