MAC asked, you requested…
photo: we heart this
We heart MAC. Truly, we do. But they are the single biggest cause of our raging case of LED (limited edition disorder). There's something about knowing that there will come a time when you can't buy something, that makes you instantly want to buy it. Clever marketing or evil plot to keep my savings account at its $10 balance? Perhaps a bit of both.
But, lucky for us, these limited edition products do sometimes come back. Usually, a product here and there may make its way into a new launch. But this time, they've come back in a pack! Nine former LE products make up the By Request collection. MAC asked in March for its customers to pick their favorites from a list of 18 eye shadow, lipstick and lipglass. Here are the three of each with the highest votes.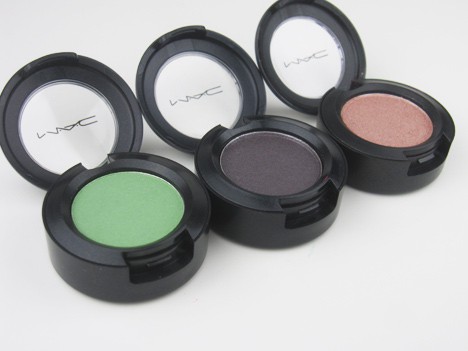 Guacamole, Moth Brown, Jeté
Guacamole was originally launched in Salsabelle (May 2005) and 50,536 votes brought it back. It's a beautiful spring green with gold shimmer and a frost finish.
Moth Brown is the shade I voted for, so of course, it's the color I was most excited to see won. First seen in Madame B. (March 2005), 39,563 votes got it here. It's surprising to me that it was the lowest scorer of the three shadows. This shadow is legend! And with good reason, it's a dark purple and grey leaning taupe. Like any self respecting taupe, it's a chameleon, looking more grey in some looks and more purple in others. And like Guacamole, for a frost finish, it's not very frosty (which is a good thing in my eyes).
Jeté is from the Danse collection (January 2006), with 40,245 votes bringing it back. It's a peachy nude shade that I can see being a favorite for any neutral lovers out there. And oddly, this veluxe pearl finish looks more frosty than the two frosts!
Guacamole, Moth Brown, Jeté
All three shadows have amazing color pay off and a smooth texture. Well done MAC!
Bait, Flash of Flesh, Cult of Cherry
Bait is from the Lure launch (June 2006) and received the highest votes in the lipglass category; 34,045. I find that surprising. It's pretty, a light milky pink with silver and multi color shimmer, but it doesn't seem terribly unique to me. But I'm not a pink girl, and who am I to doubt the voters!
Flash of Flesh was first seen in D'Bohemia (May 2005) and 27,707 votes brought it back. This is a complex shade (I have nine words written down in my notes to describe the color!) But I'd call it a metallic pinkish nude copper with chunky silver glitter.
Oh Cult of Cherry, how I remember driving to MAC on the first day of your launch (Cult of Cherry, September 2008). 29,466 smart cookies brought you back from retirement. It's a dreamy metallic opaque blue-red. If you're a red lover, you must own this.
Bait, Flash of Flesh, Cult of Cherry
The most exciting results for me are in the lipstick category; three rich, pops of color – all of them matte, and creamy matte at that! Two of them are gone already, but stalk MAC online…they may just pop up again.
Candy Yum Yum, Moxie, Rocker
Candy Yum Yum is from Quite Cute (April 2011) and at 77,517 votes, it has more votes than any other product in the launch! I can see why you love this cool neon pink, it's a show stopper.
Moxie was first seen in Retro Matte Lipsticks (September 1999) and 74,957 votes brought it back. Hooray, because I LOVE this shade of warm pink red.
Finally, there's Rocker from Time Rocker (Fall 1999). 72,299 wanted to rock out with it again. It's a burgundy-brown red with a light smattering of multicolor glitter (not sure I've seen a matte with glitter before!) It's very vampy, perfect for fall.
Candy Yum Yum, Moxie, Rocker
So readers, are you happy with the requests? What will you be picking up? (This launch is online only.)
Lipstick: $15 US/$18 CDN
Candy Yum-Yum – Neon pink (matte)
Moxie – bright pink (matte)
Rocker – burgundy-red with glitter (matte)
Lipglass: $15 US/$18 CDN
Bait – iris-pink with gold pearl (frost)
Cult of Cherry – clean red with red pearl (frost)
Flash of Flesh – light nude pink with pearl (frost)
Eye Shadow: $15 US/$18 CDN
Guacamole – light green with gold pearl (frost)
Jeté – sandy coral (veluxe pearl)
Moth Brown – soft metallic grey/brown (frost)
Stef is many things. Amongst them: co-editor of we heart this, graphic designer, Philly girl in the California desert, borderline hoarder and a hardcore beauty junkie.
Disclosure: This review includes products that were provided by the manufacturer/PR firm for our consideration. For more info, or any questions, please see our disclosure policy.