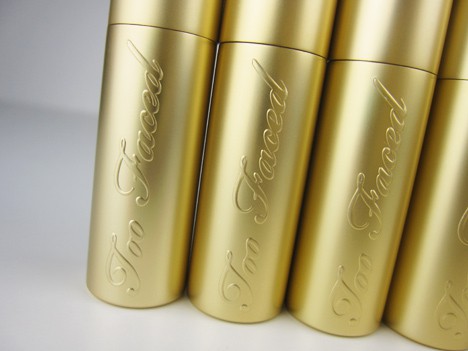 photos: we heart this
I've said this before, I love a tinted lip balm. I love the moisturizing feel of it sliding on my lips, and just how smooth my lips look with a tinted balm. Sadly, most balms just aren't as saturated in color as I prefer. I've often wondered why nobody made a lipstick as moisturizing as a lip balm.
Well, apparently Too Faced Cosmetics
decided to answer my lip balm-in-a-lipstick prayers (Hey, you can pray for world peace all you want, I just want a purty mouth…) with their newly released La Crème Lipsticks
.
This latest offering from Too Faced is chock full of moisturizing ingredients and manages to give the lasting power and color payoff of a lipstick with the buttery feel of a balm. With ingredients like white lotus flower (hydrates and locks in moisture, contains anti-oxidants) and power peptides (revitalizes, firms, and increases moisture), this not only makes lips look good, but feel good too.
My first impression is how smooth this felt upon application – the impulse to smoosh my lips together; just to enjoy the balm-like texture was too strong to control! The La Crème Lipsticks ($21) are available in 16 to-die-for hues and are divided into four flattering color families: nudes, spices, pinks, and reds – and we've got a look (and swatches!) of every single shade!
Cinnamon Kiss, Naughty Nude, Nude Beach, Spice Spice Baby, Stiletto Red, Marshmallow Bunny
Cinnamon Kiss – Pinky brown
Naughty Nude – Peach-kissed light-to-medium nude
Nude Beach – Cool and dirty light pink
Spice Spice Baby – Pink nude
Stiletto Red – Classic, bright red
Marshmallow Bunny – Cool, bright pink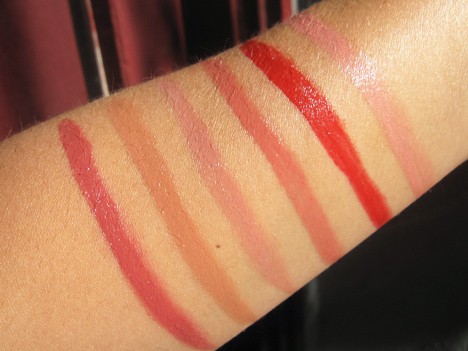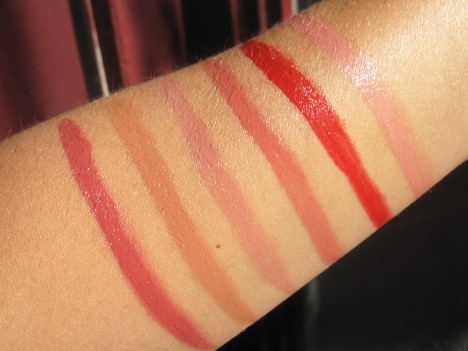 Cinnamon Kiss, Naughty Nude, Nude Beach, Spice Spice Baby, Stiletto Red, Marshmallow Bunny
Coral Fire, Razzle Dazzle Rose, Sweet Maple, Naked Dolly, Honey Bear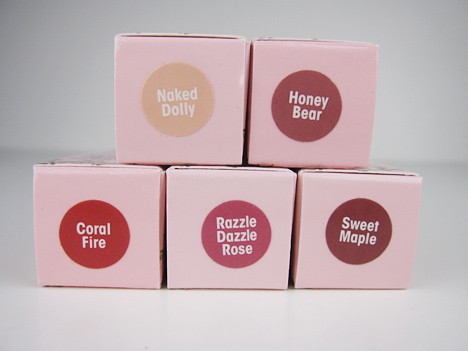 Coral Fire – Bright pink coral
Razzle Dazzle Rose – Cool, lavender pink
Sweet Maple – Plummy Brown
Naked Dolly – Lighter pink nude
Honey Bear – Shimmery mauve brown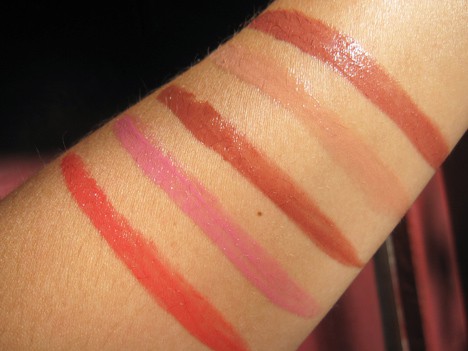 Coral Fire, Razzle Dazzle Rose, Sweet Maple, Naked Dolly, Honey Bear
I tested three hues, including Honey Bear, which I found (on my very pale self) to be ridiculously flattering. I can't pull off a nude lip, but I find that I can pull off a spice lip. The medium brown shade blended with mauve is one of those universally flattering shades – it gave me a lovely, polished look that still managed to be natural. I find myself reaching for it quite a bit.
While Razzle Dazzle Rose is a very pretty pink, it's a little too pale and cool for me. I think this would be gorgeous on someone with a tan – it reminded me of Malibu Barbie's lips. Sadly, I am no Malibu Barbie. *pouts*
Juicy Melons, Fuchsia Shock, I Want Candy, In the Buff, Divine Wine
Juicy Melons – Milky pink coral
Fuchsia Shock – Bright hot fuchsia
I Want Candy – Coral kissed medium pink
In the Buff – True, skin-toned nude
Divine Wine – Wine red
Juicy Melons, Fuchsia Shock, I Want Candy, In the Buff, Divine Wine
Fuchsia Shock is just that – shockingly fuchsia – but that works on my pale self with dark hair. It gave me the bright pop of color I prefer on my lips during warmer months and the color stayed vivid for hours.
Overall, I'm pretty happy by the staying power of the La Crème Lipsticks
. I managed 4 hours without having to reapply, which is nothing short of incredible. I also noticed that my lips felt smoother after I was done wearing this. Usually my lips feel a little dryer after wearing a lipstick. Color me impressed.
These are getting a solid 5 stars from me and I can't wait to add a few more shades to my collection!
Pros:
• Gorgeous, flattering colors
• Smooth texture
• Moisturizes
• Phenomenal Color Saturation
• Wears well
Cons
• Um, they're not free? That's all I can come up with – these are fabulous.
Readers and testers – How much do you love Too Faced's La Crème Lipsticks and what colors do I need to buy next?
[ratings]
Click here
to shop Too Faced and all 16 shades of the La Crème Color Drenched Lip Creams at Sephora!
Krista resides in the middle of nowhere with her bff/hubby, an obscenely big-eared dog, and a puppy that makes feral capuchins seem mellow. She has an irrational fear of ax murder, owns more than one machete for home defense/the zombie apocalypse, and goes to sleep serenaded by the sounds of the Chupagobbler, a mythical turkey beast that roams the woods around her house. She also has an obsessive love of Tom Selleck's moustache that is, quite frankly, alarming.
Disclosure: This review includes products that were provided by the manufacturer/PR firm for our consideration. It also contains an affiliate link, a link that gives us a small commission if you purchase the item. For more info, or any questions, please see our disclosure policy.