This post may contain affiliate links, which means I may receive a small commission, at no cost to you, if you make a purchase.
One trip to Target + One Covergirl Tropical Fusion palette
= Four variations of bright eye shadow
Nothing signifies the start of spring for me like the uncontrollable desire for bright makeup. From hot pink lips to beached-hued eyes, the second the thermometer rises even a bit – I'm on it. For today's Target Style post we're looking at bright eye makeup.
It's beginning to look a lot like springtime! My recent Target haul.
But how bright are you willing to go? Do you feel perfectly comfortable having eyes that look like a peacock? Or, are you the type who thinks you're getting wild when your brown shadow has some micro glitter in it? Wherever you are on the scale, there's a way to rock a bright eye.
I used only one palette for this post. One glorious palette; CoverGirl Eye Enhancers in Tropical Fusion. I have been eying it for a while and I'm so glad I found a justification to purchase it. I'd love it for $20, so the fact that you can get it for under $5 is unreal!
The great thing about a palette is that it takes the guess work out of it. You know you're getting colors that work together, however many you chose to use. And that's what I'm going to show you today.
High end pigment at Target prices!
Please note: I didn't add dark eyeliner until the 4th shade. Add liner at whatever step you stop at.
All looks feature CoverGirl LashBlast Clump Crusher Mascara in Very Black. Which I love, love, LOVE. It gives me exactly what I want: clump free length.
Ok, let's get bright…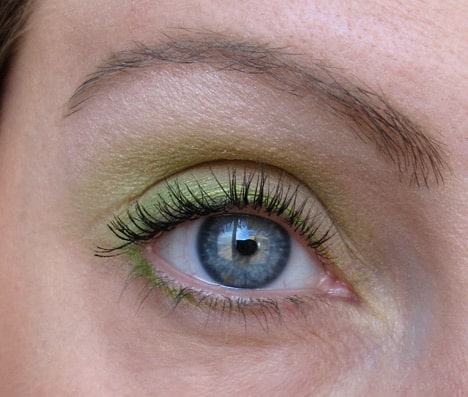 One color:
Color shy? Try just a wash of one bright hue. I chose the chartreuse shade in the Tropical Fusion palette and enhanced it with a matching shade of liner; CoverGirl LiquilineBlast in Green Glow.
Two colors:
One color was so fun, how about two? Add a teeny punch of a second color. I used the apricot shimmer in the inner corners of my eyes. Nothing to be scared of here…
Three colors:
Two colors is pretty, but you could use a bit of depth. I added the turquoise in the crease, directly over the chartreuse. (Excuse the "up the eye" shot – but the angle best shows what's going on.)
Four colors:
You've done so well, go on – add the 4th shade! I added the amazing cobalt blue to the outer corners, blended up into the crease and added a dark blue eyeliner.
There you have it, a look that's as bright as you want it to be!
we heartsters, what is your favorite shade of bright eye shadow?
It's Time for Springtime. Disclosure: Compensation was provided by Target via Glam Media. The opinions expressed herein are those of the author and are not indicative of the opinions or positions of Target. For more info, or any questions, please see our disclosure policy.