This post may contain affiliate links, which means I may receive a small commission, at no cost to you, if you make a purchase.
There are collaborations, and there are Collaborations. Like when Wozniak turned to Jobs and said, "Hey, I like apples and computers. Let's do something fun." Or when Ben and Jerry sat up one day and went, "I scream? You scream? Let's make them all scream for ice cream!" (I'm pretty sure that's exactly how those partnerships went down.) But Allure and Butter London teaming up to release ten new limited edition shades for the fall? That's Collaboration with a capital C.
In ten trendsetting and tantalizing shades, the Allure & Butter London Arm Candy Nail Lacquer Collection ($15 each) is made up of sheer and opaque cremes with metallic, shimmer and texturized glitter thrown in there to make you swoon. Chip resistant with a high-shine finish, the Arm Candy collection contains Hydrolyzed Silk, Horsetail Extract, Vitamins B,C and E; all to promote healthy and strong nails. And, as always, Butter London is 3-free, formulated without dibutyl phthalate, toluene or formaldehyde.
It's Vintage is a rust creme that is perfect for fall, a really great mix of orange and brown. It's a favorite of mine, even wearing the color makes me want to don a scarf and go stomp some fallen leaves!
Nude Stilettos is a sheer nude that is JUST this side of pink. And when I say sheer, I mean SHEER; it was tricky to work with and needed four coats to get any kind of opacity.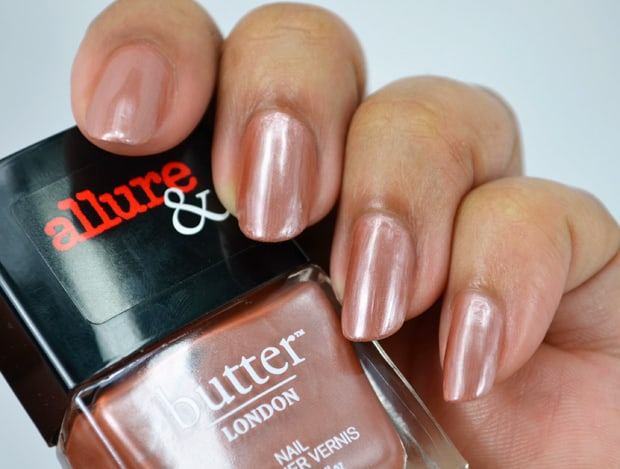 Call I'm On The List a "rose-gold metallic" all you want, but many of us fashionistas recognize this color from our older sister's Caboodle in '87. The color is one of those so retro that it's hot again, but a formula this frosty comes some brushstroke issues.
Statement Piece lives up to its name, a orange-red crème that will make you want to stare at your hands at stoplights. (Don't. The people behind you will honk.) This is sexy and so super glossy, you almost don't need a topcoat.
Disco Nap sort of looks like the asphalt outside a club—a charcoal jelly full of silver glitter. It's the surpriser in the bunch; I was indifferent to it in the bottle but on the nail I fell in love.
Lust or Must? is a MUST for me. A deep, dark brown creme that doesn't stray into black, this is the color you give your friends when they say, "I don't like brown polish." No, honey, you just haven't tried this brown polish.
My only real problem with the Arm Candy collection? They are missing the distinct Butter London British names! Ten polishes and not one among them that we'd have to ask Derwood to translate. Slightly disappointed, Butter London.
These shades are available as six full size bottles, but there is also a set of four miniature bottles ($30) Violet's Revenge, a blue-purple creme; The Sweet Spot, a dusty-pink creme; So Major!, a Loden-green shimmer; and Front Row a wine creme. These are available only until March 2016, so run as fast as your stilettos can take you and grab yours today! Actually, put on some stylish, but sensible shoes and then head out, sweetie. These beauties are great, but safety first.
What about you, we heartsters? Which of these would you want to partner up with?
Latest posts by lyssachelle
(see all)