This post may contain affiliate links, which means I may receive a small commission, at no cost to you, if you make a purchase.
Light up your home with classic holiday scents
photos: we heart this
Candles are one of my favorite things to give at Christmas time. They make the perfect stocking stuffer, hostess gift, or teacher present. I always have a few on hand just in case I need a quick gift for someone because I rarely meet someone who doesn't love candles.
I also love keeping a few for myself and using them all around my house at Christmas time to give it that holiday feel and smell I so love. So you can imagine my delight when one of my favorite candle makers Archipelago Botanicals sent the we heart this review team their Holiday Collection to test.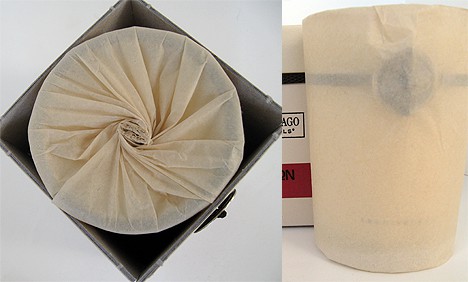 This Green Monday worthy company offers gorgeous soy based candles in distinctive scents with lead-free wicks and simple, upscale packaging. Soy candles not only burn longer than regular candles, they also burn cleaner which is important to me. Each candles is created with high-end, natural ingredients and all Archipelago products are cruelty-free.
For their 2011 Holiday Collection, Archipelago has introduced a few limited edition luscious and seasonal scents. The team got to test out three of them in both a full size glass encased ($24.50) and travel tin ($14) version in the following scents:Vanilla Essence, Cinnamon Spice and Frosted Cedar
I tested Vanilla Essence in the full size glass votive and it was quickly placed on my living room coffee table. I didn't light it right away, but was amazed how it still smelled so wonderful throughout the room with the candle just sitting there. But even more amazing is the smell once it's been lit.
This is a classic vanilla scent that is just right in my opinion. Not too sugary sweet or overpowering. Think real vanilla! It's just a cozy, happy scent that is perfect for the season.
Next up, I placed the Cinnamon Spice Travel Tin in my guest bathroom. The candle comes in a decorative tin with a lid, perfect for travel or any small space…like inside a stocking perhaps? Cinnamon spice is a sophisticated cinnamon scent and perfect for those wanting something a little different.
The scent was not what I was expecting at first; it doesn't smell like your typical Christmas cinnamon scent. This one is way more grown up and smells more of spice than cinnamon. My husband loved this one and strangely this candle found its way to his office. While I thought this scent was a bit on the manlier side, I still loved it because it was so different than any other cinnamon candles I have smelled before.
I'm excited to hear what our review team thinks of the Frosted Cedar fragrance, I hear it adds an icy, green woods twist to the standard holiday pine.
Pros:
• Simple and elegant packaging – suitable for gifting.
• Great for stockings (tins) and more substantial gifts (glass votives).
• Grown up, not overwhelming scents – enjoyed by both sexes.
Greens:
• Soy based candles and lead-free wicks.
• Natural, high end ingredients.
• Cruelty- free.
Cons:
• A little pricey (but worth the cost, imo).
If you are looking for the perfect holiday candle to give or light up your own home, I highly recommend giving Archipelago's holiday candles a try.
Disclosure: This review includes products that were provided by the manufacturer/PR firm for our consideration. For more info, or any questions, please see our disclosure policy.