This post may contain affiliate links, which means I may receive a small commission, at no cost to you, if you make a purchase.
Pantone's 2012 color of the year collides with the 2013 color of the year!
I will always have a place in my heart for Aveda, for they were my first introduction into high end hair care. The year was 1994 (!) and Tyna and I had just moved across country to Los Angeles and discovered the joy that is a California Mall (huge, filled with with new-to-us stores, and not a Fashion Bug in sight.)
On the first of many trips to The Beverly Center (we practically lived there in the 90s) a modern, yet rootsy looking haircare store beckoned us. "Would you like a cup of tea?" a woman asked us. We sipped tea and started sniffing bottles. And a new obsession was born.
We were a bit late to the game, as Aveda was founded in 1978, but we were easy converts and happy to be so. I used pretty much nothing but Aveda on my hair for years. YEARS. And although a blogger can rarely stay true to any one line, I often turn back to Aveda; my sweet smelling, high-performance, botanically-based old friend.
But we'll leave the haircare discussion for another day, because today we're talking about their makeup. Specifically their new limited edition Art of Nature launch. Which as you can see is a beautiful sunny slice of heaven. The complete collection is a mix of pastel washes and shockingly bright shades which together create a modern palette. I went straight to the coral and green selections and instantly fell in love.
That love was felt most intensely for the lone blush of the launch, Petal Essence Face Accents in Hibiscus ($24), a lightly shimmered trio of champagne nude, peachy coral and a rather Tangerine Tango looking bright red orange.
(Allow me to talk directly to our resident blush addict for a moment. Krista – you need this. Your blush-lovin' self will be enveloped in happiness.)
This has quickly become one of my favorite blushes. Swirled together, the trio gives you a beautiful shimmery coral. But the stripes are large enough that you can apply them singly too. I like to swirl and apply first. Then with a slightly pointed blush brush, put a bit of the red coral on the bottom portion of my cheekbone and the nude as a highlight. It makes me feel like a blush artist!
The blush is infused with certified organic lavender (though I can't smell it) and all three shades are nicely pigmented.
But if you want the pigment powerhouse of the bunch, pick up Nourish-Mint Smoothing Lip Color in Cana ($16). Part of Aveda's spice family of shades, Cana (#913) is an intense, shiny red orange California Poppy sort of a shade. Sadly, it's sold out online, but check your local store. It's worth a hunt!
Almost as noteworthy as the color is the formula. Nourish-Mint is infused with plant and fruit waxes that help to smooth fine lines, hydrate and plump lips. I love it's super minty spearmint and vanilla flavor and scent, it stays as long as the color does. Which is until I wipe it off!
Hibiscus Face Accents and Cana Lip Color
Papyrus and Lemongrass Eye Color
Moving into the greens, there is Petal Essence Single Eye Color in Papyrus and Lemongrass ($14). Papyrus (#981) is a shimmery chartreuse. Lemongrass (#980) is a frosty shamrock shake sort of green.
Made with aromatic flower waxes of jasmine and geranium, these shadows are silky smooth and long wearing. Personally, I would have liked to see a tad bit more pigment from them, as I prefer my greens to be on the shocking side. Especially Papyrus, I was really longing for a bright green with that. But if you prefer a more subtle dose of color, these are lovely.
Which brings us to the Pantone color of the year Petal Essence Eye Definer in Jade ($16), a bright grassy emerald creme.
Jade (#990), like its Eye Definer counterparts, also uses the flower waxes in jasmine petals and geranium leaves to make a creamy, blendable color. These REALLY has some staying power. I've got to use an oil makeup remover to get it off.
Like Cana, it's sold out online. Find a location to check it out in person.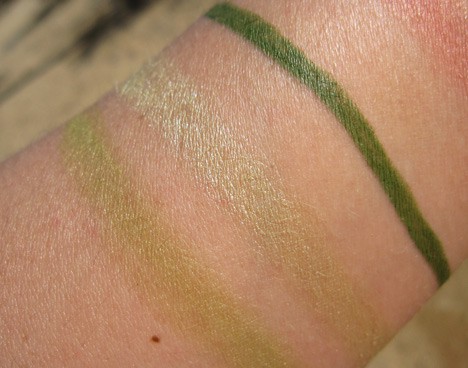 Papyrus and Lemongrass Eye Color and Jade Eye Definer
Pros:
• The corals of Art of Nature are pigment packed
• Hibiscus Face Accent is like 3 blushes in one (all beautiful!)
• Nourish-Mint Lip Color has a sweet, minty and delicous scent and a TON of long wearing pigment
Greens:
• All products formulated without parabens, talc, or mineral-oil
• Palette items are packaged in 100% post-consumer recycled (PCR) clamshell and paper sleeve
• Lipsticks use carmine-free pigments
• Wood for pencils comes from well-managed forests certified in accordance with the rules of the Forest Stewardship Council
Cons:
• One of the greens can also be seen as a con; you'll need to buy palettes to hold the powder products
• The green shadows may not pack as much pigment as some would hope
we heartsters, let's hear it from the Aveda fans! Do you find yourself leaning towards the corals or greens in the Art of Nature?
Disclosure: This review includes products that were provided by the manufacturer/PR firm for our consideration. It also may contain an affiliate link, a link that gives us a small commission if you purchase the item. For more info, or any questions, please see our disclosure policy.