This post may contain affiliate links, which means I may receive a small commission, at no cost to you, if you make a purchase.
Naturally Thick, Full tresses are only a Pump and a Squeeze Away
My hair battles are tortuous. My scalp is mostly to blame. Intensely oily skin and scalp makes for oily hair, greasy scalp and a hyperproliferation of skin cells. Unlike dry dandruff, the dead skin is seemingly glued to my scalp, awaiting exfoliation of some sort (which often is picking…ew, I know).
Most things I tried haven't been great. Nothing has worked across the board. My biggest fear is that I pull hair out with dead skin, damaging my scalp and preventing hair growth. Dear God, please don't let me go bald. So then this Aveda Invati Advanced shows up on my doorstop and I make another plea to make it work. So far, so good!
As with all Aveda products, the scent is the first thing you will notice (and love). Lavender and rosemary are the main scents here, giving it a woodsy, floral aspect, like a stroll through the forest in springtime. It's definitely is not an over-the-top feminine-floral scent.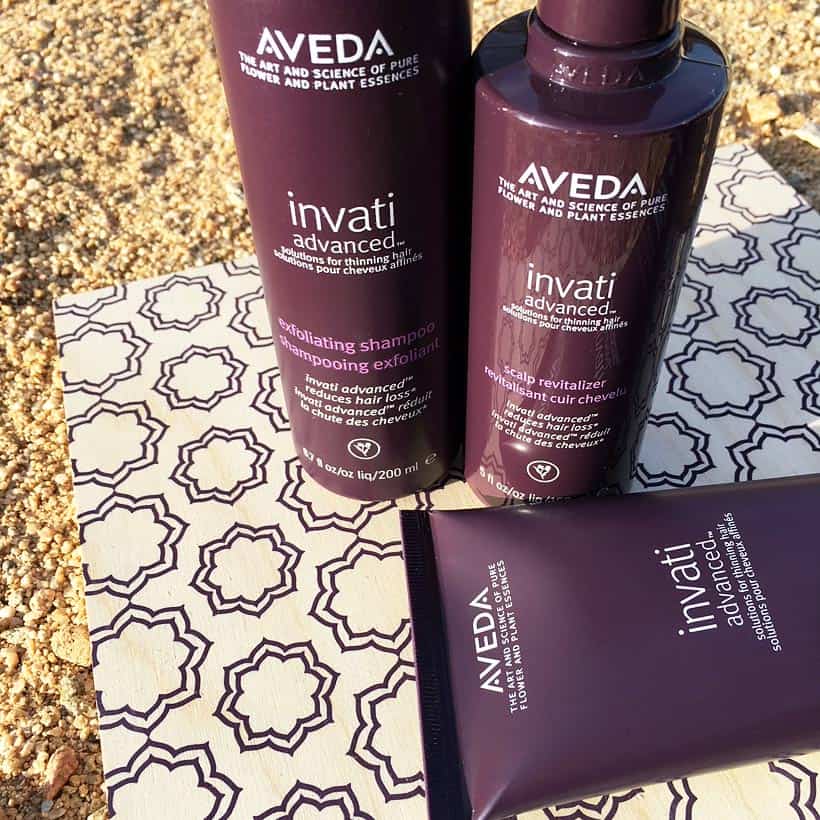 The shampoo and conditioner work well. I feel my scalp tingle when I use it. The shampoo contains wintergreen-derived salicylic acid to remove build-up that clogs pores. Organic tumeric and ginseng invigorate the scalp. As someone who takes tumeric as a supplement, I can tell you that I am a big believer in its blood-pumping, rejuvenating power.
I like that my hair didn't feel slippery after conditioning, but somehow it wasn't a terror of tangles, either. My fine hair gets knotted super easily.
I was most looking forward to the Scalp Revitalizer. While this is mainly to reduce hair loss (by 53%, they claim), I was hoping for it to repair my damaged scalp. There is tangerine peel and Japanese knotweed to support hair's natural keratin, as well as more tumeric (which is also great for inflammation) and ginseng. After a week, I do feel a difference and my hair does look fuller and thicker. I'm going to keep going with the scalp treatment and I'm keeping my fingers crossed that I found the answer.
Finally, I found the Thickening Tonic to work exceptionally well in the immediate sense. I like this better than beachy wave texturizing spritzes that I've used before in that it's more subtle. One can definitely see and feel a difference in the fullness, but my hair doesn't feel like a bowl of cotton candy, either. It's suggested to be used on towel-dried hair, before blow drying. I, however, sprayed it on slightly wet hair, combed through and air dried, then brushed through. It works well this way, too.
All in all, Aveda Invati seems to be everything it claims. I like it. My husband loves it (his hair is even longer than mine). While he is particularly sold on the shampoo and conditioner, my favorite is the Scalp Revitalizer. It looks like the whole Invati line has a standing invitation to my bathroom cabinet!
we heartsters: is thinning hair an issue for you? What's your favorite Aveda product? Share in the comments!
Latest posts by sherrishera
(see all)