This post may contain affiliate links, which means I may receive a small commission, at no cost to you, if you make a purchase.
It's Eczema Awareness Month, and we've got a wallet friendly solution
photos: we heart this
I developed mild eczema while doing my undergraduate work. It appeared as red, scaly patches that developed on the back of my upper arms, and in the form of bumps along the sides of my fingertips. It limited my choices in clothing, especially when I wanted to wear sleeveless tops but wouldn't dare to show off the red patches.
Once I got the chance to see a dermatologist, I was instructed I could keep it at bay by using a quality lotion along with a steroid cream during flare-ups. Ideally, I wanted to avoid flare-ups and having to use the steroid cream altogether.
While I have found lotions for my normal dry skin, I had yet to find a lotion that would successfully thwart flare-ups during the changing of seasons. That is until I had the chance to review Aveeno's Eczema Therapy Complete Care Kit
($13.99). Tucked in this one box is one of the best lotions I've used for my hands and arms, the Eczema Therapy Moisturizing Cream.
Aveeno uses active naturals which translates into "really nice stuff for skin", including colloidal oatmeal; a finely milled powder of oats. Refining oats to a fine powder allows for more absorption into the skin to combat irritation, roughness, scaling and itching. Aveeno's Eczema Therapy Moisturizing Cream
is clinically shown to reduce symptoms in 4 weeks, which has helped earn it the National Eczema Association Seal of Acceptance.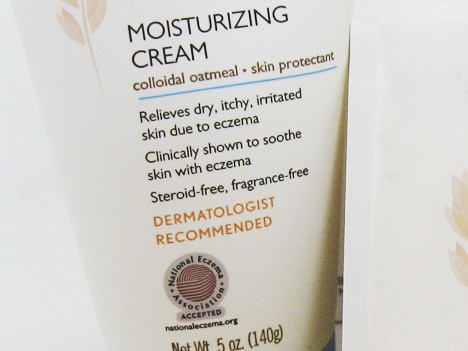 Aveeno is known for its excellent lotions, and this cream is the best I have tried. It leaves my hands feeling so soft and removed those pesky little bumps from my fingertips. Working in a healthcare setting, my coworkers and I wash our hands and use sanitizers often. This tends to dry out our hands. We used this lotion and it helped soothe dry hands and soften them. It is perfect for office settings due to it's fragrance-free formula. This lotion sinks into the skin quickly, offering slip-free typing. I think it will become a staple in our office from now on.
This kit also contains the soothing Eczema Therapy Bath Treatments that allow you to soak your dry skin away. The bath treatment comes in individual packets that simply dissolve into warm water. The faintly oatmeal scented powder easily dissolves and does not require rinsing, making my skin super soft without any stickiness, slippery tubs or mess.
An added bonus to using the Eczema Therapy Moisturizing Cream and bath treatments, is a noticed reduction in my keratosis pilaris. I tend to have kp along my upper arms as well, and now they are smooth and bump free!
Overall, I was very impressed with this budget friendly kit. At under $15 each kit, I can afford to use the Aveeno Eczema Therapy Complete Care Kit
year round.
we heartsters and Testers – Do you suffer from Eczema? Has the Aveeno Eczema Therapy Kit helped to make you skin happy too?
Lucy loves Lady Gaga, lattes, trashy television and anything zombies. She's a geeky girl who likes tech gadgets, reading tons of books, playing with gender roles and is constantly surrounded by a small army of cats.
Disclosure: This review includes products that were provided by the manufacturer/PR firm for our consideration. It also contains an affiliate link, a link that gives us a small commission if you purchase the item. For more info, or any questions, please see our disclosure policy.
Latest posts by lucylemonade
(see all)