This post may contain affiliate links, which means I may receive a small commission, at no cost to you, if you make a purchase.
Get Bangin' Hair with BANGSTYLE!
photos: we heart this
When I get my hair cut at a salon, 9 out of 10 times I am absolutely amazed by the products that are used. I have some wonderfully scented products in my bathroom stash, but the products at a salon can really play into the whole experience of getting your hair done. So when I'm using a salon quality product in my own bathroom, it brings back nice feelings of being pampered…and what girl wouldn't like that?
If you are unfamiliar with BANGSTYLE, that's okay because so was I until receiving these wonderful products to try out. In fact, BANGSTYLE was originally not a product line, but started out as the ultimate hair + culture resource online for hairstylists and hair lovers alike.
Then the best thing to come out of BANGSTYLE happened: a professional range of no-nonsense hair care products, independently produced and developed by artists for stylists and trendsetters worldwide.
Among the large range of products available, the review team got to try out BANGSTYLE's Volumizing Shampoo and Conditioner. My heart sang with glee when I got these. I have a lot of hair, but it's fine, so any volumizing product makes me very excited.
At a first glance, I thought that this might be a men's haircare line with its cool, black edgy bottles with some fierce gal (or guy) on the front. The packaging is really easy to use with its pop up spout. It's fumble-free and perfect for those who take sleepy showers in the morning!
The Volumizing Shampoo ($15) itself smells absolutely delicious. It gave me those warm fuzzies like I was getting treated to a professional hair wash. The product color reminds me of syrupy honey and it has a unique springy gel-like consistency that lathers up pretty well. I have medium-longish hair, so I do require more product most of the time. When it's time to rinse, the shampoo comes out quickly and cleanly.
The Volumizing Conditioner ($16) helps to detangle, and has protective properties in it such as mango seed butter and wheat protein. It's formulated for people on the go and just needs one minute to do its work. Like the shampoo, it rinses well and there's no product buildup to weigh hair down. I used it on the ends of my hair and I was able to comb through my strands without any knots when it was time to blowdry.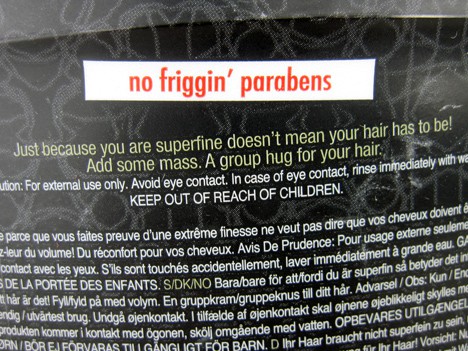 Pros:
• Smells just like a professional hair care line should: amazingly yummy!
• Fuss-free packaging
• NO parabens, NO sulfates (yay!)
Cons:
• Might be a tad bit pricy for a shampoo
• Limited availability
To locate a salon that features BANGSTYLE products or to check out the latest in hair color, cuts and style, check out the BANGSTYLE site. Smart phone addicts will want to download the BANGSTYLE app, a super cool hair inspiration and social sharing app. No more ripping pages out of magazines to bring to your stylist – you can browse thousands of hairstyles, select your favorites, and create a personalized portfolio for your next appointment (or any time you need some hair inspiration).
we heartsters and reviewers: What are your thoughts on this bangin' new haircare line?
Latest posts by mandabear
(see all)