This post may contain affiliate links, which means I may receive a small commission, at no cost to you, if you make a purchase.
Looking for bareMinerals barePro powder foundation reviews? We've got you covered!
Hey Ho, everyone!
It's me, Sherri, the bareMinerals superfan here to share my thoughts on yet another new bareMinerals foundation: BarePro Performance Wear Powder Foundation (available here).
Cut to the chase—it's good. Better than the rest? That depends. Let's chat and take a walk down foundation memory lane…
bareMinerals has been my long-time saving grace and crowning glory.
When one is blessed with the mild yet consistent acne and oily skin of my teens through my 30's, segueing to the still-oily-yet-now-rosacea-tinged and aging complexion of my 40's, finding the right foundation is a huge deal.
bareMinerals never disappointed me, introducing new foundations seemingly just as I needed them.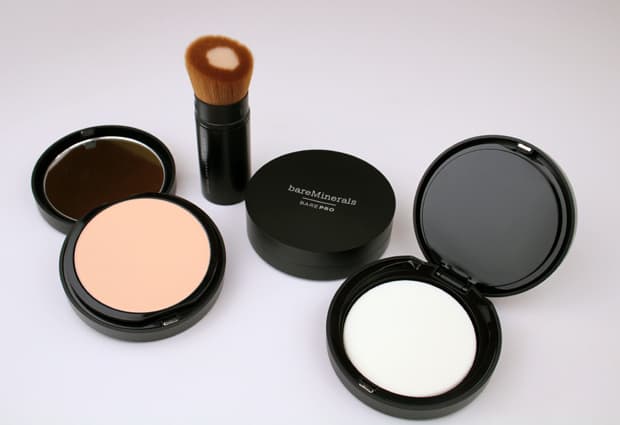 I was an early convert to their original loose powder mineral foundation. It had amazing coverage and was so easy to apply. But then I got rosacea and this irritated my skin (or at least, didn't help it anymore).
But luckily, just as I needed it, bareMinerals introduced the READY pressed mineral foundation ($21) with soothing sea minerals and a hydrating aspect that calmed my itchy red skin and somehow kept oil production to a minimum.
It had the same great coverage as the original, but was soothing and longer lasting on my skin than the original. This was a keeper.
And then came bareSkin Pre Brightening Serum Foundation ($29.50).
Wow.
Finally, a liquid foundation that I could wear!
Buildable coverage and natural finish made me love this option for the spring and summer months when super full matte coverage can look a little silly in a sundress.
My makeup case now reserved a spot for two foundations based on my mood: READY and bareSkin.
But then the BB revolution came, upping the ante of tinted moisturizers and bringing about bareMinerals Complexion Rescue ($29.50).
I shift gears again.
This new option gave me sheer-to-medium buildable coverage on days I felt like I could get away with it, or a terrific base to use with my other foundations when I couldn't.
And Complexion Rescue actually improved my skin, not just hid it.
My skin texture and tone improved so dramatically upon using this that I continue to use this religiously…every single day.
So, of course, the new barePro foundation comes along, and I wonder if it is THE NEXT BIG AMAZING THING…
bareMinerals barePro powder foundation review
For me, the answer is "maybe for you, not for me." It's good, mind you, but it doesn't work for me and my oily skin as well as some others in the existing line.
barePro, like READY, is a pressed powder foundation.
Meant to be used with either the foam sponge included in the compact or the slant-tipped retractable Core Coverage Brush ($30), the barePro feels much lighter than any of the other BE mineral powder formulas.
It is buildable but it does take more effort (and more product) than the others to achieve fuller coverage.
The coverage is billed as "12 hour" but, with my oily skin, there was definitely some slippage by the seventh hour or so.
The powder itself feels quite fine and does give me a poreless photo finish.
bareMINERALS barePro Performance Wear Powder Foundation swatches
One thing that may bother some is that the first ingredient of this foundation is talc. The FDA considers talc quite safe, but it is also a common allergen.
All in all, barePro is a solid addition to the Bare Minerals collection of fabulous foundations.
Conclusion: bareMinerals barePro powder foundation review
I feel that this is best for those with normal to dry skin who are looking for a light to medium coverage.
The foundation does not settle in wrinkles or pores, so this would do well for anyone wanting to smooth a roughened complexion.
bareMinerals, keep 'em coming. There truly is something for everyone in your line!
What's your favorite bareMinerals foundation?
Latest posts by sherrishera
(see all)