This post may contain affiliate links, which means I may receive a small commission, at no cost to you, if you make a purchase.
Quality Meets Classic Styling in this Brush Collection
Oh the importance of a fresh-buffed face! Fellow bareMinerals users will know exactly what I'm talking about here. The buff-and-blend line of mineral makeup is just as well known for its application technique as it is for its natural-looking, flawless skin results.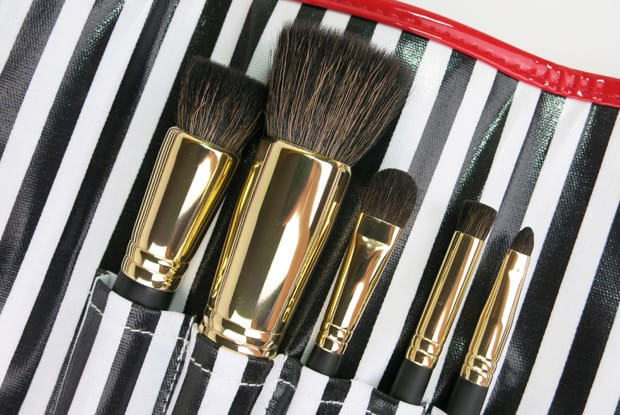 Brushes are an integral part of the bareMinerals line. Make it a complete brush set with a pretty, party-ready clutch to hold them all, and the holidays are here! Say 'hello' to the bareMinerals Buffing Beauties Brush Set.
This limited edition, holiday set is a collection of full-size brushes tucked in a red faux patent leather folding pouch. I love that this is so easy to wipe clean considering the fallout that occurs during the buffing practice. A gold snap with the signature bareMinerals emblem seals the deal in this classically Christmas and beyond color combination.
The timeless design continues inside where the lining consists of black and white vertical stripes (also in an easy-to-wipe-clean, flexible vinyl) with pockets containing each brush. There is even an extra zippered pocket to add a couple eye shadows, a lip gloss, or even an extra favorite brush!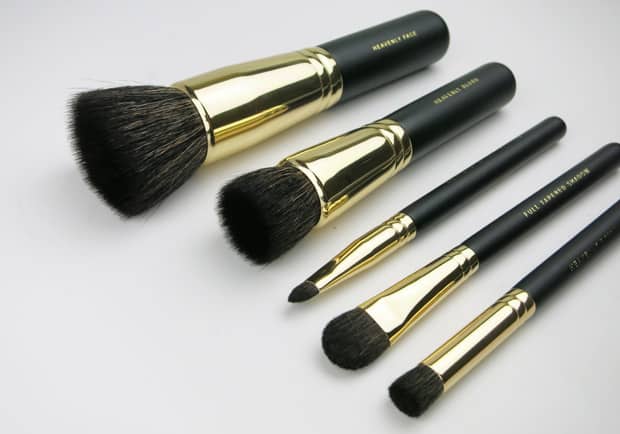 The five brushes included in the bareMinerals Buffing Beauties Brush Set ($49) collection are:
• Heavenly Face Brush
• Heavenly Blush Brush
• Heavenly Liner Blending Brush
• Full Tapered Shadow Brush
• Heavenly Eyeshadow Buffing Brush
The Heavenly Blush Brush(left) has a compact, blunt end that delivers color exactly where you want it, making it easy to then blend the color seamlessly into your foundation.
The Heavenly Face Brush (right) is designed for light applications all over the face. The bristles on this (as on all the Heavenly Brushes) are super soft and gentle. The blunt cut brush head is a perfect choice for some all-over Warmth, Radiance, Luminizer or Mineral Veil finishing powder.
(From left:) The Full Tapered Shadow Brush is a medium-firm brush that picks up and holds loose, as well as pan shadows, brilliantly to deposit bold sweeps of color on your lids.
The Heavenly Eyeshadow Buffing Brush is a short, blunt shadow brush that buffs away telling lines of demarcation on your lids and creases for an airbrushed finish.
The Heavenly Liner Blending Brush is short, tapered and juuuuust stiff enough to smoothly blend eyeliner into soft focus.
One of the best parts of limited edition holiday collections for me is always the price. Seperately, these brushes would set you back nearly a hundred bucks. That's a big chunk of my holdiday budget. Together, with the fab-at-any-time-of-year case, the price is a mere $49.
If anyone out there has a bareMinerals tap-swirl-buff devotee on their list this holiday season, this is a bargain that they'll assuredly love.
we heartsters – Are you lured by the bargains of the holiday collections?
Sherri is co-author of What Would You Do With This Room?
My 10 Foolproof Commandments to Great Interior Design, and of course, a wht writer!
skin tone: NC 25
skin type: oily/sensitive
favorite beauty product: anti-aging anything
photos: we heart this
Latest posts by sherrishera
(see all)