This post may contain affiliate links, which means I may receive a small commission, at no cost to you, if you make a purchase.
See bareMinerals in Action and Get Your Holiday Glow On
Hallelujah everyone! 'Tis the season for jolly gift sets and magical makeup collections of all sorts to appearing on Sephora shelves. It really is the most wonderful time of the year – goodies galore wrapped so pretty and at such great savings! But great gifts aren't always so easy to give.
No matter how much makeup arrives on my doorstep for review, there is always something extra special about gift sets. And there is something extra, EXTRA special when one contains all of my favorite things. Considering my well-documented adoration of bareMinerals, I'd have a hard time parting with their Complexion Superstars
collection – a Sephora exclusive – if I didn't have one of my own.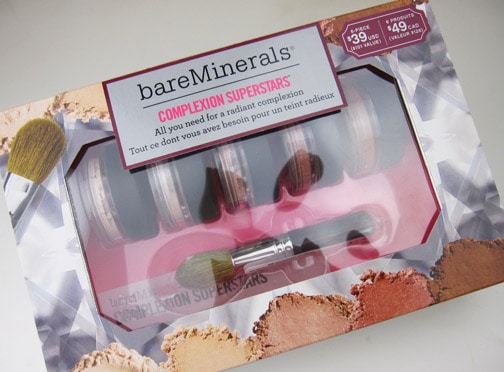 My lifetime of outrageously oily skin and mild (yet consistent) acne grew into post-40 slightly-less-than-outrageously oily skin with rosacea and a sprinkling of those pimples of my teenage past. At some point within the past decade I found bareMinerals
and fell in love. When the BE Ready pressed powder foundation made of sea minerals came out about the same time my rosacea flared up and needed tamed, I was forever their captive.
There have been some naysayers along the way and I, quite simply, don't get it. I will say, however, that applying bareMinerals with the proper brush for your desired coverage and using the complexion perfectors such as Mineral Veil, Warmth, Blush and Radiance really make a difference in achieving the natural yet airbrushed, long-lasting finish that BE is known for.
Not convinced? Scroll down and see my Before and After pictures to get a look at just how amazing these products can be. Luckily, you will find all of these skin perfectors in one place with Complexion Superstars!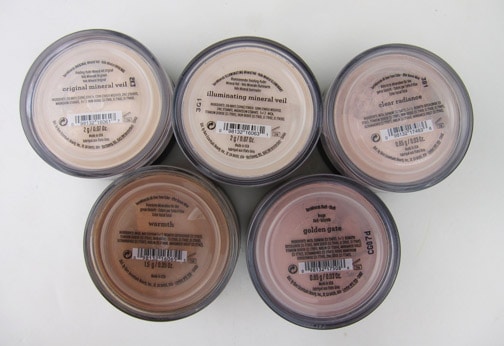 The bareMinerals Complexion Superstars
($39, a $101 value) contains:
Original Mineral Veil Finishing Powder – a translucent, oil absorbent powder that gives a soft, poreless finish
Illuminating Mineral Veil Finishing Powder – same as the original Mineral Veil but with a bit of subtle shimmer for greater luminosity (perfect for all those holiday parties)
Golden Gate Blush – a highly pigmented loose powder blush in a warm, peachy tone
Clear Radiance All-Over Face Color – a pinkish-nude shimmer that can be used all over for a blushing luminosity, or as a highlighter on the brow, nose and cheekbones
Warmth All-Over Face Color – a matte bronzer that gives a sun-kissed glow any time of the year (great for natural contouring)
Mini Full Flawless Face Brush – tapered, compact brush that I particularly love to stipple and blend the blush on my cheeks (best for targeted application)
Illuminating Mineral Veil, Clear Radiance, Warmth, Golden Gate (Original Mineral Veil not shown)
All items in the Complexion Superstars collection are formulated without parabens, sulfates or phthalates. Though less than full-size, a little of these skin perfectors goes a long way (with the possible exception of the Mineral Veil – I tend to use this liberally, but there are two in this collection).
Illuminating Mineral Veil, Clear Radiance, Warmth, Golden Gate (Original Mineral Veil not shown)
Ready to see bareMinerals in action? Here I am bare-faced (gulp) without a speck of makeup:
And here is is my happy face after using the bareMinerals Complexion Superstars set:
Pretty amazing results, no? All in all, this kit should last a couple of months, and that's quite the deal! May I suggest letting perfect (looking) skin be your best accessory this holiday season and buy this one for yourself?
we heartsters – Do you ever buy gifts for others that you end up keeping for yourself? Please tell me that I'm not the only one…
photos: we heart this, swatches shown on NC25/30 skin tone
Sherri is co-author of What Would You Do With This Room?
My 10 Foolproof Commandments to Great Interior Design, and of course, a wht writer!
Latest posts by sherrishera
(see all)