Professional quality brushes at super affordable prices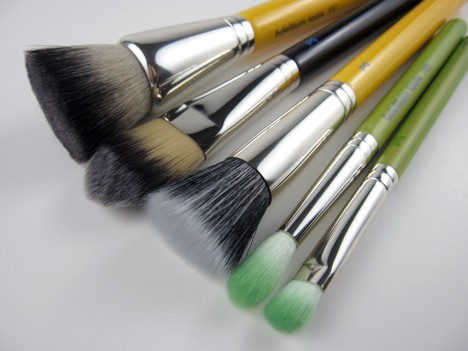 photos: we heart this
Sometimes I think I was born with black eyeliner in one hand, and a makeup brush in the other. What girl doesn't want a wonderful set of makeup brushes? (No, seriously, who doesn't because I'll come to your house and coordinate an intervention.) I am always looking for new brushes to add to my collection. Brushes can be expensive and most of us need more than one, we want high quality brushes at affordable prices. That's where bdellium tools, makers of professional quality antibacterial makeup brushes, comes in.
Antibacterial makeup brushes? Yes, indeed this is the first time I have across a brush company that wants the brushes I use to be germ-free. Bdellium tools are treated with a cutting edge anti-bacterial technology that guards against harmful bacteria, fungus and mold.
Bdellium Tools are eco-friendly, handmade, and available in 4 different series:
Maestro Series – nickel plated brass ferrule, black wood handle.
Studio Line – aluminum ferrule, yellow lacquered wooden handle.
Travel Line – same as the Studio Line but in a compact form.
Green Bambu – Eco-friendly, vegan soft synthetic bristles, aluminum ferrule, green bamboo handle.
Top to bottom: Precision Kabuki Brush Face 957, Foundation Brush Face 948, Duet Fiber Foundation Brush Face 953
All lines except the Green Bambu line are treated with an antibacterial agent on the bristles. The wht review team had the chance to test a few brushes from the Maestro, Studio and Green Bambu collections.
Studio Line Precision Kabuki Brush 957
Bdellium Tools Precision Kabuki Brush 957 ($14.52) from the Studio Line is a 2-toned synthetic hair brush. In my opinion every girl needs a kabuki brush like this. The bristles are soft yet just dense enough to blend foundation flawlessly and smoothly into your skin.
Some flat head kabuki brushes are so dense and packed too thick with hair that you really have to tug and buff foundation into your skin, I'm not a spring chick anymore so tugging on my skin is a huge no-no. The 957 makes the foundation process easy and tug free.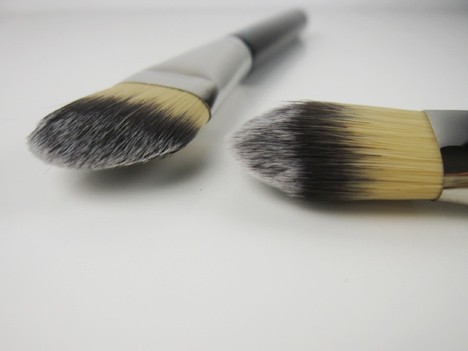 Maestro Series Foundation Brush 948
The Maestro Series Foundation Brush 948 ($14.96) is a 3-toned synthetic hair brush. The bristles were soft and flexible, the hairs didn't shed and the brush gave full coverage thanks to the inch wide brush head, no streaks here.
Duet Fiber Foundation Brush 953
From the Studio Line I also tested the Duet Fiber Foundation Brush 953 ($12.32). The 953 is a short duo fiber synthetic hair brush. I cannot use a brush this small for foundation. However, I found it works great with concealer, especially in delicate areas like under your eyes. The 953 is also wonderful with powder products, it's the perfect size for blush or highlight powder. This little brush that could has many uses beyond foundation.
Green Bambu Tapered Blending Brush 785 and Shadow Brush 777
For the eyes, I had the chance to work with two brushes from the Green Bambu line, the Shadow Brush 777 ($7.92) and the Tapered Blending Brush 785 ($7.92). Both brushes have a beautiful green bamboo handle with 2-toned vegan synthetic bristles that are ultra soft.
These brushes are 5.6 inches in length, so they are a little shorter than a MAC or Sigma brush. This shorter handle gives you more control over the brush. These brushes are sturdy, easy to hold and maneuver.
The 777 Shadow Brush is perfect for applying dense colors to your lid, crease, and lash line. The 785 Tapered Blending Brush is flexible and is perfectly packed with just the right amount of hair, not overly fluffy.
Pros:
• Affordable
• Doesn't shed
• Soft
• Cruelty Free
•Handmade
Cons:
• Only available from a few retailers.
Overall, bdellium tools are affordable professional brushes that look, feel, and handle like high-end brushes. Most importantly none of my brushes shed not even after cleaning the brushes a few times. Bdellium tools are cruelty free, antibacterial, and eco-friendly, what more could you ask for?
we heartsters and testers – are you delirious for bdellium tools?
Disclosure: This review includes products that were provided by the manufacturer/PR firm for our consideration. For more info, or any questions, please see our disclosure policy.
Textbook Virgo. Diane is self-proclaimed beauty fanatic; she is always on the lookout for the newest products to make her black hair shinier, her pink lips pinker, and her pale skin flawless. She believes every woman deserves a cold cocktail after a long day.
Latest posts by Diane Lee