This post may contain affiliate links, which means I may receive a small commission, at no cost to you, if you make a purchase.
sponsored
A delivery from Nature…
It's true; living in the California desert gives me daily access to views of indescribable natural beauty. But-call me crazy-to me, having sleek, glossy, healthy, beautiful hair is its own kind of paradise. Unfortunately, the dry air of the desert can make my hair goals a losing battle. It takes something seriously unique to tame these flyaways.
Something like the one-of-a-kind haircare experience I'm getting from Puretanica Shampoo and Conditioner.
I thought it might be a mirage when I read about Puretanica's simple duo; products that promise the kind of glorious results I dream of. The name, derived from "Pure Botanical," is a clue that natural ingredients and essential oils are a large part of the formula.
Do you ever get annoyed by haircare brands that offer so many versions of so many products, you have no idea what to choose for your hair type? Here's how focused Puretanica is: they offer just two products, a shampoo and conditioner that work for every hair type, period. Seems too good to be true, right? Well, it isn't!
Via your bathroom…
Puretanica promises their products will "make everyday a spa day" (I can get on board with that!) with a hair washing experience that is equal parts cleansing, conditioning and essential oil sensory treatment. I couldn't wait to crack open the bottles and see what magic was in store for my hair, and I was immediately smitten. If you love the smell of mint the way I do, the scent of these products alone will thrill you. I'm not exactly a morning person, but I instantly felt more alert when I poured Puretanica Cool Bliss Shampoo ($27.50 16 fl oz) into my hand.
Make everyday a spa day…I can get on board with that!
The combination of thick lather and clouds of peppermint scent made me extend my hair washing longer than usual, and the refreshing tingling sensation only made it better. The smell is exhilarating, a heavy dose of mint that filled my shower with relaxation even after I rinsed. Then Puretanica Cool Bliss Conditioner ($28.50 16 fl oz) extended my "spa time" with another stimulating dose of mint.
I felt so soothed just from washing my hair, but after I dried it, I officially proclaimed Puretanica a dream-come-true. These products are the most unusually nourishing haircare combo I've ever used. Ingredients like Argan Oil, Cedarwood oil, Keratin and Quinoa pamper my hair so effectively, you'd never guess it was stressed by the dryness of desert living (not to mention coloring and heat styling).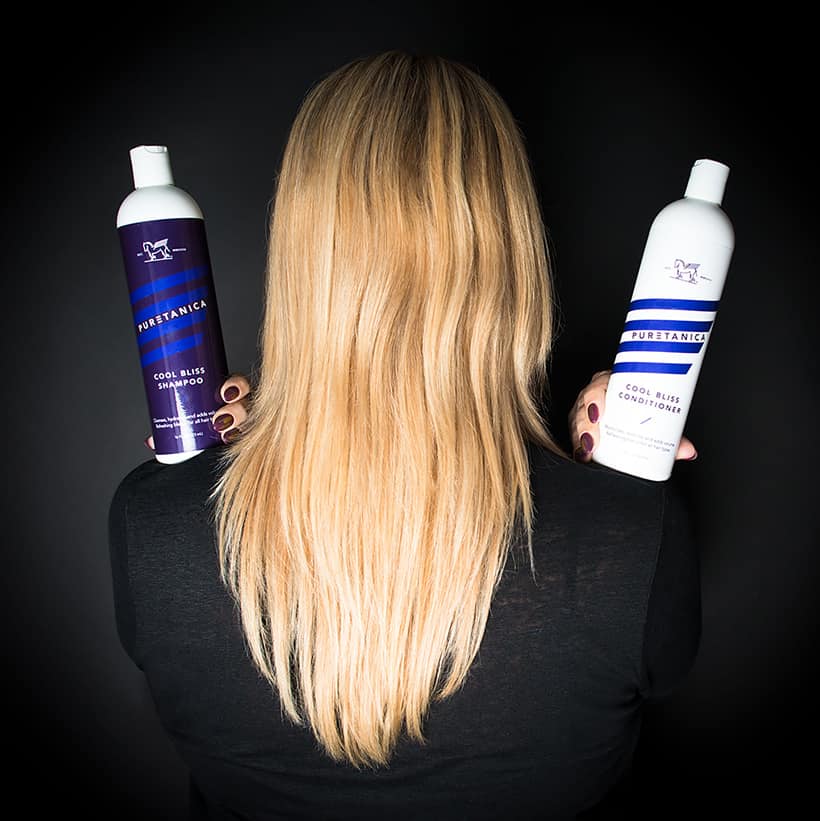 For your hair…Puretanica brings natural beauty!
Here's how unusual this line is. The brand's online FAQ contains questions I've never before seen asked about hair products, like these: How do I decrease the cooling sensation from the shampoo and conditioner? (rinse fast and use less product, although I love the sensation). My mouth tastes minty, is that normal? (I didn't experience this, but yes, the products do involve an "aromatic diffusion of cooling essential oils").
Safe for color-treated hair. Free of parabens and sulfates. Cruelty-free. And made in the USA!
After using this duo exclusively for a couple of weeks, my hair has never looked better. The products seem to be gently clarifying, removing product buildup without stripping my hair's own moisture. The ingredients leave my hair easy to comb out and even easier to style. The results: fuller, shinier, healthier, thicker-looking hair…in other words, paradise!
You can find paradise too; get Puretanica on their website (where you can get both products for $50 with free shipping) or on Amazon.