Press Sample
Beautisol Review: Self-Tanning Mousse and Summer Glow Self-Tanning Lotion
When I found out I had an audition for a commercial, I broke out in a cold sweat for two reasons. First because I'd be reading for the part of a fitness trainer and was instructed to wear "very tight workout clothing." Secondly, I was pale – very pale – and everyone knows that even the most toned physique (which I do not possess) can look doughy and soft without a little color.
How would I have the nerve to even walk through the casting agent's door? I needed help…
…and help arrived in the form of a miraculously-timed review package from we heart this containing a selection of products from famed sunless tanner Beautisol!
Founded by aesthetician and celebrity beauty expert, Sinead Norenius, Beautisol is an innovator in easy-to-use faux tanning products. They offer a tanner for any complexion, all with "Pure Scent" technology, their effective odor eliminating fragrance. No more self-tanner scent following you around for days.
The company is cruelty-free, too. As Beautisol explains, "All products are PETA certified and have been tested on pale and pasty humans, not animals!" This pale and pasty human tested two Beautisol products offering two levels of tanning – let's check them out!
Since I was so pale, I started conservatively with the Medium Tan Self-Tanning Mousse with Pure Scent Technology ($29). I loved the easy-to-apply formula, which is lightweight and fast-drying. I was impressed that the guide color made me look tan immediately, and the product did not feel sticky.
A dab of the Medium Tan Self-Tanning Mousse
I applied it at night before I went to be, and awoke with a flawless golden color. Beautisol says this mousse gives a slightly lighter result than their Dark Tan lotion, but I was plenty tan!
Which worried me a little… would my other test product, the Summer Glow Dark Tan Body Self-Tanning Lotion ($39), be too much of a good thing? Not at all. The Dark Tan lotion gave me perfect results, like a tropical vacation squeezed into a few short hours.
This self-tanner is as good as a faux tan gets. Thanks to the guide color, it was easy to get near-flawless coverage.
Additionally, both of these Beautisol tanners moisturize and nourish the skin with anti-aging properties, plus their Pure Scent formula reduces that familiar tanner smell significantly – by up to 80% according to Beautisol. After testing them out, I agree that these products have much less of a tanner smell than the others on the market. The fragrance is actually nice.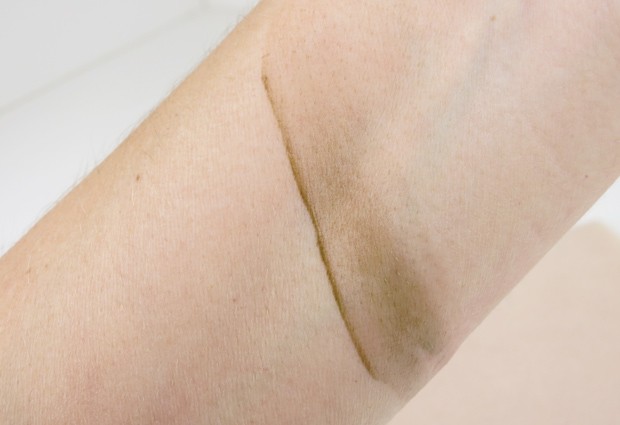 Summer Glow Dark Tan Body Self-Tanning Lotion – swatched
I also received an application mitt for quick, mess-free self-tanning. I used it with the mousse, and it gave me very even coverage. I applied the lotion with my bare hands, and quick scrubbing afterwards kept me from having tell-tale tan palms.
Included with my products was a handy list of "Tips & Tricks for the Perfect Glow," something I really appreciated. I think of myself as a seasoned self-tanner, but I never knew that deodorant, perfume and essential oils should be avoided when using tanning products.
Beautisol before and afters
Beautisol thoughtfully provides How-To videos on their website, and will answer additional questions through email. This is a company that does whatever it takes to provide a great self-tan! To quote Sinead Norenius… Happy Glowing!
Pros:
• Color Correcting guide color gives immediate bronzing effect
• Within hours, even the palest skin "tans" to a natural-looking, golden hue
• Has a pleasant fragrance that masks the dreaded tanner smell
• Streak-Free formula
• Free of harmful ingredients like parabens
• Cruelty-Free
• Long-lasting tan that fades gradually
Con:
• None beyond the usual self-tanner issues: can stain clothing and bedding; very slight tanner smell
As for my audition, I didn't get the part, but I still felt great about the outer glow that gave me sunny inner confidence. Thanks, Beautisol. You're a pale girl's best friend.
we heartsters – Do you use self-tanners? Share your tips for a great glow!
photos: we heart this, swatches shown on NC25/30 skin tone
Latest posts by turboterp