This post may contain affiliate links, which means I may receive a small commission, at no cost to you, if you make a purchase.
Growing up, we never had an Advent Calendar. The first time I'd even heard about Advent Calendars was when one was featured in "National Lampoon's Christmas Vacation". After that, I became obsessed with the idea (and I'm still hunting for a replica of the one used in that movie!)
When I first realized that beauty brands were making their own Advent Calendars and stuffing them with gorgeous, glorious products, I bowed down at the marketing geniuses behind it. I mean–who doesn't love a variety of goodies in pretty packaging? If you don't, stop reading now because here's my list of this year's must have Beauty Advent Calendars…
affiliate link
1. QVC Beauty Advent Calendar (price varies: Event price is $63.96, usual price is $77) — This beauty-packed set from QVC contains 24 items from brands such as Josie Maran, Peter Thomas Roth and Philosophy. This is one of the more affordable Advent Calendars out there and has a little something for everyone.
2. Benefit Girl O'Clock Rock ($45) — This cutie of a calendar contains 12 of Benefit's best, from Dandelion to Hoola; this kit is sure to have something you'll love. I love how positively girly this packaging is, absolutely adorable!
3. Ciaté London Mini Mani Month Nail Polish Set ($59) — Ciaté's Advent Calendar contains 18 mini polishes, 1 full-size polish, one mini treatment, 2 toppers and a limited edition surprise! Note: 4 of the minis are exclusive to this kit.
4. The Body Shop Cheeky Surprises Advent Calendar ($105-$175) — The Body Shop actually has 3 Advent Calendar offerings. They vary from the standard Cheeky Surprises to Deluxe to Ultimate. For 24 days, you or the lucky recipient of this calendar will receive an assortment of goodies ranging from travel sized body washes to makeup. Is that a choir of angels I hear?
5. Charlotte Tilbury World of Legendary Parties 2016 Holiday Advent Calendar ($200) — This deluxe advent calendar contains 12 decadent minis from makeup artist Charlotte Tilbury. I've loved everything I've tried from this brand and this would be a great way to try her line, including an exclusive Pocket Pout in Jessica Red.
6. bareMinerals Countdown to Gorgeous ($79) — This pretty, little box contains 24 beauty products for lips, eyes, cheeks and face. For the amount of product you get in this calendar, this is the one I'd consider a "must-have."
7. Clinique 10 Days of Clinique ($39.50) — This sweet little Advent sampler contains 10 assorted skincare and makeup items that are sure to make the season a little brighter. Well, at least your skin will be a little brighter and in my book, that carries more weight.
8. ASOS The Beauty Advent Calendar ($76) — This contains 24 products from Burt's Bees, Elemis, Cowshed and more! This is a great way to try new products because this beauty-loving girl hadn't heard of a few of the brands in here and that is really saying something!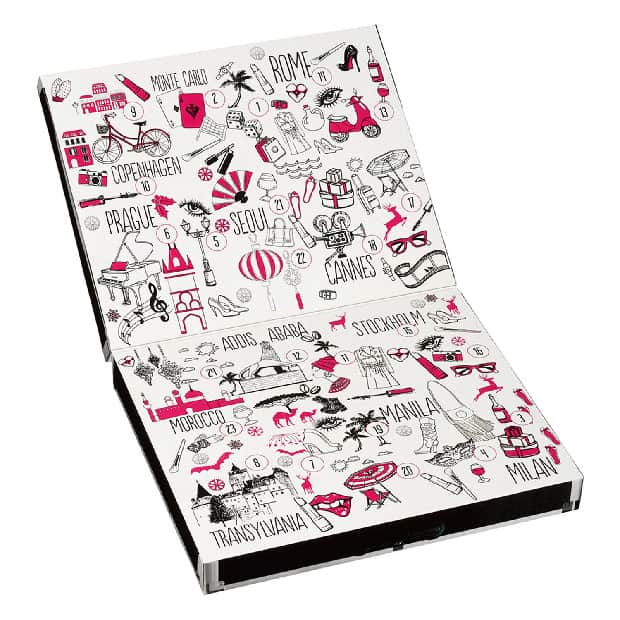 9. NYX Wanderlust Advent Calendar ($50) — This travel-themed calendar contains 24 NYX goodies: 12 mini Soft Cream Matte Lip Creams and 12 NYX Eyeshadows. Can I just say that I adore that one of the travel locations covered in the calendar is Transylvania? Like, I sincerely hope there's a blood red lip cream under that door!
10. L'Occitane Holiday 2016 Advent Calendar ($55) — If you love L'Occitane half as much as I do, this is the Advent Calendar for you. This box contains 24 minis, ranging from hand creams, soaps, shower gels and beyond. This is an amazing way to try a large range of products from L'Occitane and at $55, this is a fabulous value!
11. Nuxe Beauty Countdown Set ($49) — If you've been around this site as of late, you know that we've been having a love affair with Parisian brand, Nuxe. This holiday set contains 10 skincare minis that are sure to leave you loving Nuxe as much as we do.
12. Clarins Holiday Glow Getters ($125) — This gift set from Clarins offers a wide variety of goodies; a mix of 20 mini and full-size products including a full-size blush! That's right, a FULL-SIZE BLUSH. Y'all know I love blush…
13. Estée Lauder Holiday Countdown ($275) — This decadent collection of 24 products from Estée Lauder includes fragrance, skincare and makeup. It is a bit pricier than some of the other Advent Calendars out there, but you get a TON of stuff in this set and if you or someone you know is an Estée fan, it's worth the splurge.
14. Laura Mercier The Iconics ($170) — While not an Advent Calendar in name, this boxed gift set is a chest filled with tiny drawers that contain full and mini-sized products from Laura Mercier. These 12 iconic, must-haves are practically begging to be used in a holiday countdown. If you're a stickler for rules, get a gold marker and number the drawers!
So there you have it–my must have beauty Advent Calendars that have blipped across my radar. Consider them on your radar now. Word to the wise: if you see one you like, grab it fast. There were 4 other boxed sets that didn't make this list because they have completely sold out!
Are you a fan of Advent Calendars? Which set is on your holiday wishlist? Did I miss one? Let's hear about it in the comments section!