This post may contain affiliate links, which means I may receive a small commission, at no cost to you, if you make a purchase.
photos: Christy Kane
Did you make it to Beauty for the Beasts? It was a fun day filled with beauty, shopping, swag bags and cupcakes – all to benefit The Rescue Train, a non-profit, no-kill organization dedicated to eliminating animal suffering and euthanasia. We're thrilled to say the event was a roaring success, with early estimates that we raised close to $8000 for this worthy cause!
We must give a gigantic "Thank You!" to Cristophe and the cast and crew of Cristophe Salon Beverly Hills. Our co-hosts could not have been more generous or supportive and we still can't believe they let us take over their beautiful salon for the day! Here's Stef and I with the man himself celebrating our successful day.
Before we look at the festivities, let's "awww" over a few current riders on The Rescue Train, and the reason for the event! These four cuties attended Beauty for the Beasts, collecting hugs and kisses everywhere they went. All of these dogs Bolt, Gabby, Edie and Harlow (clockwise from upper left), are still available for adoption (just click on their name to see their information.)
Guests at Beauty for the Beasts were first welcomed by the wht Raffle for the Beasts. Just $25 got you five tickets to place toward seven overflowing raffle basket prizes and a gift bag with over $200 in goodies!
See that ticket box in the front? Guests were able to place their raffle tickets toward the basket they most wanted to win!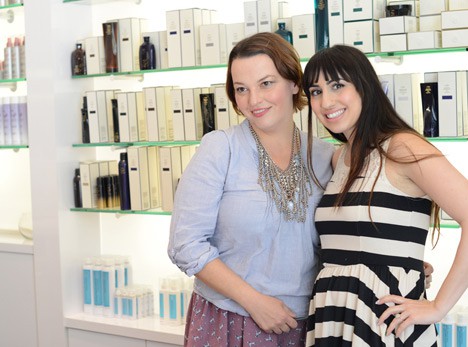 A big shout out to wht team member Sherrishera and Christine of Leading Lady Makeup for manning the raffle booth! Working along side Christy Kane (who doubled as our event photographer) these beauty experts were on hand to answer any raffle inquiry and hand out the coveted gift bags.
Next up, a stop at the Build Your Own Cupcake table for some of the most delicious cupcakes I've even had! The Lemon Zest Cupcake with Pink Lemonade frosting was insanely yummy, but it's the Root Beer Float Cupcake with Vanilla Bean buttercream frosting that has been making appearances in my food daydreams.
The staff at Cristophe Salon were busy bees all day, offering discounted services including haircuts, blow outs and manicures to animal lovers – with 50% of proceeds going to The Rescue Train. Here's Cristophe himself working his magic on one lucky attendee.
A lighted table in the center of the stylists room held items for bidding as part of a Silent Auction. Here Stef vogues with one of the goodies up for grabs; Karl Lagerfeld sunglasses.
Guests could wash down the cupcakes and other treats with lattes and espresso provided by the salon, or a glass of champagne or wine served by the event pros of Delmar Events (upper left). Meanwhile, wht team member Pamela Irene hopes she has a winning ticket, Dawn of Beauty Frosting and her furry BFF smile for the camera, and one attendee gets red carpet worthy make up from the Cristophe staff.
Here Cristophe greets one of the day's cutest guests.
The second floor offered an array of indie and Etsy vendors selling unique wares for a good cause. Some of the day's vendors included (clockwise from upper left) the exquisite designs of Victoria Cunningham Jewelry, handmade accessories from Gertie and Baxter (that's Stef modeling their infinity scarf), hand crafted soaps, lip balms and more from Ripe, and the bold and beautiful nail lacquers of Sheswai.
Our friends from the Spice Station offered their amazing selection of salts, sugars and spices. At left, a guest tastes their Black Truffle Salt for the first time (we think she approves!); at right, another guest peruses the entire line of Sheswai Nail Lacquers,
Our hero and The Rescue Train co-founder Lisa (at right) and friend smile for the camera.
A look at a few more shiny, happy faces, including (clockwise from upper left) Debbie from Sheswai Lacquer posing with the fabulous Jen of My Beauty Bunny; Francis and Jackie (two of Stef's beautiful co-workers) showing off their new looks, some sweet Girl Scouts offering their divine cookies and Erin and Ricci of Cristophe Salon.
We also want to give a shout out to a few more beauty bloggers that made some time to attend the event and helped to spread the word to fellow beauty addicts, Kathleen of Point of Viewty, Emi of Project Swatch and Ishah of Ishah X Bbeauty.
Finally, a big thank you to everyone that attended Beauty for the Beasts and all the companies who graciously donated product for the event – we couldn't have done it without your support. The animals aboard The Rescue Train thank you too!
we heartsters – make your calendar for next February and we'll see you at the next annual Beauty for the Beasts!