This post may contain affiliate links, which means I may receive a small commission, at no cost to you, if you make a purchase.
There are a TON of holiday gift guides out there right now (we've written two of them ourselves; this one and this one). But we need to share one more with you. This is the list of beauty gifts ideas for the hardcore beauty lover.
The person who has 15 brushes that do the same exact thing.
The person who knows there's a giant difference between light nude and pale nude.
The person who knows dry shampoo isn't just for dirty hair.
They want French beauty in petite form…
They want the hottest palettes…
They want lipgloss for DAYS…
These are the gifts that a beauty editor would want (if she didn't own them already, of course!)
• Nuxe 10 Beauty Treasures ($49) – I love a good advent calendar. They're great when they're filled with candy, they're amazing when they're filled with beauty and when they're filled with FRENCH beauty…I die. This set from Nuxe contains 10 deluxe sample sizes of some of their best selling products; four moisturizers, plus a hand cream, exfoliator, makeup remover, the best smelling shower gel on the planet, and two versions of their Huile Prodigieuse dry oil (one with shimmer, both in glass bottles.) It's a great way to try a good range of this fabulous line.
• MAC Shadescents ($57 fragrance, $17 lipstick) – Matching your lipstick to your nail polish might be passé. But matching your lipstick to your perfume is very much in style. MAC took six iconic lipsticks and developed a fragrance that evokes the same mood. In sleek, modern bottles and reimagined, color coordinated lipstick packaging, a set of these would send any beauty lover into a tizzy. I love Ruby Woo (a woody floral scent with a matte red lip) and Crème D'Nude (amber musk with a pale cremesheen lipstick).
MAC lipstick swatches: Velvet Teddy, Ruby Woo, Candy Yum Yum, Creme D'Nude, Lady Danger, Heroine
Creme D'Nude…can you STAND it?!
• NARSissist Unfiltered I Cheek Palette ($59) – Can a palette be sexy? Answer: Oh yeah it can, if it's made by NARS. The warm Unfiltered l palette (and its sister cool palette Unfiltered ll) is a thing of beauty; orange mirrored exterior housing six large pans of gorgeous color. With three shimmering shades and three mattes, and an unbelievable amount of pigment in each, this is the blush lover's blush palette.
Watch Me (opalescent gold sheen), Me First (apricot sheen), Takeover (copper rose sheen)
Out There (deep russet matte), Chic (rich raspberry matte), Exhibit A (red matte)
• Essie Winter 2016 collection ($9 each, $18 mini set) – Essie is just hitting it out the park with their collections lately. I like every release more than the last. The Mod about Essie Winter 2016 collection is phenomenal. Inspired by the 60s London mod era (think pale lips, huge lashes and Twiggy) the six shades range from a pale white grey with a smattering of silver micro glitter to a dark teal crème. I personally think all six are "must have" but if you only want to get one for a stocking stuffer, Ready to Boa is a stand out. The rich and shimmering burgundy brown is EVERYTHING.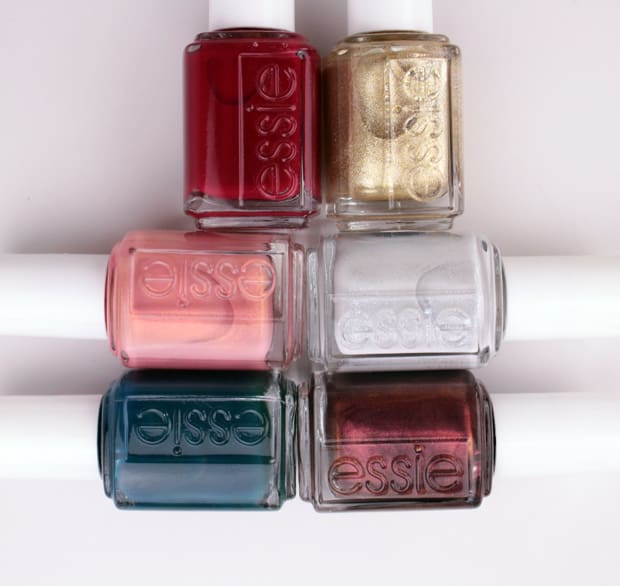 • Buxom Freezes Over lip collection ($58) – As a lip gloss lover, this Buxom release is my favorite holiday collection every year. They made it even better this year because they added their amazingly pigmented and creamy liquid lipsticks to the mix, joining lip polish and lip cream for a whopping total of 15 lip products. Ranging from clear shimmer to vampy red, it's an entire lip product wardrobe!
Buxom Liquid Lipstick swatches in Devious Dolly, Criminal, Dominatrix, Lover, Centerfold
Buxom Lip Polish Swatches in Nicole, Sugar, Jane, Emma, Sandy
Buxom Lip Cream swatches in Dolly, Berry Bramble, Sangria, Berry Blast, White Russian
• Lune & Aster Moonrise Glow and Contour Bronzing palette ($46) – If you don't know Lune & Aster, you will soon. And believe me, your beauty-loving gift recipient already does! The makeup line is from the smarties of Bluemercury (who also make the skincare line M61) and it is made for time-crunched beauty aficionados. Everything is packed with good for you ingredients and is designed to get you out the door in 5 minutes or less. Like this pretty palette; (with what might be the prettiest subtle shimmer I've seen all year) swipe it with a brush or fingers wherever you want. It's almost impossible to overdo it.
• IT Cosmetics City Chic brush set ($68) – Luxury, cruelty free brushes are not an oxymoron. At least not when IT Cosmetics makes them. The limited edition City Chic brush set is the epitome of gorgeous with rose gold ombre handles and super soft bristles, but best of all, they really perform! It includes powder, blush, foundation, flat shadow and rounded crease brushes, all in a handy pouch.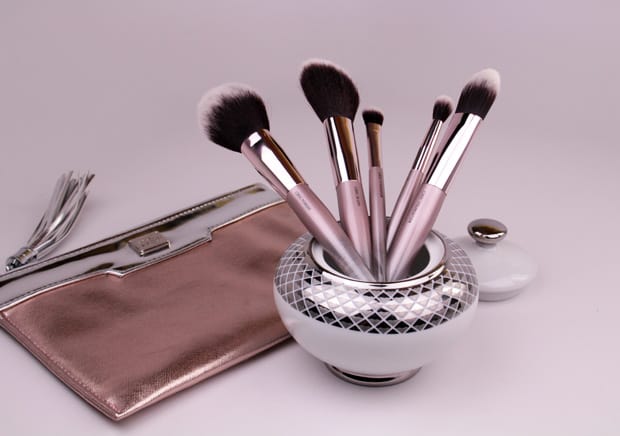 Beauty lovers, which item is a must-have for you? And feel free to send this link to anyone who might need a gift idea!
Stef is many things. Amongst them: editor-in-chief of we heart this, photographer, condiment connoisseur, Philly girl in the California desert, borderline hoarder and a hardcore beauty junkie.
skin tone: NC 25/30
skin type: oily with a fear of rosacea
favorite beauty product: high end skincare and lip products