This post may contain affiliate links, which means I may receive a small commission, at no cost to you, if you make a purchase.
Behold! The Multi Tasking Power of This Neutral Gradient Palette
You can't flip a magazine page or click a link on a beauty blog without seeing the words "ombre" and "contour." These two concepts weren't even on my radar just a few years ago, and now it seems like I'm living in an ombre and contoured world… with good reason. There is so much power in subtle gradients of color, something that was harnessed brilliantly in the BECCA Ombre Nudes Eye Palette.
If you're looking for sophisticated nudes, this is the palette for you. There's not a sparkler in the bunch, just five matte neutral nudes that practically anyone could wear in many ways.
Even though this palette is designed as eyeshadow, it is capable of so much more: perfect for facial contouring; can be used wet or dry as eyeliner, and works like a charm to define and darken brows of almost every shade.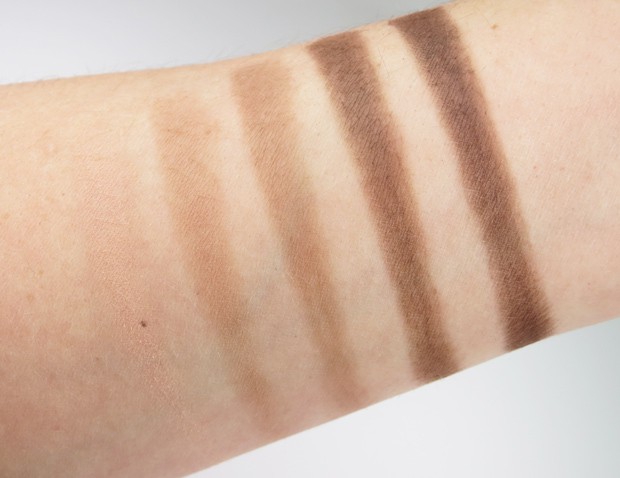 BECCA Ombre Nudes Eye Palette – indoors
The most unique thing about the Ombre Nudes Eye Palette ($40) is the similarity in shades. When I first looked at it, I thought the three darkest shades were identical. But no, there are subtle differences, and the similarity makes it a breeze to create a gradient eye. The two lightest shades are truly neutral, and the three darkest browns lean on the cool side of neutral.
The finely-milled powder shadows feel smooth and creamy thanks to green coffee oil, a natural ingredient that awakens the eyes and acts like a built-in primer for long wear. I'm guessing this might also be the secret to the colors blending so flawlessly.
BECCA Ombre Nudes Eye Palette – in sun
I had so much fun creating looks, both subtle and super-bold, with these five colors. And when I ran out of ideas, I turned to the handy guide BECCA thoughtfully includes with the palette. Sorted by eye shape, the guide contains step-by-step instructions, like paint-by-numbers for makeup perfection.
I love so many things about this palette, I had to put it in list form:
• The shadows are pigment-rich, velvety and truly matte
• Can be used dry or wet
• Extremely long-wearing
• The packaging is thin and light and perfectly portable
• Nice big mirror inside the lid
• Fragrance-free
• Contains no Parabens, Sulfates or Phthalates
• BECCA does not test or condone animal testing on their behalf
• The tone-on-tone colors are easy to transition for contouring your eyes and face
Really, with BECCA's Ombre Nudes Eye Palette, you can do ombre like a pro!
we heartsters – What are YOUR thoughts on the ombre and/or the contouring craze?
photos: we heart this, swatches shown on NC25/30 skin tone
Latest posts by turboterp
(see all)