This post may contain affiliate links, which means I may receive a small commission, at no cost to you, if you make a purchase.
Get Ready for some Before and After Microblading Photos, with a big side of truth.
For those who don't know me; Hi, I'm Stef, she of the formally tiny eyebrows. I survived the 90s, but my eyebrows didn't.
Those plucked-within-an-inch-of-their-life brows may have looked fabulous with my brown matte lips, cut off shorts and combat boots then.
But when full brows came back into style, mine never got the memo.
They stayed in the 90s, denying the death of grunge and declaring "Winona Forever."
But luckily, all that changed with the introduction of microblading.
For anyone who doesn't already know, microblading is semi-permanent tattooing using a tool that looks like a row of tiny X-acto tips. The tool is dipped in pigment, then manually pulled through the skin to draw "hairs."
I couldn't schedule an appointment fast enough.
The result?
Eyebrows, like a real live girl!
I shared the experience in my post Five Things You Should Know About Microblading. It was an absolute game-changer for me.
But now, 1.5 years later and with a second microblading session under my belt, I'd like to address a few of those points (in ways both good and not so good) and add a few more.
#5 on that list was "Microblading doesn't last forever." I was told results last 1-2 years. And while that's still mostly true, mine was on the short side of that. One year later my brows looked like this.
Microblading after a year
Seriously faded.
Time for a microblading truth…
Length of microblading results is really dependent on your skin type
I have oily skin. While that's great for wrinkles, it's not so great for microblading. Why? Because the increased oil production of my pores expel the pigment from my skin at a much higher rate than that of someone with normal or dry skin.
So back to the microblading drawing board I went. Enter Kayla and Thread Eyebrows.
Thread has two locations in Los Angeles; Melrose Ave and Studio City. And as the name would suggest, it's a threading studio.
After 10 years of eyebrow threading under her belt, Kayla was drawn to microblading because "There was finally a natural way to give my clients the eyebrows the have always wanted." So she studied and eventually microblading was added to their menu, much to everyone's delight. Especially mine.
I visited Kayla at their Studio City location for my 2-part, second go at microblading, and LOVED the experience. The studio is bright and modern and Kayla's a true pro and an absolute sweetheart.
Microblading process photos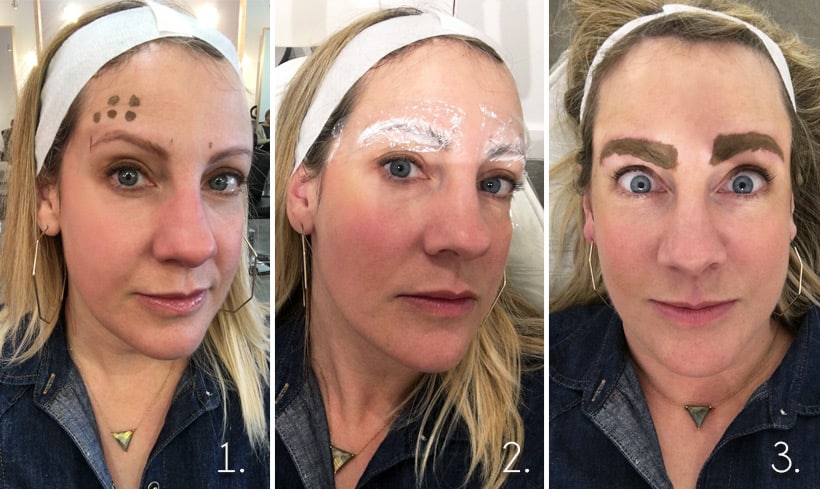 She decided on the best shade for my dark blonde brows,
(1) numbed me super well
(2) then proceeded to expertly blade my brows.
(3) Finally, she's layered on extra pigment and allowed that to thoroughly fill the strokes (Yes, you look a tad nutty during this stage.) While that rested, we talked.
I asked Kayla what's the one thing she thought anyone who is considering microblading should know?
She replied: "The importance of choosing the right artist for you. It's crucial you understand this is a semi permanent tattoo.
Make sure you are going to a professional certified microblading artist. In my opinion, choose someone who is not only experienced in microblading, but also in brow shaping."
This was a real light bulb moment for me.
Understanding brows, face shapes and hair growth would only naturally make someone a more-skilled microblader. Which in turn gives you better results.
Truthfully, I really wish I would have thought about that a bit more before my previous appointment. Though I was happy enough with my results, a year later the artist isn't even doing microblading anymore.
Had I chose someone with a bit more experience under their belt and someone who was already in the brow industry, not only would they probably still be around but they would have had more sample work that I could have seen.
Which is another HUGE truth…
Do your research, check out their work and DO NOT (I repeat, do not) make a choice by price alone.
But let's get to the fun part, right? What were my results at Thread Eyebrows? Amazing is what they were…
Microblading before and after
This is immediately after my first session. I'm still red from the process, but check it out. The color is perfect, the hair is lifelike. The only thing that would have made me happier is if the healing process wasn't as tortuous as before. BUT WAIT…
The hardest part of microblading was #3 on my previous list:
"You can't wet your brows for 7-10 days afterwards."
I did not exaggerate when I called it tortuous. You try showering without getting your face wet. But Kayla's technique made it so much easier. She told me the school of thought on what's called wet healing.
"There are many techniques of healing, but after a lot of research and education I have chosen to follow my mentor Tina Davies method of healing. She teaches,
"The skin will be kept "wet" during the initial stage of healing, meaning moist. Product is added to the skin to provide hydration to aid in rebuilding new cells & keeping bacteria away."
This technique also allowed for daily light washing of the brows with a mild cleanser (after the first 24 hours).
A closer look at the results…
While there's there's still a lot of "Don'ts" involved with healing (all of which Thread lists on their site and Kayla's gives you in your take home aftercare kits, complete with a baseball cap to keep your brows out of the sun) this change made a world of difference to to me. My brows were less itchy and scabbed less with the wet technique, and the whole process was much easier.
I was still super glad to have bangs to get me through the "Groucho Marx" phase, though! Your brows get really dark about 24 hour later before they settle down to the original shade about 10 days later. Be prepared.
But there's one more point I want to touch on as far as oily skin.
Those lifelike hairs you see in my immediate results? 2 months later they have blurred to more of a powder-looking fill (commonly called microshading).
Do I wish they stayed as fine hair strokes? Absolutely. But here's your last truth…
If you have oily skin, you are most likely going to have more powdery looking results
Your oil production is going to blur the pigment. I have yet to see someone prove my experience wrong and Kayla agreed.
But would it keep me from having microblading again?
No way.
My brows can live in 90s denial all they want; a yearly microblading session is now part of my beauty upkeep now and forever. And that yearly session will be with Kayla at Thread Eyebrows.