This post may contain affiliate links, which means I may receive a small commission, at no cost to you, if you make a purchase.
Neutral doesn't equal boring – get glamorous and sexy with Benefit's latest kits
photos: we heart this
If you caught a glimpse of the models shasaying down the runway at NYFW or watched the stars walk the red carpet at the Oscars, you might have noticed that a "naked face" seems to be the look for the spring season.
Of course, achieving that "no makeup" look requires a few cosmetics – and we're not all blessed with the face to pull off the super pale style – a bit of color is a must for most. Luckily, Benefit Cosmetics has the solution for your eyes all boxed up with their World Famous Neutrals
kits.
Available in three color families, these sweet little boxed sets (cardboard – no plastic here!) each contain 4 longwear powder eyeshadows and 2 creaseless cream shadows for a variety of barely there looks with just enough color payoff to keep from looking like the walking dead.
The fun graphics and colors are what will first catch your eye, but these boxes are also tricked out with a nice quality oval mirror, a Tips and Tricks instructional booklet and a nifty magnetic closure for safe travels.
I tested the World Famous Neutrals – sexiest nudes ever
kit ($30). This set of flattering and oh so wearable colors made my eye routine a snap. The shades are all easily blendable and work well with one another to get a polished and pretty (and yes, even sexy) look in just minutes.
The included longwear powder eyeshadow shades are:
milk it – shimmery white with a hint of gold pearl
raincheck? – dusty, lightly shimmered grape
pause for applause – dusty pink shimmer
blingo! – light grey metallic
While pause for applause is the least pigmented hue, it's very buildable and my favorite of the bunch. I wear it as a base color on the lower lid and the super pretty dusty pink makes my blue eyes really pop. A dab of raincheck? in the crease adds some depth and a quick swipe of milk it over the brow and I'm good to go.
For those that haven't discovered the wonders of Benefit's creaseless cream shadows
(newly re-packaged when sold individually), the World Famous Neutrals is a nice introduction. Tucked inside each kit are two removable mini versions of these budge-proof shadows.
Sexiest Nudes Ever contains creaseless cream shadows in:
bikini-tini – champagne shimmer
holy smokes – taupey charcoal shimmer
These smudgeless eyeshadows are a breeze to apply – no brush required! The warmth of your finger helps these creamy shadows glide over skin when applying, and they dry down to a long-lasting powder-like color. Speaking of color, I think these have the best pigment on the market. Strong, buildable color that doesn't streak or crease.
bikini-tini, holy smokes, milk it, raincheck?, pause for applause, blingo!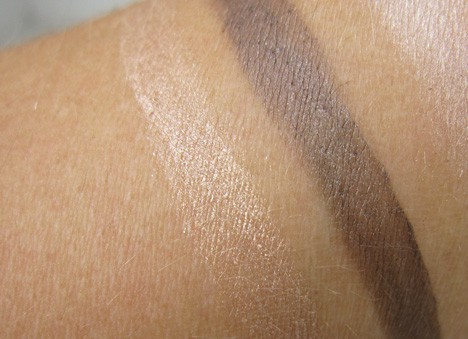 A closer look at bikini-tini and holy smokes
And milk it, raincheck?, pause for applause and blingo!
While I experimented with the Sexiest Nudes Ever containing pink and purple based goodies, a fellow wht tester had the chance to try the Most Glamorous Nudes Ever
kit ($30) filled with a few brown and bronze beauties.
Most Glamorous Nudes Ever longwear powder eyeshadows:
call my bluff – light nude shimmer
kiss me, I'm tipsy – chocolate brown with brown micro glitter
it's complicated – pink-peach with gold shimmer (very orgasm-y)
guilty pleasure – warm gold shimmer
Most Glamorous Nudes Ever creaseless cream shadows:
birthday suit – medium nude shimmer
my two cents – copper shimmer
creaseless cream shadows: birthday suit, my two cents
Most Glamorous Nudes Ever: birthday suit, my two cents, call my bluff, kiss me I'm tipsy, it's complicated, guilty pleasure
Make sure to check the comments for our reviewer's thoughts on this box of bronzed neutrals. Overall, I was really pleased with these kits – each contains six high-quality, totally wearable hues (without a clunker in the bunch!) for just 5 bucks per shade. Add in the cute little extras (the mirror, tips and portability factor) and Benefit has once again delivered a great value of completely on-trend makeup.
we heartsters – are you planning on rocking the neutral look this Spring?
Disclosure: This review includes products that were provided by the manufacturer/PR firm for our consideration. It also contains an affiliate link, a link that gives us a small commission if you purchase the item. For more info, or any questions, please see our disclosure policy.