This post may contain affiliate links, which means I may receive a small commission, at no cost to you, if you make a purchase.
It's kind of embarrassing admitting that I have body acne. It was awkward enough that this past summer it was out there for people to see (shorts and tank tops don't cover all of it). But writing a blog post for the entire world to see? I thought about turning down the opportunity to review the Murad Acne Body Wash, Clarifying Body Spray and Clarifying Wipes, because it's kind of like standing up and shouting "HEY EVERYONE, I HAVE BODY ACNE!"
But the more I thought about it, the more inclined I was to try it and blog about it. I didn't become a beauty blogger to hide under layers of makeup–I want to be honest, to be informative and to help people feel like their most beautiful, confident and strong selves. And I remembered how awful and ashamed I felt in high school and college wearing a swimsuit–I had cystic acne on my back and shoulders, in addition to having it on my face.
So here I am, writing this review.
While my acne has greatly improved over the years, I still struggle with some facial acne and some acne on my back, as well as razor burn on my thighs and occasionally on my knees. At this point in my life, it seems to be difficult finding a balance between products that will eliminate acne without drying out my skin.
Murad is one of those companies that makes great products–the we heart this team has raved over their serums, sunscreens and other skincare staples–so I felt hopeful that the Murad Acne Body Wash, Clarifying Body Spray and Clarifying Body Wipes would help with my acne. And also hoped that it might help with the razor burn, as many of the ingredients used to treat acne are also used to treat razor burn (particularly salicylic and glycolic acids).
The Murad Acne Body Wash ($40, 8.5oz) is a blue gel with exfoliating date seed powder, glycolic acid, salicylic acid, green tea extract and licorice root extract. This mixture of ingredients is designed to reduce inflammation, treat the acne currently being experienced and prevent future breakouts.
It smelled fresh and spa-like, and felt great on my skin–I really enjoyed using this on my chest, back and legs. The texture was ideal for exfoliating my skin because it wasn't too scratchy, but there was still enough date seed powder to be effective.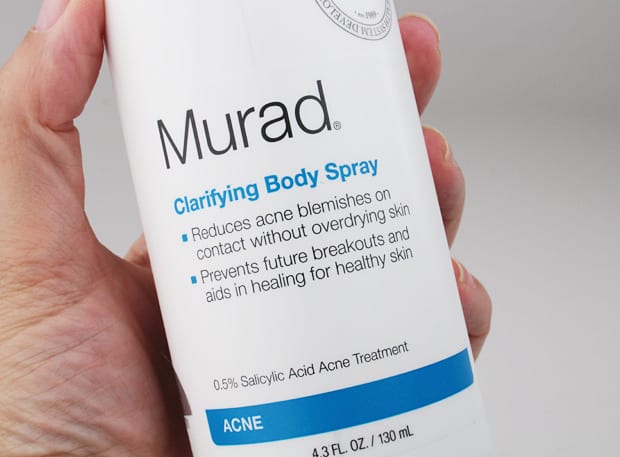 The Murad Clarifying Body Spray ($40, 4.3oz) has the familiar scent of salicylic acid and denatured alcohol. The Clarifying Body Spray is meant to be applied to 1-3 times daily to clean skin (although it can be reduced to every other day if drying or irritation occurs). I applied it once a day after my shower. Just an FYI: it will sting on freshly shaved skin or open wounds.
It did help a lot with my "bacne" and the razor burn on my thighs. I tried spraying a little on my hands and applying it on my face, but after just one application, my face was dry and flaky, so I went back to following the directions on the bottle…always a good idea!
I was impressed with the "360 degree" treatment–no matter where I was trying to apply, even with the bottle upside down, it sprayed with ease.
The Clarifying Wipes ($18, 30 wipes) remove dirt and oils that can contribute to clogged pores and oily skin, and leave skin feeling cool and tingly. The directions specify to use it on the face and neck, but I also used it post-workout on my chest, back and knees, and noticed an improvement in those areas as well.
I felt like overall, after using these products daily for just over a week, I began to notice some improvement in my acne; mostly on my chest, back, thighs and knees, and in my razor burn. The price points of these products are on the higher side, considering the number of options currently on the market. I definitely feel that the Murad Clarifying Body Spray is the best bang for your buck–one bottle will last a long time!
we heartsters – does your acne stray from your face too? Share where it's a problem for you, it's liberating!
Latest posts by lipglossandspandex
(see all)