This post may contain affiliate links, which means I may receive a small commission, at no cost to you, if you make a purchase.
Why be normal? You just be you, boo.
normal: adjective. conforming to a standard; usual, typical, or expected. noun. the usual, average, or typical state or condition.
Yeah, this is one of those posts that starts with a definition, bear with me…
There's a serious disconnect between what "normal" means and the connotations of the word. Normal is treated as synonymous with acceptance, security and happiness, but normal isn't necessarily any of those things. Something that's normal isn't inherently good or bad, but is it something that people should strive be? There are so many more beneficial and interesting things than being a "normal" person! For me, I want to strive to be authentic.
That might sound corny. But as we go through life, it's easy to lose touch with ourselves. For me personally, I went through some things in my 20s that left me feeling like the real me just wasn't good enough. I tried pretending to be someone I felt would be accepted–someone normal–but I felt fake and I was more miserable than before.
As my 30th birthday approached, I started focusing on accepting where I had been, I learned to try to listen to my own inner voice, and I consciously made an effort to live a life that truly reflected who I am–I tried to become the best, most genuine version of myself that I could possibly be. And it helped me to become more able to encourage others to be themselves–"You do you, boo." We each have something beautifully unique to bring to the table–when I was able to accept myself, and accept others, there was this exponential positive effect.
from left: In My Fashion, Wild Extract, Instigator, Stone, Soft Hint, On And On and Dreampot
That shift within me also became an outward shift in my appearance: I stopped feeling like I had to look like everyone else, or that I needed to look a certain way to please other people. I let my colorful personality show on the outside. My hair has been most of the colors of the rainbow over the last two year; I have a lot of tattoos and plan on getting even more; I wear untraditional shades of lipstick… and I truly LOVE these things, and how I feel in these things, regardless of what other people think. I try to live and let live, y'all. By actively being and living in a way that's genuine to me, I've been able to better attract the kind of people who truly lift up my soul–people who also value being genuine, and who encourage others to let their lights shine even brighter.
swatches from left: In My Fashion, Wild Extract, Instigator, Stone, Soft Hint, On And On and Dreampot
For me, the people I consider my tribe are the kind of people who don't bat an eye when I show up for happy hour in mesh-accented yoga pants, sandals, messy hair and green lipstick. While it might not be a fashion choice that they would go for, they accept and appreciate my differences.
I love expressing myself through color. I treat my body like a canvas. Which is why being a beauty blogger is such a blast for me–I love getting to try fun and funky new shades of makeup. I get to play and experiment. It's an opportunity for me to be creative, and use my own face as a canvas, which is something that really brings me joy.
Right now, I'm excited to share my excitement about my latest lip 'paint': the expanded collection of bold MAC lipstick shades (all $17.50).
MAC On And On lipstick
Let's start with my NEW FAVE: On And On (frost), which MAC describes as a deep purple with blue pearl. It's magnificent, like something a moody mermaid would wear.
MAC Instigator lipstick
Instigator and Stone (both matte) are my next faves, both of which feel like modern takes on classic shades. Instigator is a deep blackened plum reminiscent of the mid 1920s flapper girls. Stone is a muted greyish taupe brown; the 90s in lipstick form!
MAC Stone lipstick
MAC Wild Extract lipstick
MAC Soft Hint lipstick
Wild Extract (frost), a bright golden lime green with electric pearl, and Soft Hint (frost), an icy candy blue with blue pearl, are gorgeous translucent shades that work by themselves, but are especially fun layered over a complimentary shade, such as Dreampot (matte), a light and bright candy blue.
MAC Dreampot lipstick
MAC In My Fashion lipstick
In My Fashion (matte) is a darkened chocolate brown. It's a beautiful alternative to black lipstick, with a little more warmth, but keeping the dramatic effect.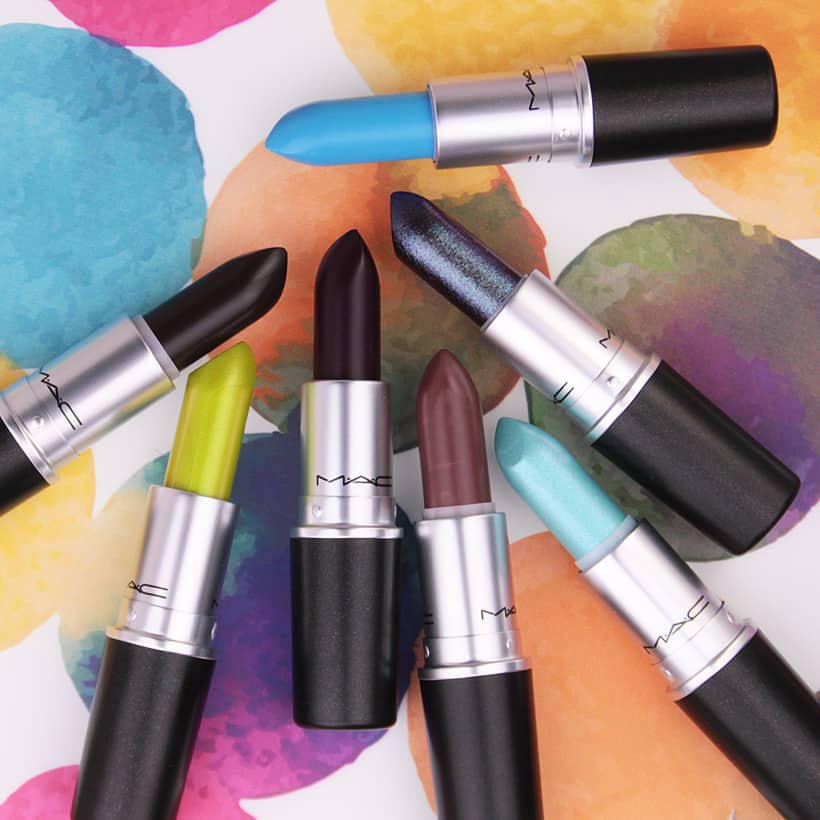 No matter what shade of lipstick you choose to wear, I hope it's authentic to you at this moment. Why should you try to be "normal"? Be beautifully you.
shop the post

Latest posts by lipglossandspandex
(see all)