This post may contain affiliate links, which means I may receive a small commission, at no cost to you, if you make a purchase.
Preservative-free, botanically-based treats for your skin!
When it comes to skincare, I will always have a place in my heart for Boscia
. My love affair with this Japanese brand began with their famous Blotting Linens (always stashed in my purse), to eventually becoming addicted to their whole range of goodies, pore strips and all.
If I could use one word to describe Boscia, it would be clean. It just feels so good to use products that are free of chemical preservatives – and they always leave my skin refreshed. The Boscia face masks are no exception, not only do they make my skin happy, they're fun too – come on, who doesn't love a peel-off mask?
Boscia really hit its peak in the beauty world when they introduced their Luminzing Black Mask. Now, they've come out with more outstanding peel-off masks to cater to an even bigger variety of skin types and needs. And we've got a look at four colorful Boscia face masks today!
Luminizing Black Mask
($34)
Might as well start with a bang, right? This was the mask that I feel truly gave Boscia a new spring in their step. This mineral-rich antioxidant filled mask is indeed black, made for detoxifying, purifying and brightening your skintone. This clay-based mask will deep clean your pores and get those impurities out like it's nobody's business.
The mask is a bit sticky and feels a bit glue-like when spreading onto your face. It will eventually dry in about 15-20 minutes and that's only half the work done. Once you peel it off your face, it will finally take away any dead skin, leaving behind instant results.
I love this mask to bits. I have congested skin that can lead to some serious breakouts if not taken care of properly and this is a favorite once a week ritual. Don't be skimpy when applying the mask because you may end up having trouble peeling it off later.
Green Tea Oil-Control Mask
($34)
This mask just hit stores and the virtual shelves and it could not have come at a better time. We've had quite an East Coast summer and during the heat wave, my poor skin was at its worst. I was quite an oily mess and there was nothing that could be done.
Thankfully with the Green Tea Oil-Control Mask I was able to help minimize the oil. This mask contains Japanese green tea to nourish, cucumber and burdock root to cleanse the pores and silica to absorb oil. The scent had a nice sweetness to it and it didn't feel as sticky as the Luminizing Black Mask. After peeling it off, I also noticed my complexion was brighter in a mattified way! My skin didn't feel parched, but I did use a moisturizer afterwards to balance everything out.
Cool Blue Calming Mask
($34)
Perhaps the prettiest shaded mask of them all, the Cool Blue Calming Mask is perfect for hydrating skin that needs some extra moisture and soothing stressed, irritated, sensitive skin. This Boscia face mask contains sea whip, a powerful natural anti-inflammatory ingredient; willow herb to calm skin and fight redness; aloe vera to hydrate and improve firmness and elasticity; and the peppermint-derived frescolat, which provides a refreshing coolness.
It has the same sticky consistency and a very mild scent and is the mask for those with sensitive skin. This cool blue mask leaves skin smooth, hydrated and refreshed with a visible reduction in redness.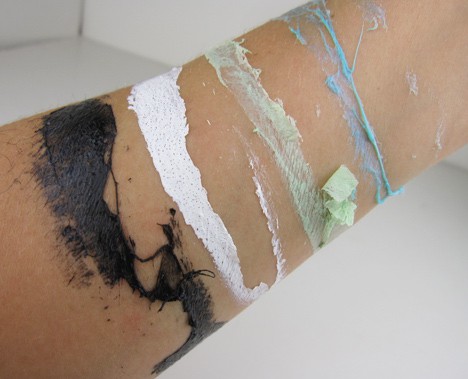 Bright White Mask
($38)
Finally, we have the anti-aging Bright White mask created to brighten, hydrate and smooth complexions. This mask contains "clinical levels of advanced whitening ingredients" to help even out the skintone, and reduce the appearance of sun spots and pigmentation. It is also formulated to reduce the appearance of fine lines and wrinkles, while enhancing natural collagen production to fight saggy skin.
Tyna had the chance to test this Boscia face mask at a beauty blogger event and claims the visible brightening effect was immediate and pretty darn impressive. If your skin is looking dull and tired, this is the mask to add to your cart!
Beauty Blogger Tip: Finally a little trick to help keep your masks from being used up quickly! Use your mask where you need it most. Unless your whole face is in dire need, target where you actually need the benefits of the mask you are using. I find that using my mask in "patches" helps me keep more product for more future use. You can also mix and match masks! For example, use the Luminizing Black Mask on your t-zone and the Cool Blue Calming Mask on your cheeks for a customized experience!
Pros:
• No Parabens, sulfates, phthalates.
• Yes to botanics and No to preservative chemicals!
• A good range for mask lovers of all skin types.
Cons:
• A bit pricey.
we heartsters – Which Boscia face mask is the one for you?
photos: we heart this
Amanda is a beauty & fashion lover who hopes to own a Shiba Inu one day. She spends most of her time frolicking in NYC, chowing down, perusing blogs and updating her own; mandabear. She's also getting seriously involved with her iPhone.
skin tone: NC30
skin type: oily to normal
favorite beauty product: nail polish and lipstick
Latest posts by mandabear
(see all)