This post may contain affiliate links, which means I may receive a small commission, at no cost to you, if you make a purchase.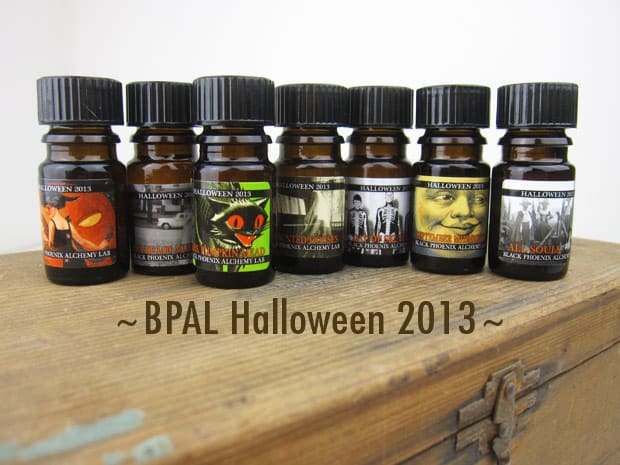 In case regular readers haven't guessed it from our yearly Scary Movie Series, our geeking out at the Rick Baker party, or our love of dressing up – we love Halloween. Like, ADORE IT. Know who else does? BPAL. The often gothic, always fabulous, scent company Black Phoenix Alchemy Lab releases multiple categories of Halloween items every year. From sticky sweet scents you'd find in trick or treat bags, to those that lean to the darker side (think haunted houses and cemeteries) BPAL has a scent for everyone.
Best news of all, if you're like us and everyday is Halloween – the Halloween scents will be available through December!
We got a sniff of 24 items from the line. Follow us on this Halloween scent journey, won't you? (insert evil laugh)
Please note: beyond the fabulous scents themselves, BPAL's descriptions are a literary thing of beauty. For length, I have not listed them in their entirety here. Rather, just the notes. Except for the ones so beautiful to me that I couldn't NOT share them. But I strongly encourage you to visit BPAL and read them.
(My brief thoughts are in italics beneath each scent. Our testers will elaborate in the comments.)
General Halloween Perfume Oils: ($23)
Dark Pumpkin Mead – Thick, heady pumpkin mead sweetened with clover honey and a hint of maple.
Spicy pumpkin. Don't think sweet pie, think warm jack-o-lantern stuffed with cloves.
Samhain 2013 – Truly the scent of autumn itself; damp woods, fir needle, and black patchouli with the gentlest touches of warm pumpkin, clove, nutmeg, allspice, sweet red apple and mullein.
Oh, this is amazing. Like a cool, crisp stroll through the woods while eating an apple! I can see why this one is brought back every year.
September Midnight – A myrrh-darkened amber chypre sweetened by newly-ripened black pomegranate.
Lyric night of the lingering Indian Summer,
Shadowy fields that are scentless but full of singing,
Never a bird, but the passionless chant of insects,
Ceaseless, insistent.
(That's just an excerpt of the beautiful poem by Sara Teasdale. Way to create a vision, huh?)
Chypre is one complex note; citrus, moss, musk. The addition of pomegranate only makes it more complex. This reads as unisex to me. And I don't think I could control myself if I smelled this on a man!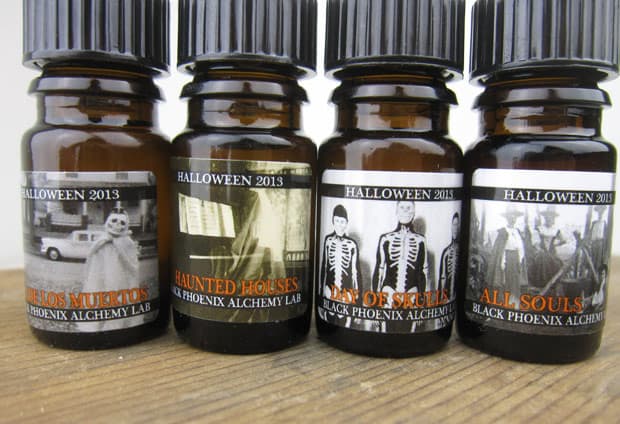 Dia De Los Muertos 2013 – Dry, crackling leaves, the incense smoke of altars honoring Death and the Dead, funeral bouquets, the candies, chocolates, foods and tobacco of the ofrenda, amaranth, sweet cactus blossom and desert cereus.
Hmm, I'm not getting any food or smoke with this. Just sweet white florals.
Haunted Houses – Quiet, ineffective ghosts haunting the realm of mystery and night, stretching dusty hands back to homes and lifetimes unforgotten: pale gossamer musks swirling in thick, dense otherworldly vapours through cracks in dry wood and old, old stones.
What they pulled off here is incredible. The description is dead on; like cold, old stone with light musk and slight florals in the background. I'd add to the description that it is the smell of fear swirling in the air and making the hairs on the back of your neck stand up. Wow.
Day of the Skulls – White sandalwood, beeswax, and frankincense crowned by hydrangea, rose, and kantuta blossoms, dressed with tobacco, cocoa leaves and flowers from the sacred Cactus of the Four Winds.
In Bolivia, many people hold to the tradition of keeping the skulls of their ancestors with them in their homes, caring for their remains. It is believed that each person has seven souls, and one of those souls stays with the skull after death, enabling a spirit to grant protection and prophetic dreams to their descendants, and to bless their families with good health and prosperity.
The rose is the prominent note on me, but mixed with other soft blooms and a warm, earthiness. Such a pretty floral.

All Souls 2013 – On November 2nd, prayers are sung and offerings are made to aid lost souls in transcending purgatory. An incense blend that invokes the higher qualities of mercy and compassion, mingled with the soft, sugared currant scent of offertory soul cakes.
Oh. My. Yum. Buttery, sweet and warm from incense all at the same time. I kinda want to eat myself.
The Pumpkin Patch: ($23)
Tradition calls for BPAL to create a batch of scents heavy with pumpkin, the unofficial scent of Halloween. This year, favorite offerings form the lab were spilled upon the pumpkin patch…
Alice in the Pumpkin Patch – Alice is Milk and honey with rose, carnation and bergamot.
Dorian in the Pumpkin Patch – Dorian is Victorian fougere with three pale musks and dark, sugared vanilla tea.
Moroccan in the Pumpkin Patch – Morocco is the intoxicating perfume of exotic incenses wafting on warm desert breezes. Arabian spices wind through a blend of warm musk, carnation, red sandalwood and cassia.
Samhain in the Pumpkin Patch – damp woods, fir needle, and black patchouli with the gentlest touches of warm pumpkin, clove, nutmeg, allspice, sweet red apple and mullein.
Sin in the Pumpkin Patch – amber, sandalwood, black patchouli and cinnamon.
Snakes in the Pumpkin Patch – Snake Oil is BPAL's most popular scent; a blend of exotic Indonesian oils sugared with vanilla.
I have to be honest, for the most part the pumpkin just devours the original scents on my skin. I get a hint of them and within minutes, they're all but gone. The only exception is Dorian, Dorian and Pumpkin played very nicely together.
Black Phoenix Trading Post
The Trading Post is filled with Halloween deliciousness right now! Really, it's hard not to read the offerings and feel peckish. In addition to the items listed below, you'll find pumpkin ice cream and pumpkin s'mores scents, as well as a delightful sounding bath oil called Boo which seems to perfectly capture a child's ghost costume: eerie billows of spun sugar, fluttering white cotton, and sheets of cream. And a whole bunch more; t-shirts, massage oil, candles. Things you'll want. Trust me on this.
Caramel Apples and Ancient Oaks Bath Oil Blend ($23) – Sticky-sweet caramel apples and a gentle rain of apple blossoms clutched by gnarled oak boughs.
This was the first item I tried when I opened the box of samples, and it's definitely one of my favorites. It's like bobbing for apples on a cold fall night; sweet, yet woodsy.
Dia De Los Muertos Atmosphere and Linen Spray ($23) – Dry, crackling leaves, the incense smoke of altars honoring Death and the Dead, funeral bouquets, the candies, chocolates, foods and tobacco of the ofrenda, amaranth, sweet cactus blossom and desert cereus.
As with the oil, this is primarily white floral to me. Not that there's anything wrong with white floral, it's quite beautiful!
Tricksy Perfume Oil ($23) – Patchouli, aquilaria aguillocha, and Manuka honey.
What's aquilaria aguillocha, you ask? (I did too!) Turns out it's Oud, the note many fancy-pats perfumeries use. Described as "a rich, musty woody-nutty scent." It's very resin-y and is a complex scent that smells much more expensive than it is. At first, I dismissed this with a "bleuch", but as the scent deepened on my skin I fell in LOVE.
Hallowenches
This is a sassy little grouping of products with comic book style illustrations by Aidan Casserly.
Perfume Oils ($23):
Sylvia, the She-Wolf – Snuggly brown musk, spicy carnation, leather balsam, bourbon vanilla, terebinth pine, yew berry, and a touch of clove.
This smells like your Dad's old leather chair; warm, loved and cozy.
Callidora, The Vamp – Blood musk, Egyptian myrrh, Mayan cacao, 7-year aged red patchouli, Siamese benzoin, and tobacco absolute.
Whoa, not for me. Very sharp and kind of animal scented. Just seeing the word "blood" turns me off, though.
Hair Gloss ($28 for 4 oz.): Please note: these do contain cyclomethicone, for those sensitive to 'cones…
Shiny Furball – Himalayan cedar, vanilla musk, lavender, black clove, honeyed coconut, fir balsam, and juniper berry.
Very woodsy, with the cedar being the strongest. Reminds me of when I used to play in my Grandparents attic, going through boxes of old photos and mementos.
Lightening Storm – Vivid flashes of dazzling electricity: white mint, white tea, white ginger, a jolt of yuzu, and electric green lime.
So green! The yuzu jumps right out. It's absolutely delicious and Tyna and may have to hold a dance off to see who gets to keep this…
Silkybat – Sensual sugared patchouli.
Sexy, sugary patchouli. Not a dirty hippie in sight.
Bath Oil: ($25 for 4 oz.)
Sudsy She-Wolf – The warmest, snuggiest way to tame a savage beast: hazelnut coffee with dark chocolate, sweet fig milk, warm brown amber, and terebinth pine.
Warm and snuggy indeed, and oh-so edible smelling.
Recharging Station – An invigorating shock of eucalyptus petals, white mint, pink lime, and rosemary.
Invigorating is the perfect word. Eucalyptus is like a smack in the face, in a good way!
Bloodbath – This vamp's secret to eternal youth: red musk, black patchouli, rose milk, and sugar blossom.
Oh, the Post is killing it with the patchouli. Again, forget every dirty patchouli scent you've ever smelled. This is sexy, rose-kissed patchouli. Amazing!
Worth noting, no BPAL and Trading Post products are tested on animals; rather family, friends and fans alike.
There you have it – a whole lot of BPAL Halloween love. Make sure to check the comments for our review team's thought on the scents. But I'll leave you this – this is without a doubt my favorite BPAL launch all year.
we heartsters – what scent sounds like your must-have?
Stef is many things. Amongst them: co-editor of we heart this, photographer, condiment connoisseur, Philly girl in the California desert, borderline hoarder and a hardcore beauty junkie.
skin tone: NC 25/30
skin type: oily with a fear of rosacea
favorite beauty product: high end skincare and lip products